Gone are the days when a product simply needed to carry a 'free-from' label; brands now need to meet exacting standards and appeal to a much wider audience in this booming sector
According to Coeliac UK, one in 100 people in the UK have coeliac disease, not counting the estimated 500,000 undiagnosed sufferers. In addition, many more people have non-coeliac gluten sensitivity and up to 40% of the UK population suffer from some type of food allergy or intolerance, according to Allergy UK, with 6-7% of children having a proven food allergy.
Add to this the fact that the Anaphylaxis Campaign estimates one in 70 children have nut allergy and it is no wonder that during 2013 the free-from market grew by more than 25% on the previous year and is predicted to increase 46% by 2017 to reach £561 million.
The availability of free-from products is certainly growing to meet demand, with a larger variety of outlets stocking them. "There are wider ranges in supermarkets, and random free-from products are appearing in delis, famer's markets and even corner shops," says Michelle Berriedale-Johnson, editor of Foods Matter and director of the FreeFrom Food Awards. "There is very wide availability of everything online – the huge increase in online/home delivered shopping has greatly helped free-from by allowing mini start-up companies to access the market," she adds. However, the natural home for free-from goods is within the independent health stores which can offer consumers advice and information as well as a carefully chosen product range.
On the rise
Currently, the most dynamic sector is gluten- and wheat-free, with 2012 sales amounting to £136 million, according to Kantar Worldpanel, having increased by 23% within the last year.
Karen Wilson from Tree of Life has witnessed this explosion: "As a wholesaler we get to see the whole spectrum of the category, and we're seeing significant rises in free-from in general, but particularly in gluten-free. Over the last six months we've seen percentage increases in trade sales in the high 40s."
The wholesaler hasn't just sat back and waited for sales to soar, however. "We've done a fair amount of work ourselves to drive the category. We've introduced a gluten-free buying guide and a general free-from buying guide to make it easier for retailers to select these products."
Berriedale-Johnson also recognizes gluten-free as the most dynamic sector, hotly pursued by lactose-/dairy-free. "Apart from autoimmune conditions such as coeliac disease triggered by gluten, excess gluten is thought to cause the digestive problems associated with IBS type conditions. Many people also eat excessive amounts of high-gluten processed foods.  Changing to a more balanced diet with more fruit and veg, etc, will often improve digestive problems, and this improvement is attributed to giving up gluten."
Kevin Donnelly, owner of Beneficial Health in Pulborough, has found that products with more than one free-from credential are appealing to customers: "We tend to find that things like crackers and biscuits which are a combination of gluten-free and dairy-free sell very well. We sell a lot of the mixes from brands like Orgran, and Biona and Doves Farm products sell well, as do core sauces like Meridian."
Wilson has also seen a healthy demand for sauces: "Gluten-free pasta sauce that is actually certified gluten-free and has been produced in an environment that can't be contaminated, not just naturally gluten-free – because if it's a tomato sauce then of course it's gluten-free. Don't forget that many cooking sauces tend to have other ingredients in them, even if they are organic and gluten-free, because they are processed and processed foods by definition tend to contain other ingredients – it is those ingredients that have the potential to contain gluten."
People are now demanding more quality from free-from products too – it isn't enough to just have a 'free-from' label. The more fundamental the product, the less processed, the better, according to Donnelly. "People seem to be returning to the idea of making it themselves so they know exactly what's in it and this tends to be a big part of what we do these days. From a core point of view we've seen an expansion in gluten-free, dairy-free and free-from cereal products – that's definitely expanded," he says.
In addition to free-from being more easily available, product variety is expanding rapidly into all areas, with innovative products including ready-meals, desserts, cereals and even bodycare.
Berriedale-Johnson believes this innovation is driving the market. "The winner of this year's FreeFrom Food Awards was a gluten-, wheat-, dairy-, egg-, and soya-free focaccia! And coconut milks, yogurts and ice cream are revolutionizing the dairy-free market."
"Anything savoury is in demand at the moment," says Wilson. "We're also seeing things like cereals using quinoa and buckwheat, for example, and an increase in bread alternatives that are made with quinoa or buckwheat."
A matter of choice
There is a combination of factors growing the market, not only the rise in numbers of allergy sufferers, coeliacs, and those with wheat intolerance and IBS, but frequent press coverage has led to more people making a conscious decision to eat free-from foods, with many consumers limiting their gluten intake, for example, for weight loss reasons. In fact according to Leatherhead Food Research, 97% of people who buy into the gluten-free category are non-coeliacs. In addition, 76% would like to see a wider choice of gluten-free products available.
In a survey of 3,000 consumers published in a report by the research company, the main benefits of free-from foods were perceived to be to maintain a healthy balanced diet, to help cope with a condition and to help digestive health, indicating that these products now appeal to a much wider audience.
"There is a rapid growth in those who chose to go free-from as a lifestyle choice as they see free-from food as being healthier and more environmentally friendly," comments Berriedale-Johnson.
Donnelly agrees: "I think there's a lifestyle choice – that's definitely been a big factor. Some people wonder why they feel very tired and then think okay I'll try to cut out gluten, I'll try to cut out dairy – they might not be diagnosed with a particular intolerance, they just do it through choice because they can see the benefits."
"I think it's largely to do with the fact that more people are adopting a healthier lifestyle and are generally aware of what they're eating, perhaps cutting out wheat from their diet just from a general healthy living perspective," adds Wilson. "In the last year or so we've also seen a number of celebrities who have had PR announcements that they've lost weight because they've been on a gluten-free diet and I think that helps to drive the category as well because people jump on that bandwagon."
It seems that an increasing number of consumers are also self-diagnosing when they experience certain symptoms, and cutting out potential problem foods. "I think there is a fundamental issue with people questioning the reliability of an intolerance test which they send away for costing £100," explains Donnelly. "That's been a big problem because they get diagnosed as being intolerant to 15 products and the trouble is that this is too wide a blanket for them to deal with. So they just say well I'll cut dairy, I'll cut gluten and I'll reduce sugar  – sugar alternatives are a big part of this market as well."
Retaining the taste
As the consumer base broadens significantly, manufacturers need to raise the bar, ensuring that standards of quality, nutrition and above all taste are being satisfied. "Bread is the biggest issue at the moment by far," says Donnelly. "Everybody comes in and says they want gluten-free bread but don't want it to taste like cardboard. A lot of people who can't take processed wheat products can actually deal very well with things like spelt products even though they do contain a bit of gluten. More people for whom it's a lifestyle choice seem to be going over to spelt instead of wheat rather than going completely gluten-free. We also sell things like rye bread which are wheat-free. We see more people wanting to make their own bread with brands like Doves Farm too."
Donnelly says that at least 30-40% of Beneficial Health's food stock is free-from in some respect. "We're a family firm and two of the people in our firm are intolerant to dairy and gluten – that's how we started as a company – so they try everything. We buy one box of biscuits, for example, and test it ourselves. We ask 'would we actually eat that?' and if we wouldn't eat it, we don't stock it."
Tree of Life works closely with Coeliac UK and has had lots of feedback from their members highlighting the fact that they desperately want more choice. "Of course being gluten-free doesn't necessarily make it a healthy product. People are disadvantaged enough by having some kind of food allergy or intolerance and the last thing they want to do is feel like a second class citizen – the days when cardboard would suffice are gone. People are more demanding and I think that brands and manufacturers are starting to respond to that.  If you are in a really small category you're not going to grow it if you only ever have cardboard cookies and bland bread, the very fact that brands are innovating in this area will grow the category."
Hot Stocks
Go coco loco
Following Rebel Kitchen's recent launch of its dairy-free Mylk drinks for kids, made with coconut milk and Somerset spring water in Choco, Banana and Orange Choc varieties, it has now developed a range for adults in Chocolate, Matcha Green Tea and Chai varieties.
Skin deep
It's not only what you put in your body but what you put on your body that counts, and with this in mind Jason has launched the first Certified Gluten-Free beauty range, comprising four products: Daily Conditioner; Daily Shampoo; Body Wash; and Hand & Body Lotion.
A flavour of the Middle East
New family-run company Bis Bas has launched a range of three authentic Middle Eastern cooking sauces which are nut-, gluten and wheat-free. Suitable for coeliacs, the sauces are Fozia, a sweet tomato and coriander Arabian sauce; Safia, an aromatic tomato-based sauce; and Saba, with spinach and coriander.
Raising the bar
For a healthy snack, The Flapjack Girls vegan sugar- and gluten-free flapjacks use oats, agave, dried fruit, nuts and spices and molasses. In Cranberry & Pistachio and Ginger and Cinnamon flavours, the treats are also available in a mixed multipack.
Also with free-from credentials are the award-winning cold-pressed bars from Creative Nature. Blissful Berry contains goji berries and cranberries for an antioxidant boost; and Heavenly Cacao combines organic cacao powder with cacao nibs, goji berries and raw maca powder to give a natural energy kick.
A Cheeky Orange Mini Moo bar has been added to Moo Free Chocolates' range of organic dairy-, gluten-free bars, which are also vegan and use fair trade ingredients. Other varieties on offer include 'Milk' Chocolate, Honeycomb and Mint.
The Big Breakfast
Producing gluten-free breakfast cereals in the UK's only dedicated site, Big Oz's Coeliac UK registered offer includes Chocolate Buckwheat Flakes with Raspberries, Crispy Millet Flakes, Honey Brown Rice Puffs and Quinoa Flakes.
Easy does it
For a tasty treat, Easy Bean offers a bean-inspired range of crispbreads in three varieties: Moroccan Spice; Seeds & Black Pepper; and Mung Bean & Chive. Handmade at the company's recently installed bakery in Somerset using chickpea flour, they are gluten- and wheat-free.
Food Focus Listings
Terranova Magnifood Super Shakes
Kinetic Natural Products
Tel: 0845 0725 825 Fax: 0845 0725 826
E-mail: [email protected]
www.kinetic4health.co.uk
Terranova is excited to announce the launch of its new intensely nourishing range of Magnifood Super-Shakes – INTENSE GREENS provides nutritional powerhouse Stabilized rice bran, Spirulina, Chlorella, Wheatgrass juice, Barleygrass, 8 Freeze dried greens, Probiotics and Digestive enzymes. INTENSE BERRIES provides Stabilized rice bran, 10 Freeze dried berries, Wheatgrass juice, Barleygrass, Spirulina, Probiotics and Digestive enzymes. INTENSE MACA REISHI provides Stabilized rice bran, Maca root, Reishi, Beetroot juice, Cordyceps, Wheatgrass juice, Spirulina, Barley. Like all Terranova products, these contain no sugars, colours, flavours, preservatives, fillers, binders or excipients, they are gluten and dairy free, and suitable for vegetarians and vegans.£18.95 TRADE / £33.95 RRP 224g
XYLITOS® MINTS
V-TALITY bvba,
P.O. BOX28, 9700 OUDENAARDE – BELGIUM
Tel: +32478362300
E-mail: [email protected]
www.v-tality.be
V-TALITY bvba has just released a great new product for the healthy confectionery market, which looks set to be a popular choice with consumers. Made with only the purest ingredients, natural Xylitos® mints contain no sugar and no artificial sweeteners, flavours or colours. Backed by scientific research, Xylitos® products taste great and are an effective way to help prevent cavities. Contact us to find out more about our exciting range of unique xylitol products, including XyliGum®, our market-leading brand of delicious 100% xylitol chewing gum, and XyliBears®, the first 100% xylitol-sweetened gummy bears. Promise we won't bite – much…
Free From Italy Pasta and Pasta Sauces
Free From Italy
Tel: 02746 100114
Email: [email protected]
Just because you have an allergy does not mean you don't want quality, authentic and tasty food. We at Free From Italy decided to focus on real Italian food and our aim is to supply the quality that any Italian would be delighted to eat. Italians eat pasta twice a day, so if you are Italian and have an allergy it's a serious issue. We went hunting fin Italy or the best quality Free From food we could find. La Buona Vita looks like traditional pasta, it tastes like traditional pasta, cooks like traditional pasta (no sticky mess). The corn and rice recipe was developed in Italy by Pasta Lensi who use ingredients especially grown for them in Lombardia. It's this that gives the great colour and taste to La Buona Vita Free From pasta. Our sauces are made in the kitchens of Conserve Della Nona, famous throughout Italy for quality ingredients. The pasta sauces are made using fresh tomatoes, that gives a clean home-made taste and silky smooth texture. You would not believe Conserve della Nonna Green Pesto sauce is gluten, DAIRY, egg and NUT FREE. It tastes amazing.
Cereal Category – Chocolate buckwheat flakes with raspberries
Big Oz Industries Limited,
Tel: 01932 788 373 Fax: 0932 784 194
E-mail: [email protected]
www.bigoz.co.uk
Big Oz is a dedicated gluten-free cereal manufacturer, specialising in organic and conventional, gluten free cereals for people who care about a healthy diet. There are a wonderful range products and flavours, from Flakes, Puffs, Porridge Pots and Granolas, as well as gluten-free Brown Rice and Buckwheat Flour. Big Oz is a Coeliac UK registered product and is also approved by The Vegetarian Society, The Coeliac Society, The Soil Association, and is Kosher approved. The business has also been awarded the BRC (British Retail Consortium) certificate where a Grade A status was achieved. Apart from the range of products produced under the Big Oz brand, cereal products are manufactured to supply own label, private label and bulk.
Taste of Nature Organic Fruit & Nut Bars
Taste of Nature
Tel: 01403 786460 Fax: 01403 786280
E-mail: [email protected]
www.healthyfoodbrands.co.uk
Take a closer look at a Taste of Nature Organic Fruit and Nut Bar and you'll find a deliciously different approach to 'free from' snacking. The formula is simple – blending nuts, fruits, seeds, whole grain rice crisps and naturally sweetened with agave nectar, everything in a Taste of Nature bar comes straight from nature. Suitable for vegetarians and vegans and certified organic, the bars are free from gluten, wheat and dairy, as well as additives, preservatives and artificial flavours. Taste of Nature Organic Fruit and Nut Bars are available in nine flavours, priced £1.39 (RRP) from Rainbow, CLF, Tree of Life, Suma, Queenswood, Essential and Marigold.
Organic Spirulina & Lemon / Acerola Cherry & Goji Berries Super Truffles
Of The Earth Superfoods
Tel: 0207-387-9303 Fax: 0207-388-6077
E-mail: [email protected]
www.OTEsuperfoods.com
A new tasty way to get your daily dose of spirulina or açai… The dainty no-added-sugar Super Truffles are hand-made using only the highest quality organic fruit and raw almonds, with many superfoods for added benefits. A scrumptious & surprisingly substantial snack for on-the-go, or a unique gift suitable for vegans, coeliacs and weight-watchers. At just 42 kcal per truffle there's no reason to resist! Be prepared for a real burst of taste! Dates offer delicious sweetness, while almonds provide richness and satisfaction. We find them absolutely divine. Available as single flavours or mixed. RRP £5.49. Handmade in London.
Nice & Nobbly Granola Bars and Hot & Steamy Oats
Nature's Path Organic (UK)
Tel: 0800 0723658
E-mail: [email protected]
www.naturespath.co.uk
www.facebook.com/naturespathuk
What's New at Nature's Path – For today's 'no time to stand still' souls we're proud to unveil 2 deliciously distinct, pocket-sized snacking bars (Trail Mix and Choc Chip) that squeeze all our hard-earned organic/cereal know-how into two eminently scoffable breakfast bars. In addition our new Hot & Steamy 8 sachet multi-pack (contains maple, spiced apple and original) has been assembled for all those hot oats enthusiasts for whom words like great taste, real choice gluten-free oats and organic mean everything. This could quite possibly be the greatest warming invention since the hot water bottle. www.naturespath.co.uk
Sukrin low-carb, free-from, gluten and wheat-free sunflower and pumpkin seed bread mix.
Sukrin Ltd Tel:02033 012566
E-mail: [email protected]
www.sukrin.co.uk
A delicious gluten-free bread with only 1 carb per slice and no compromise on taste or texture.
Free & Easy
Taste of Nature
Tel: 01403 786460 Fax: 01403 786280
E-mail: [email protected]
www.healthyfoodbrands.co.uk
Free & Easy is a delicious range of food and drinks bursting with full-on flavour yet free from wheat, gluten and dairy. Free & Easy's unique range of soups, sauces, ready meals and curry pastes blends wholesome ingredients to create rich and satisfying flavours for easy, nourishing meals. Free from the most common food allergens, the Free & Easy range has been made without artificial additives and preservatives, are low in salt and sugar and suitable for vegetarians and vegans alike. The Free & Easy range is priced from £1.35 (RRP) and available through Rainbow, CLF, Tree of Life, Suma, Queenswood, Essential and Marigold.
Mini Moo Cheeky Orange
Moo Free Chocolates
Tel: 0845 094 6498
E-mail: [email protected]
www.moofreechocolates.com
Moo Free's award winning dairy free and gluten free chocolate is now available in bite sized individual orange bars. Each Mini Moo Orange Bar comes in a flowrap pack featuring Cheeky Chops. These bars are made using Moo Free's secret, organic, dairy free and gluten free chocolate recipe that ensures that each chocolate bar really does taste like delicious, quality milk chocolate. For trade samples of the new orange bar or any of the other bars from the Mini Moo range simply contact Moo Free with your details. Full details of the Moo Free range is available on their website.
Koko Dairy Free Original + Calcium 1L
Koko Dairy Free,
Tel: 01564731980 Fax: 01527831904
E-mail: [email protected]
www.kokodairyfree.com
Unique dairy free milk – Free From Allergens Choosing an alternative to cow's milk can still leave you exposed to the risk of other allergens. But being made from coconut milk Koko Dairy Free is completely allergen free – no dairy, no soya, and no gluten. And, despite the name, a 'coconut' is actually classed as a fruit, so it's nut free too. With a fresh, light flavour Koko Dairy Free tastes remarkably like cow's milk on breakfast cereals and can be added to tea & coffee without curdling. It also functions like cow's milk in cooking and baking, allowing users to enjoy a full and varied diet.
RAW Organic Food Bar
Kinetic Natural Products,
Tel: 08450 725 825  Fax: 08450 725 826
E-mail: [email protected]
www.kinetic4health.co.uk
These energy-packed raw food bars consist of 90% alkaline-forming, enzyme-active, organic whole foods, sprouted superfoods, essential fatty acids and antioxidants that provide optimal nutrition. Natural, delicious, unrefined sugars used as Agave Nectar are used to add to flavour but ensure the bars have a low glycemic index. Organic Food Bars aid the hectic lifestyles of hard-working people who demand more from their food bars – rich in protein, healthy fats, extra fibre, fruits and veggies. Each energy food bar is gluten, soy, peanut and dairy free so the organic protein comes from brown rice and almond butter.
Plamil No added sugar chocolate bars taste amazing!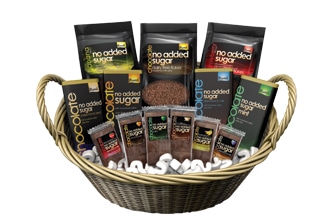 This 72% cocoa chocolate is sweetened with xylitol and has lovingly been produced using fairly traded cocoa for many years. Plamil will be rolling out on retail labels its ethical purchasing certification from the middle of this year. Xylitol is well known by diabetics as an alternative to sugar. There are four large 100 g bars to choose from. A beautiful dark smooth chocolate, the popular dairy free milky bar, mint, a great favourite and the delicious bar with shelled hemp seed, rich in protein. There is a growing range of tasty 45 g bars to choose from: strawberry, banana, coffee, mint and dairy free milky. These multi award winning bars come in biodegradable packaging. Their no added sugar hot chocolate flakes are available in a powerful dark, delightful banana and scrumptious strawberry flavours. These are wonderful for making 'real' hot chocolate drinks and will soon be available in catering size for cafes/coffee bars. Of course the flakes are equally great for home baking or catering. They are particularly useful for making truffles. For over 50 years allergy sufferers and those who want to avoid many ingredients for ethical, lifestyle or for religious reasons have trusted Plamil as a strictly no dairy, gluten or nut manufacturing company. Their factory is powered by 100% renewable energy. MD Adrian Ling says: "We're extremely proud to produce free from products whilst maintaining our high ethical standards. Our sugar free chocolates are a wonderful complement to our organic range." Plamil feel it is important to know exactly what is in a bar of chocolate. And equally important to know what your chocolate does not contain. Plamil manufacture all their products in their own dedicated factory carefully choosing ingredients which are selected to the highest vegan, gluten free and no nut specifications. Their strictly vegan production makes sure that all their products are totally free from dairy and other animal products and would never state may contain dairy. Plamil's special vegan logo guarantees this. Because these chocolates are dairy free, gluten free, made in an environment where no nuts are used and are no added sugar, retailers have the advantage of buying one multi-free from product rather than having to stock many different SKU's. Plamil's no added sugar range can be found in all good wholesale outlets. Order them today. Their trade website can be found online at www.plamilfoods.co.uk