The latest offer from the Fry Family Food Company is a line of Artisan Dairy-Free Ice Creams.
Produced in small, slowly-churned batches, the vegan-friendly ice creams are available in five flavours: Madagascan Vanilla Bean; Just Toasted Coconut; Tons of Cookies; Salted Caramel; and Vanilla Bean Espresso.
The new range is made using coconut milk and combines 100% natural ingredients with minimal processing. It is the only ice cream selection in the UK to be sweetened with agave.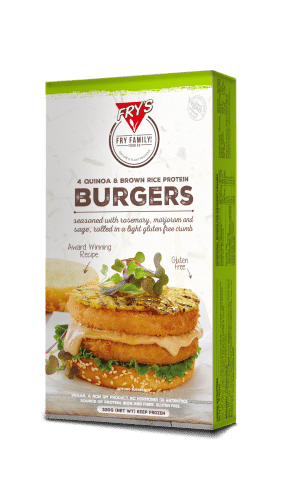 "Fry's Family Food has been making plant-based foods for over 25 years," comments Tammy Fry Kelly, the company's international marketing director. "We care about and listen to our loyal customers and knew that there was a growing demand for dairy-free ice cream. At the same time, as a family, we'd also been on a hunt for something indulgent, but without the dairy and some of the other nasties often found in non-dairy ice cream. The launch of our new range of ice creams is our solution to these problems."
Fry's has also entered the gluten-free sector with the launch of its new Quinoa & Brown Rice Protein Burger. Created from soya protein, brown rice protein and Quinoa, the burgers are rolled in a light gluten-free crumb and seasoned with a secret recipe featuring rosemary, marjoram and sage.