Matt Chittock identifies the latest natural trends in the popular food-to-go market.
In the not so distant past lunch was something that you sat down at a café to eat, or brought from home in a tupperware box.
Today things are different, and consumers have a multitude of outlets from which to grab a sandwich or wrap – including some canny health food stores.
From its store in Battersea, London, Dandelion manages to serve up customers with a choice of four hot meals a day, including a gluten-free option.
"That will always include a parmigiana and lasagne and one gluten-free soup," explains co-owner Claire Bateman.
"There'll usually be quiche and tortilla too. As we're selling between 85 and 100 lunches a day – including 50 'mains' – we get through nearly everything."
As you'd expect from a health store, salads are a very popular choice.
"We do four freshly made salads a day with lots of interesting ingredients," Bateman says.
Winning formula
Like other High Street food-to-go outlets, which these days include everything from convenience stores to builders' cafes, Dandelion is up against plenty of competition. But, over the time it's been in business, it's hit upon a winning formula.
"Other local sandwich and salad sellers can't compete with the wide range of ingredients we use – probably six or seven in a typical salad – and the nutritionally balanced meals we offer," she says.
Of course, lots of stores can't spare the space, face the planning regulations, or train the staff to provide fresh food-to-go. But, thanks to the ever-inspiring natural products industry, there are plenty of healthy and nutritious pre-packaged solutions to choose from.
Snack bars offer a great entry into the lunchtime market. And if packaged with a sandwich or a drink then can form a meal deal with which to attract health-conscious and price-savvy customers.
Wild Trail's new snack bar features a recipe which it claims has the best nutritional profile in the cereal bar category for sugars, fats, calories and saturates per bite. It's also naturally low GI and free from wheat and dairy.
Sugar shock
"We are hugely worried by the shamelessly misleading health claims of many products – including squashed fruit bars which are often almost 50% sugar – a shocking truth when you consider that sugar is the biggest single cause of obesity," says Gordon Leatherdale, founder of Wild Trail.
As a healthy snack option the popularity of nuts shows no sign of slowing down either. And with this in mind Liberation's new own-brand line may be sans Harry Hill, but it comes with fresh Fairtrade credentials.
True to Liberations' mission, all nuts are sourced from co-operatives of small-scale growers that own a 44% share of the company. "I believe the market for nuts is set to continue to grow as they are convenient, tasty food with excellent nutritional and environmental credentials," says Kate Gaskell, Liberation's managing director.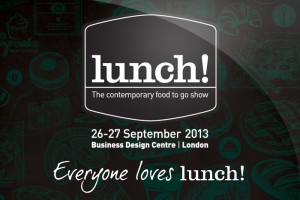 IT'S TIME FOR LUNCH!
Diversified Communications is proving that natural, healthy and sustainable food has a place at the table at this year's lunch! The contemporary food to go show which takes place at the Business Design Centre on 26-27 September, already features a host of brands familiar to natural products retailers.
As ever lunch! offers a great snapshot of the entire food to go industry all under one roof – plus a place to discover fresh trends and future top sellers.
"Last year was the best lunch! ever – but we think 2013 will top it," says Chris Brazier, event director. "The overwhelming feedback we received so far from many of our exhibitors, and an amazing 98% of visitors, is that they loved the look and location of lunch!"
• Register to visit lunch! FREE here.