After taking on six other budding food and drink entrepreneurs in Soil Association Scotland's Organic Dragons' Den in Edinburgh last month, Demetra Pantelouris of Meros Dairies was crowned the winner.
A wide range of products were showcased including cheeses, preserves, meats and even some organic cocktail bitters, with each competitor having 25 minutes to prepare, display, describe and serve up their organic produce to the Dragons.
The roles of the Dragons were taken on by industry experts Charlotte Maybury of QMU Gastronomy course, Susan Welsh of the Press & Journal, Paul Burrows of Greencity Wholefoods, Fiona Richmond of Scotland Food & Drink and Michelle Wilson of Triodos Bank.
Meros Dairies won the Dragons over with organic cheeses inspired by its Greek heritage, whetting the judges' taste buds with a delicious homemade grilled halloumi, then sealing the deal with a rich, creamy ricotta.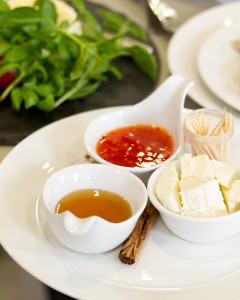 Demetra Pantelouris of Meros Dairies said: "With my business in the very early stages I was in need of some outsider feedback to help take it to the next stage. Not usually one to put myself in the limelight, I entered the Organic Dragons Den as the judging panel offered an impressive range of food industry experts – an opportunity too good to miss. Having to present and pitch about my cheeses rekindled my passion for food. That, along with the invaluable feedback I received, has given me the confidence boost I needed to power ahead with developing the business. Overall, entering the Den was a great experience and one I would urge other organic start-ups to go for."
"I was very proud of the businesses that participated in the Den," said Alison Muirhead, business development manager for Soil Association Scotland, "and very encouraged by the calibre of entries submitted. It's great to see real creativity and innovation in the organic sector in Scotland, particularly as we approach Soil Association's month of campaigning and awareness-raising, Organic September.
"We had a wonderful panel of Dragons with a range of expertise and experience, from online retail to ethical banking, who provided participants with frank and creative advice. I'm delighted that we were able to run the event with the support of the Community Food Fund (which is financed by the Scottish Government) and provide advice and guidance to organic businesses in Scotland. I look forward to seeing the winning products on shelves in the future."
Meros Dairies was awarded a new product development session with 'Think Local' worth £1000. Two runners up were also awarded this prize – Cream o' Galloway for its cheeses and Tiphereth Trading for its chutneys and jams.