The Fairtrade Foundation has announced that it will not be involved in the new Sainsbury's Foundation pilot in tea due to concerns that it fails to meet core principles of Fairtrade and would disempower farming groups in Africa.
With the launch of the programme, the supermarket's own-brand Red Label and Gold Label ranges will no longer be certified Fairtrade, but instead be part of its new 'Fairly Traded' range. The changes will affect over 229,000 farmers.
"Fairtrade and Sainsbury's have worked together for many years and we are rightfully proud of what we have achieved for some of the world's most marginalised farmers," says Michael Gidney, CEO of the Fairtrade Foundation. "Whilst we welcome and expect companies to work towards improving social, economic and environmental outcomes within their supply chains, we don't believe the execution of this current model will, on balance, deliver positive changes for tea farmers. Therefore, at this stage we are unable to partner with the Sainsbury's Foundation as it does not yet meet our core principles, particularly in the area of producer empowerment."
Commenting on the launch of the pilot, Sainsbury's group chief executive, Mike Coupe, said: "I'm immensely proud to be launching the Fairly Traded pilot today, alongside the new Sustainability Standards and advisory board. Ethical and sustainable sourcing are at the heart of our business and as the world changes we cannot stand still. That's why this innovative pilot will build on our existing work and relationships and we're aiming to deliver significant benefits for our farmers, our business and our customers.
"The business case is clear. Our farmers and growers can expect financial security through long-term relationships and a greater level of support to help them plan for their futures. At the same time we safeguard the future quality and availability of the great British cuppa for our customers."
But in an open letter, tea producers from across East and Central Africa and Southern Africa Networks of Fairtrade Africa wrote: 'We told Sainsbury's loud and clear: your model will bring about disempowerment. We are extremely concerned about the power and control that Sainsbury's seeks to exert over us … We see the proposed approach as an attempt to replace the autonomous role which Fairtrade brings and replace it with a model which no longer balances the power between producers and buyers.'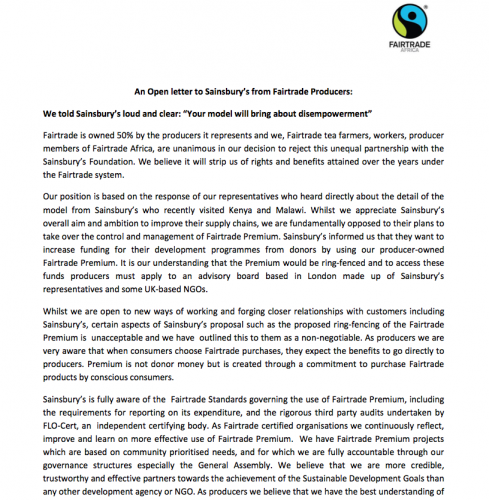 One main objection is that the Sainsbury's Fairly Traded Social Premium will be housed and managed by Sainsbury's Foundation, so farmers and workers will only be able to access the funds if they are successful in applying for grant funding for investment following project proposals.
Gidney called on the supermarket to commit to a thorough monitoring and evaluation of the tea pilot before any further expansion. "We're certain Sainsbury's will welcome further public scrutiny and we look forward to seeing their published plans for their tea pilot including transparent standards, delivery plans and measurable outcomes at the earliest opportunity," he added " Whilst we cannot partner with them on an untested pilot as it stands we would welcome opportunities to work with Sainsbury's in the future if together, we can embed Fairtrade's principles within their model."
A Sainsbury's spokesperson told NPN: "We are matching all the benefits of the Fairtrade model and building on them."