Worth $374 billion globally, the snack food market knows no bounds. It's also a
sector that increasingly refuses to recognizes any boundaries, writes Jim Manson 
Just in case we need reminding that our eating habits have changed beyond all recognition since the days of three square meals and meat and two veg, along comes a new trend to jolt us out of culinary complacency.
Bored with the prospect of spending an entire evening in a restaurant, growing numbers of diners are on the move – they'll have a starter here, a main there and a dessert somewhere else. As a result, restaurants are popping up, offering the "single course dining experience".
It's the latest micro-trend in a constant revolution of changing eating habits, and there's no better example of this than the continuously shape-shifting snacking category. Worth $374 billion globally (Nielsen), it's a market that knows no bounds. But it's also a sector that increasingly refuses to acknowledge any boundaries.
Blurring the lines
According to the NPD group, the lines are becoming blurred between food traditionally consumed at main meals and those usually considered snacking foods. At the same time products typically used as main meal accompaniments such as dips and spreads are now frequently found in the snacks aisle paired with nuts, seeds or crackers.
NPD's Darren Seifer says the trend to snack alongside main meals is underpinned by several factors.  "First, there has been a slow but steady decline in the number of side dishes prepared at consumers' main meals. Convenient snack foods allow consumers to round out their meal and bring more items to the table without exerting much effort."
But something else is going on. And that's the change in attitudes towards snacking. Whereas in the 1980s over 70% of people said they actively tried to avoid snacking, today snacks are seen as part of a healthy eating repertoire.
No compromise
According to Susan Dunn, executive VP at retail analysts Nielsen, demand in the fiercely competitive snacks sector is "driven primarily by taste and health considerations – and consumers not willing to compromise on either".
Nielsen recently polled over 30,000 consumers to identify which snacks are most popular, and which product attributes are most important to them. The survey shows that while sweet snacks remain the biggest snack category overall, the fastest growth is happening in the savoury snacks arena – particularly dips and spreads, rice cakes, pitta chips and speciality crisps.
Dunn comments too on the increasing criss-crossing of categories, in which snacks appear at main meal times and traditional 'mains' are repackaged into snacking sizes and small pot meals. "Busy, on-the-go lifestyles dictate a need for quick meal solutions. There is a massive, yet still relatively untapped, market for nutritious, portable  and easy to eat meal alternatives."
Nielsen also highlights that more consumers care about the absence of ingredients than the addition of them. For example, 44% rate the absence of artificial colours very highly, 43% for GMOs, 42% artificial flavours, 23% caffeine and 19% gluten.
All of these trends lead in one direction. That is, towards what has been dubbed the "healthification of snacking". Natural and organic brands, of course, are very well placed to take advantage of consumers demands for healthy snacking options.
Top snacking trends
So, how are health brands innovating to take advantage of this  remarkable transformation of the snacking category, and what's currently hot in the healthy snacks aisle? Here are our top snacking trends.
• Thinking inside the box – healthy snack and salad boxes are big sellers, whether branded lines like 'letter box specialist' Graze (which recently launched mini snack boxes) or boxes made up in store such as Infinity Foods' top-selling mezze boxes.
• Raising the bar  – sales of energy and nutrition bars have tripled in the last five years (Euromonitor) and are set for further growth. Increasing demand for 'clean' labels and 'real' ingredients give natural and organic brands a clear head start. In the US, savoury bars are a particular growth area – if you're not ready for Epic's Pasture Fed Bison and Cranberry Bar, maybe Pizza Marinara or Coconut Curry (both from Journey Bar) would suit?
• Dips are rising – dips and spreads are the fastest growing category in the snacking arena. Increasingly, they are paired with seeds, nuts and crackers to make them a more complete snack. A typical pairing pack would
be Florentin Organic Falafel & Houmous Snack. So, to
get you dips sales up, get the houmous, tahini, fava and salsas in!
• Superfood boost – snack brands are supercharging sales of their products by
giving them a superfood boost – from beetroot (Beet It Sports Bar) to super greens (Amazing Grass bars and sachets), flax (9 Bar) to kale (inSpiral's Kale-Os).
• Spice up your snacks – Britons love spicy food, so it's little wonder that traditional accompaniments to curries and Asian dishes are now snacking staples. If they've got great natural, vegan and free-from credentials – check out Howdah's Bakarwadi Bites and Peanut Pakoras – you've got a marriage made in heaven.
• Carry on coconut – 'Put some coconut in it and it will sell' seems to be the current thinking. No surprise then that coconut is the star attraction of a host of snack products. Sometimes it's the killer ingredient – as in Primal Pantry's Coconut & Macadamia Bar – and sometimes it is the product itself – Delcoco's Coconut Chunck Snack illustrating our point.
Hot Stocks
Get your oats
One of the latest additions to the Nairn's offer is Snackers, an oat snack range packed with whole grains and soluble fibre, available in Cheese, Salt & Balsamic Vinegar and Caramelized Onion. The iconic Edinburgh baker also offers snacking for kids in the form of Astrobites, made of whole grain oats, fruit pieces and with 40% less sugar content than the average biscuit.
Well … Kale-O
The clue is in the name. Kale-Os, from raw food pioneer inSpiral, are big on kale (73% and upwards), but offer clever taste combinations – Sweet Chilli & Mint, Tomato & Basil Pizza and Celtic Sea Salt & Lime – to truly capture the imagination and tease the taste buds.
Raw power
Initially created at a kitchen table by great Danes, Morten, Nikolaj and Rolf, fruit and nut bar brand Raw Bite is capturing the imaginations of consumers. Created with the "utmost respect for natural ingredients" the bars are available in seven flavours including Vanilla Berries, Spicy Lime and Coconut.
Worth the truffle
Organic Super Truffles from Of the Earth Superfoods offer a twist on the snacking ball theme. Dainty and vividly coloured, they're flavour- intense and packed with supernutrients – available in zingy Spirulina Lemon and tangy Acerola Goji.
In the Nudie
With the strapline 'snacking stripped bare', Nudie is a premium snacks line from Freedom Foods. Its launch line – Coconut Chips – is as stripped back as a snack can be, just slices of fresh coconut toasted to perfection.
Food Focus Products
Of The Earth Superfoods Organic Golden Incas Berries
Of The Earth Superfoods
Tel: 020 7387 9303 Ext 207
E-mail:  [email protected]
www.otesuperfoods.com
These Exotic sharp-sweet berries are native to South America and are grown with sustainable farming techniques. They are known to be exceptionally high in protein for a fruit (around 16% per portion – great for post workouts!) and provide a plant-based source of Vitamin B12. High in Vitamin A, known to be great in helping to keep your eyes and skin healthy, bioflavonoids for overall body health and fibre for a healthy digestive system, these chewy Golden Berries are the perfect healthy snack or addition to both sweet and savoury dishes.  Available from: CLF, The Health Store, Marigold & Tree of Life.
Bounce Energy Balls
Bounce Foods Ltd,
Tel: 0845 838 2579
E-mail:  [email protected]
www.bouncefoods.com/uk
Bounce Energy Balls are a tasty, nutritious and convenient snack. Made with a delicious combination of high quality protein, balanced carbs, and good fats, to keep you feeling good throughout your day. Bounce is the perfect pick me up for any time you don't want to compromise on what you eat. All are gluten free and vegetarian, so we have something for everyone. The newest addition to the range is the Bounce Cacao Orange Protein Burst. This new Ball will be available in Whole Foods Market, Planet Organic and Independent Stores and also from www.bouncefoods.com/uk from September 2015.
Essential Organic Peanut Butter
Essential Trading Cooperative,
Tel: 0845 458 0201
E-mail: [email protected]
www.essential-trading.coop
Essential Organic Peanut Butter can be used in all sorts of healthy snacks, and recently won a Veggie Award for best Vegetarian Store Cupboard Ingredient. This nutritious peanut butter is free from added sugar, added hydrogenated fats, palm oil, monoglycerides and preservatives. Choose from four delicious varieties – Crunchy or Smooth, lightly salted or without salt – to suit different tastes and dietary requirements. Other commercial nut butters often contain added hydrogenated fats (trans fats) or palm oil (which apart from having fewer nutritional benefits also raises questions of sustainability). Every mouthful of Essential Peanut Butter is packed full of sustainable goodness.
Clif Bar
Healthy Food Brands
Tel: 01403 786460
E-mail:  [email protected]
www.healthyfoodbrands.co.uk
Clif is a delicious range of energy-boosting snack bars packed with wholesome, organic ingredients to provide energy, whenever and wherever you need a boost. The top selling energy bar brand in the USA, the Clif equation is simple – put good food in to get good performance out.  With a blend of organic whole grains, protein, fibre and 11 vitamins, Clif gives users the energy to be in it to the limit. Carbohydrate rich and available in six delicious flavours, Clif Bar's energy bars supply working muscles with the fuel they need for extended periods of activity.  So whether you're on a bike, on foot or in need of a nutritious snack, Clif is built to sustain your adventure. RRP £1.60 from Tree of Life, CLF, The Health Store, Suma, Goodness, Queenswood and Infinity.
Amazing Grass Green Superfood Energy Bars
Kinetic Natural Products Distributor
Tel: 08450 725 825
E-mail:  [email protected]
www.kinetic4health.co.uk
Amazing Grass Organic Green Superfood blend is a proprietary combination of organic, non-GMO wheat grass, barley grass, alfalfa, spirulina, spinach, chlorella and broccoli, plus a carefully-selected combination of herbs, spices, fruit and vegetables. Every serving is chock full of all the necessary vitamins and minerals. It's contained in the energy bars –  organic, alkaline, vegan, and dairy-free. Contains a full spectrum of organic alkalizing and detoxifying ingredients , supports overall health and wellness and is packed with a potent leafy green blend to increase alkalinity within the body. Available in Original flavour and Chocolate Chip Coconut. Raw, Vegan and Gluten Free.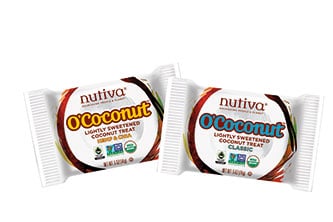 Kinetic Natural Products Distributor,
Tel: 08450 725 825
E-mail:  [email protected]
www.kinetic4health.co.uk
Nutiva O'Coconut snacks are the perfect delicious anytime treat. Crafted from lightly sweetened organic coconut flakes, each treat contains 1.5 teaspoons of coconut oil. Coconut oil offers the nourishing benefits of medium-chain triglycerides, including lauric acid. O'Coconut snacks are perfect for lunch boxes, to take on a hike, or anytime you want to satisfy a craving for a sweet, but healthy snack. Enjoy pure coconut flavor with O'Coconut Classic or try O'Coconut Hemp & Chia for a nutty taste and Omega-3 benefits. Non-GMO, Fair Trade, no corn, soy or cane sugar, and only 60 calories per serving.
Nairn's Snackers
Nairn's Oatcakes,
Tel: 0131 620 7000
E-mail: [email protected]
www.nairns-oatcakes.com
Nairn's Snackers are moreish baked snacks packed full of flavour. They are made with Scottish wholegrain oats and contain approximately 100 calories per bag (dependent on flavour variety), perfect for healthy eaters. Available in three delicious flavours, Cheese, Sea Salt & Balsamic Vinegar and Caramelised Onion, Snackers are baked rather than fried, are made to a wheat free recipe and are a source of soluble fibre which helps to release energy slowly throughout the day. Nairn's Snackers are available from all major wholesalers, including CLF, Suma, Tree of Life, The Health Store and Goodness Foods. RRP £0.46 per 23g bag.
Nom Organic Popcorn
Nom Foods Limited
Tel: 01865 368811
E-mail:  [email protected]
www.nomfoods.co.uk
Nom foods are on a mission to bring you nutritious snacks which are organic, free-from all the nasties and taste great! Following the success of nom bars, nom foods are excited to announce the launch of nom organic popcorn; hand-popped in coconut oil, making it even more nutritious. The range is vegan, gluten-free, dairy-free, high in fibre and made without refined sugars. It's also low calorie. Nom popcorn is available in three delicious flavours; Simply Salted, Salted Maple and Cinnamon Maple – RRP £1.49 a bag. Please visit www.nomfoods.co.uk for more information, email [email protected], or find them on Facebook, Twitter or Instagram.
LUKE's Organic chips
Organico Realfoods Ltd.
Tel: 01189 238767
E-mail:  [email protected]
www.organicorealfoods.com/lukes-2
LUKE's: Great tasting Organic and gluten-free snacks.  LUKE's range of tortilla chips reads like a who's who of superfoods. Every chip is made with LUKE's unique combination of super grains (corn, brown rice, millet, quinoa and amaranth) and a special blend of cold pressed vegetable oils. Then comes the list of celebrities, including Kale, Chia Seeds, Himalayan Pink Salt, Flax Seeds and a protein-rich Blue corn. There's almost nothing else on the ingredient list and definitely none of the weird additives or flavours and long pharmaceutical words you find in normal crisps or chips!.  Organic, Vegan, Gluten-free,  Multi-grain/wholegrain mix
WILD THING
Paleo snacks
Organico Realfoods Ltd.
Tel: 0044 1189 238767
E-mail:  [email protected]
www.wildthingpaleo.com
WILD THING: SUPERFOOD HEALTHFOOD BAR – Our WILD THING snack bars are expertly mixed together. We use organic ingredients in our paleo, vegan and gluten-free recipes, because we believe it is the only way to guarantee that there really are no additives through the entire production. We keep the bars raw to maintain the vitality of the ingredients, and whilst staying true to the rules of paleo, we focus on traditional wholefood values: high density nutritional foods, minimal processing, totally natural and organic ingredients. It means every WILD THING bar is packed with high quality, expensive ingredients. Organic,  Vegan, Raw, Gluten-free
Planet Organic Raw Superfood Energise Bars
Planet Organic
Tel: 0207 221 7171
E-mail:  [email protected]
www.planetorganic.com
Wholesome nuts + medjool dates + plant protein + superfoods = supercharged snacking Raw nuts & dates deliver a burst of wholefood energy, whilst plant protein keeps you feeling fuller for longer. Then there's the added superfoods.  A sprinkling of chlorophyll-rich, alkaline greens in our Coconut & Barleygrass bar. A hefty dose of antioxidant-packed, magnesium-rich raw cacao in our Cacao Brazilnut Bar. Plump and juicy red goji berries in our Goji Pumpkin Seed Bar. Finally omega-3, protein & fibre packed chia in our Chia Vanilla Bar. GLUTEN FREE * VEGAN * SOY FREE *REFINED SUGAR FREE *PALEO * RAW RRP: £0.99 (30g)
Planet Organic Rawkin'nola
Planet Organic
Tel: 0207 221 7171
E-mail:  [email protected]
www.planetorganic.com
Seeds are great for us, but in their dormant form they can be difficult to digest. Which is why we sprout them, turning sleepy seeds into activated super foods busting with vitality and easily digested nutrients. We're talking sprouted buckwheat, quinoa, sunflower seeds, flaxseeds and chia seeds, each packed with wholefood energy and plant protein.  We add Medjool dates for natural sweetness and super foods for added vitamins & minerals, including cacao powder, spirulina, beetroot & acai.  These tasty raw granola bites make a perfect (and healthy) snack any time of day.  ORGANIC * GLUTEN FREE * VEGAN * SOY FREE * REFINED SUGAR FREE * RAW  RRP: £0.99 (40g)