Does your natural products store, business or café have a juicing genius in its midst? You might even be that person yourself.
Either way, you'll want to get involved with one of the hottest new events to be added to this year's Natural & Organic Products – the UK's Juicing Championships, sponsored by cold press juicer specialist Juico.
The new competition will see professional juicers compete to be crowned the UK Juicing Champion 2015.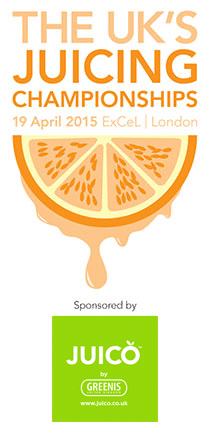 Entries are now being accepted (click here) for the Awards and the live final will take place on Sunday 19th April at the Natural Food Kitchen, right at the heart of the Natural Food Show.
During three heats, contestants will be judged by show visitors, with the winners going on to the final. Industry judges will include nutrition experts Christine Bailey and Dale Pinnock. The winner will claim national recognition as the industry's top juicer and win a Juico juicer worth over £300.
The competition will be judged as much on health benefits as it will flavour, with marks also awarded for looks and originality.
From cafés and juice bars to health food stores, all juicing professionals are welcome to enter the Juicing Championships and to be eligible, all juices must be made up of at least 75% pure juice and the remaining 25% can be made up of other ingredients such as superfoods and milk that can be blended with the juice.