As the vegan food market continues to surge ahead and growing numbers of people adopt a vegan lifestyle, is it time to create a universal symbol for the burgeoning vegan movement?
Adrian Ling, MD of vegan food pioneer Plamil Foods, thinks it is. That's why he is flying a kite for … the 'Vegan Flag'.
He says: "As a lifelong vegan I have been involved in the 'vegan world' for over half a century. In that time I have been involved with the UK Vegan Society and I am managing director of Plamil Foods Ltd.  Plamil's routes were formed at the start of the Vegan Society.
"Let's promote vegan in colour"
"At the beginning of August 2016 I had the idea that vegan should have an easily recognizable 'vegan flag', a combination of colours, which can be used freely by all to promote veganism in the most plural of uses by organizations or individuals, under any circumstances. I thought to myself, most people know what the 'Rainbow' flag symbolizes – so 'Vegan' should equally have a recognisable flag."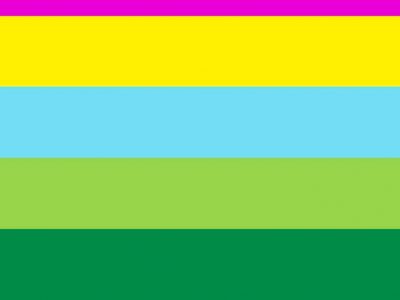 Ling says the intention has been to create a simple design that is easy and cheap to reproduce on material (a physical flag), in print and in social media. The design deliberately avoids carrying any message or text, so that it can adapted by any user. "People can and could add to the flag, refine or add detail, words, logos, or anything else in the same way other generic flags are added to."
Importantly, he says, the flag is to be freely used by all in any circumstances. "Let's promote vegan in colour."