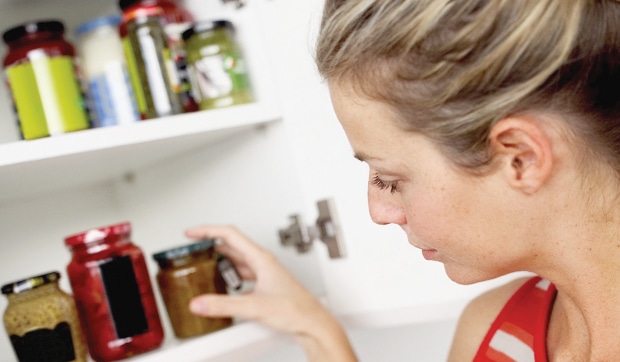 A well-selected range of store cupboard ingredients will send all the right signals to your foodie customers, says Jim Manson.
Take a pinch of TV chef endorsements, mix in an enthusiasm for all things baking and finally sprinkle with post-recession thriftiness. And there you have it – the perfect recipe for a thriving natural store cupboard ingredients market.
Last month, one of those chefs – organic supporter Jamie Oliver – was busy emphasising the importance of a well-stocked store cupboard. "If you think, 'oh, I can skip on this ingredient, or that ingredient' then these recipes just won't work – the ingredients are crucial," he told Chris Evans on Radio 2 while rustling up a little something from his best-selling Jamie's 15-Minute Meals.
A shop that is well-stocked with quality cooking ingredients sends all the right messages to foodie customers – and could help convert new shoppers to your store. Many cooking ingredients have decent shelf lives, and premium sauces and condiments command high price points.
As with other categories good product editing is important, not least because the chances are that you are operating within a limited space. But also consider mixing basic store cupboard ingredients – the sort of things that reassure through familiarity – with more specialist and unusual products.
Elixir Health Foods in Wadebridge is one retailer that has consistently done well with store cupboard staples. Comments co-owner, Jason Henderson, "We're lucky that there's a great deal of interest in cooking in this part of Cornwall. The area's brimming with good eateries and hotels. We've got a double Michelin-starred chef a few miles from us, and Rick Stein over in Padstow – so, lots of inspiration for aspiring chefs.
"Offering a good range of cooking ingredients is all part of being an effective one-stop-shop. Yes, there's going to be some overlap between what we and the supermarkets sell – but people still buy these products from us. And we regularly get people saying 'we used to get this in the supermarket, but they've stopped doing it' – so supermarket delisting serves us well again!"
Freshness is one area where a good indie can steal a lead on the supermarkets, says Henderson. "It's not just things like our herbs that are fresher, our pre-packs – because we have such a good turnover on them – are fresher too."
As general advice, Henderson suggests offering a good choice on pre-packs. "You'll disappoint your customers if your offer is thin. With flour – which we have a range we're really proud of – we make sure we offer gluten-free and more specialist flour, spelt and Kamut, for example."
Elixir has an ethnic ingredients selection too – with all the ingredients customers would need to create their own Japanese, Thai or Moroccan dish. "There's lots of interest in things like miso and the ubiquitous coconut oil! There's a demand too for speciality oils – avocado and rape seed, for example. And don't forget rice – an absolute staple."
Hot Stocks
Here's just a small selection of the categories – and products – we think will turn your customers on to home cooking.
The sauce of it
Quick and convenient, ready-made sauces are a must for busy people. With a good choice of organic, Fairtrade and veggie variants, there's something for everyone too.
Little Pasta Organics has the stated mission of "nourishing our children with good wholesome cooking combined with a complementary approach to wellbeing". There are currently four pasta sauces in the range, with both veggie and meat variants. They're all organic and gluten-free and pack in one portion of your five-a-day vegetables. If it's an organic and vegan take on a classic ketchup you're after, Bioana Organic Tomato Ketchup is the one for you. With a distinctive  tangy sweetness, and a wheat-free recipe with no added beet or cane sugar, it ticks all the boxes.
Flour power
Flour is the one ingredient that home bakers really can't do without. Your customers are likely to be looking for something with 'added values' – organic, local or gluten-free.
One of the best gluten-free ranges comes from Doves Farm, which offers both white and brown gluten- and wheat-free flours for bread making and home baking. Bacheldre Watermill's 'flour of the season' is currently Bacheldre Organic Stoneground Oak Smoked Flour. It's made with award winning Organic Stoneground Strong Malted Blend Flour and given a distinctive twist – in this case a lovely smokey flavour, after being cold-smoked for 18 hours over locally sourced oak chippings.
Turn up the flavour
Sometimes you'll just want to turn up the flavour. That's when to think about adding something with a bit of kick to it. Fish4Ever's jarred anchovy fillets are packed and prepared in Sicily in a deliciously fruity local olive oil – and as cooking ingredient they give a lovely depth of flavor to a whole number of dishes. Organico's Capers in Brine meanwhile are small, tender and flavoursome, while its Hot Chili Peppers are small but potent and come with the advice "use sparingly".
Sugar and spice
Refined white sugar might be anathema to your customers, but they'll appreciate the rich, dark flavour of molasses, or enjoy spicing up a dessert with a shake of nutmeg or sprinkle of cinnamon.
Steenberg's Fairtrade Organic Mixed Spice blend is ideal to use in baking whether it's in fruit cakes, biscuits, baked fruit or even pumpkin pie – a lovely warming blend of nutmeg powder, cinnamon powder, ginger powder, organic clove powder (all organic and Fairtrade). For sweetness with a twist a look at Steenbergs Organic Fairtrade Cinnamon Sugar – perfect for sprinkling on porridge or pancakes.
Shake on it
Quality condiments deliver steady sales. But why not shake things up with something a bit different? A. Vogel's Herbamare (which blends organic celery, leek, cress, onions, and selected culinary herbs with sea salt) and Profusion's Himalayan Rose Pink Crystal Salt are reliable sellers. Seagreen's The Mineral Salt is a combination of organic seaweed from Seagreens' sustainable harvesting in the Scottish Outer Hebrides and Soil Association certified sea salt from the Lizard Peninsula in Cornwall, England. This 50/50 mix of Ascophyllum nodosum wrack seaweed and unrefined salt provides a healthy condiment option with a complete balance of minerals, trace elements and micronutrients.
Store Cupboard Listings
Award Winning Flour Range
Doves Farm Foods Ltd
Tel: 01488 684 880
Fax: 01488 685235
E-mail: [email protected]
www.dovesfarm.co.uk
Award Winning Flours. Doves Farm launches a new product, and announces more awards for their Flour range. New Wholegrain Buckwheat Flour, a soft flour which makes delicious pancakes, noodles and specialist pasta, contains gluten from the adjacent growing, storage or processing of wheat. It received a Great Taste Awards 2012 Gold Star. A Gold Star was also awarded to Organic Ethical Plain White Flour, perfect for pastry and homebaking. Organic Einkorn Flour, Highly Commended in The Grocer New Product Awards 2012, is milled from the first grain cultivated by man. It makes a great loaf and is ideal for light cakes.
Nutiva Coconut Manna
Kinetic Natural Products, 258 Belsize Road, London, NW6 4BT
Tel: 08450 725 825
Fax: 08450 725 826
E-mail: [email protected]
www.amazinggrassuk.com
Nutiva's Coconut Manna™ is a delicious whole food made from pure dried coconut flesh. This tropical tasting product melts in the mouth and contains 12% fibre, 9% protein along with nourishing fats. A great alternative to milk, cream, yoghurt and butter, it can be used in a variety of recipes. It may be used to flavour rice, oatmeal, cereals and smoothies, or spread on toast or crackers. Also available in Nutiva's organic superfood range are coconut oil, hemp seeds, hemp oil, hemp protein, hemp shake mix and chia seeds, certified by Ecocert.
Organic Pasta Sauces for Toddlers & Kids
Ocram Ltd, 3 Princes Garth, 31 London Road, London, SE23 3TU
Tel: 0844 247 2930
E-mail: [email protected]
www.littlepastaorganics.com
Little Pasta Organics is a fresh brand that caters especially to toddlers & children aged 9 months +. Their range of exciting and yummy organic pasta sauces comprise innovative flavours such as Broccoli & Spinach, Red Pepper & Ricotta, Beef Bolognese and Chicken Bolognese. The sauces contain nutritious superfoods and other high quality organic Italian ingredients. They are also beneficial in that they contain no added salt or sugar, are gluten free and offer busy parents a quick, simple, guilt-free and nutritious meal solution for their children. Products available through: Tree of Life, Cotswold Fayre, The Health Store.
Marriage's Home Baking Flours
W & H Marriage & Sons Ltd, Chelmer Mills, New Street, Chelmsford, Essex CM1 1PN
Tel: 01245 354 455
Fax: 01245 261 492
E-mail:  [email protected]
www.flour.co.uk
Family run flour millers since 1824, Marriage's produce premium quality bread, cake and pastry flours for home bakers. Stoneground wholemeal bread making flours are traditionally milled on hundred year old horizontal French Burr stones. Marriage's organic light brown flours are ideal for making healthier cakes, pastry and biscuits. These wholesome, versatile flours retain the wholemeal flavour, but are as easy to use as white flour. Marriage's source as much wheat as possible from local Essex farmers. Marriage's organic flours are Organic Food Federation certified and all Marriage's strong flours are suitable for bread machines as well as hand baking.
Biona Organic Beans in glass jars
Windmill Organics, Image House, 34A Clifton Road, Surrey KT2 6PH
Tel: 0208 547 2775
Fax: 0208 546 9942
E-mail: [email protected]
www.biona.co.uk
New from Biona, a range of organic beans in jars that offer an alternative to canned beans, including deliciously creamy organic flageolet beans, which are considered a fine delicacy in France. Other varieties such as Red Kidney, Mixed Beans and Chick Peas are ideal for a quick nutritious salad or for casseroles or soups. Biona organic beans are carefully prepared in lightly salted water. Ready to use – simply rinse with cold water and add to salads, stews or create a tasty dip. Bottled using only solar and wind energy the jars contain 40% recycled glass.
Organico Capers
Organico Realfoods
Tel: 01189 238765
Fax: 01189 238761
E-mail: [email protected]
www.organiccollection.co.uk
Capers, anchovies and olives are a Mediterranean trio of ingredients that we keep permanently at hand –great in salads and a whole range of sauces and dishes.   These are strong bold flavours with a vital place in any creative kitchen.  Capers are ranked by size.  Although olive-sized ones can often be found, and serve their purpose, with capers the smaller they are, the more expensive.  The ranking starts teeny with "sans pareille" but we've gone one up to the "capucine" size – still small, delicate and tasty but very much more economic.  Enjoy – in brine, in two sizes.
Organico Black and Green Olives
Organico Realfoods
Tel: 01189 238765
Fax: 01189 238761
E-mail: [email protected]
www.organiccollection.co.uk
Ok so thanks to the TV program Food Unwrapped, you now know why organic black olives are not so black: they're not green olives dyed black in caustic chemical solutions – yuck, yuck, yuck.  Now back in stock, our black olives are taste-ways better than ever but un-pitted because a black olive is riper and softer and our variety a tad smaller.  The green olives are pitted, equally delicious, larger and firmer.  Both are preserved in a delicious rosemary flavoured brine and amazingly good value.   It's not just "eat organic save the planet", it's also "eat organic, eat well and save money!"
Biona Organic Ketchup Classic in Squeezy Bottle
Windmill Organics, Image House, 34A Clifton Road, Surrey KT2 6PH
Tel: 0208 547  2775
Fax: 0208 546 9942
E-mail: [email protected]
www.biona.co.uk
Ketchup lovers rejoice; Biona's New Organic "Ketchup Classic" now comes in a convenient clear free squeezy bottle; ideal for sandwiches, salads and whatever else you fancy adding this versatile condiment to. Made with 70% organic tomatoes – we've created that classic taste with a fruity mild flavour. The ketchup is Gluten free and the squeezy bottle guaranteed BPA free. Attractive RSP of only £2.69 for 560g size bottle. Available from your preferred wholesaler.
Fish4Ever Anchovies
Organico Realfoods
Tel: 01189 238765
Fax: 01189 238761
E-mail: [email protected]
www.organiccollection.co.uk
Join the ranks of the organic cooking elite and only ever use Fish4Ever anchovies.  Packed and prepared in Sicily in a deliciously fruity local organic olive oil, our anchovies are several times Great Taste winners and meltingly delicate.  Unless you're a real fan, the joy of anchovies is as a cooking ingredient giving a lovely depth and flavour to a whole number of dishes.  With Fish4Ever you also know that you're supporting not just the UK, but also the world's most advanced sustainability expert in canned fish.  Idle boasting?  Look at the websites at our supporters, commitments and endorsements.