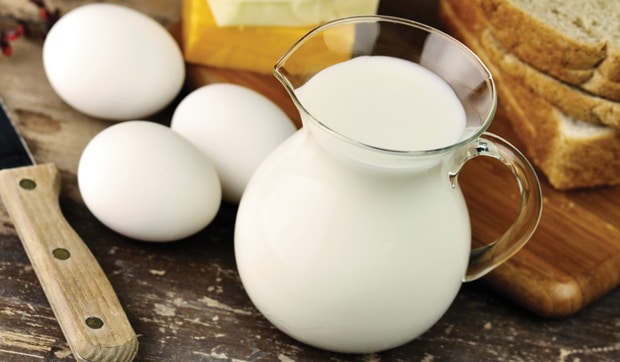 Find out how your store can set food free for health conscious customers
Once upon a time health store brands were judged for the quality and provenance of the ingredients that went into each product. But today, as the UK free-from market booms, consumers are more focused about what's being left out.
According to market analysts Kantal Worldpanel, the free-from food market has grown 15 per cent in the last year to reach a massive £238 million.
The bedrock of the market is the sizeable number of consumers with allergies and intolerances. As many as 25 million people (apparently around half the population) say they have a form of food intolerance, according to charity Allergy UK.  The most common are gluten, wheat and dairy products.
However, according to Michelle Berriedale-Johnson, free-from expert and editor of the influential Foods Matter website, it's non-traditional customers that are sending interest in the sector soaring.
"The biggest growth is from voluntary food restrictors rather than people with specific problems," she says.
These people ("mainly women") are choosing to leave a certain food group out of their diet, for health or ethical reasons. She explains that this feeds directly into the concerns of the traditional health store shopper.
"They're into issues like intensive farming, organic and food miles and free-from food naturally follows these lifestyle concerns."
The good news for the sector is that, even in a recession, the growth doesn't seem to be slowing.
"In a recent report Mintel found that the growth is here to stay," she says.
"I know that a few years ago people worried that it was 'just another trendy diet' – but free-from really does seem to have triggered a real and lasting change in the way people eat."
The popularity of free-from food is also "encouraging the Warburtons of this world into change". For people that want to avoid certain foods eating out is an awful lot easier than five years ago.
"It's interesting that in major pizza chains like Domino's and Pizza Hut you can now order gluten-free pizzas. Last year Costa had gluten-free cakes and Starbucks have a gluten-free sandwich if you get up early enough in the morning to buy it. This will become a lot more popular in the future."
All well and good – but where does this leave health food retailers?
"Health food shops have to be aware that the big boys are on the case and that they've got a fight on their hands," says Berriedale-Johnson.
She advises stores to "keep an eye on new products" to avoid missing out on a future shelf superstar. And luckily there's plenty of innovation bubbling under from small and medium-sized companies.
Now in its sixth year, the FreeFrom Food Awards are a good way to keep track of what's happening in the market – and offer a chance for the industry to come together at their awards bash. This year the winners will be announced in April and the products showcased at the Allergy & Freefrom Show at Olympia in June.
One interesting development in the market that Berriedale-Johnson says retailers should sit up and take notice of, is the way manufacturers are developing products that fit into several categories, not just free-from.
"Take Vegusto, the dairy-free cheese which won overall last year," she says.
"Vegusto wasn't specifically developed for the free-from market – but because it's vegan it's de facto dairy free. It got a great response too – the judges were literally jumping up and down on their chairs after they tasted it!"
Berriedale-Johnson adds that free-from snacks and bars are set to do well too. This is because big manufacturers often put lactose in their crisps, which means dairy-free devotees can struggle. She cites Darling Spuds  as a interesting artisan brand that ticks all the handmade, vegetarian and gluten-free boxes.
The year ahead also looks great for free-from ready meals. Berriedale-Johnson explains that last year ready meals represented the biggest category at the awards.
"Interestingly, I was talking to my publisher and she says that sales of free-from cookery books are falling off. I wondered if this was because there are more ready meals available," she says.
How much is FREE-FROM Worth? £238 million, says Kantar Worldpanel.
Going up:
There's currently lots of growth in ready meals with brands like Amy's Kitchen and Easy Bean leading the way.
Going down:
Puddings aren't quite so hot as five years ago – but cakes remain popular – especially on-trend sweet treats from bakers like Sweetcheeks.
---
Free-From Listings
Ener-G
General Dietary Ltd
Tel: 020 3044 2933
E-mail: [email protected]
www.generaldietary.com
Want yummy free-from bread? Try Ener-G Gluten-Free Loaf and Gluten Free Flax Loaf by General Dietary. Why so good? These loaves are light, soft and can be eaten straight from the pack – ideal for sandwiches – and Ener-G contains vitamins and minerals including calcium and folic acid. Free from? No wheat, gluten, milk, eggs, soya, maize or nuts. Suitable for vegetarians, vegans, and kosher diets. Where do I buy? From your local health food store.
Maize and Rice Penne Pasta
Doves Farm Foods, Salisbury Road, Hungerford, Berkshire, RG17 0RF
Tel: 01488 684880
Fax: 01488 685235
E-mail: [email protected]
www.dovesfarm.co.uk
These award winning gluten free organic pasta tubes are made in Italy from a blend of maize and rice. Doves Farm pasta cooks much quicker than traditional dried varieties and tastes great. It's a fantastic healthy option for a light lunch or evening meal and guests may not even guess they're eating gluten free! The shape varieties in this pasta range allow for diverse free-from dining. Enjoy as part of a fresh salad, coat in a rich bolognaise sauce, add into soups and stews or serve simply with garlic, sage and olive oil. Trade Price: 6x500g £11.20. RRP: £2.49
Nature's Store Corn Cakes
Caroline Beynon, Sherriffs Foods
Tel: 07713 385 933
E-mail: [email protected]
Nature's Store Free From range from Sherriffs Foods includes deliciously crunchy corn cakes in four varieties, all Gluten and Wheat Free and high in Fibre. Conveniently packed in 7 portion packs of 3 cakes they are perfect eaten straight from the pack or with a sweet or savoury topping. Choose from Corn Cakes with Flax seed, Corn Cakes with Quinoa, Corn Cakes with Amaranth or just opt for the plain 100% corn cake. Gluten and Wheat Free Mini Breadsticks and Cheese Crackers can also be found as part of the Nature's Store range, giving you plenty of tasty Free From choice.
Eskal Ice Cream Party Tubs
Eskal Foods Europe
Tel: 07540 928 398
E-mail: [email protected]
www.eskalfoods.com
With plenty of standard ice cream cones on the market, at Eskal we decided it was time for something different, time for something unique that stands out on the shelf. That's why we've introduced Eskal Party Tubs. Shaped like a mini ice cream tub but totally edible, Eskal Ice Cream Party Tubs offer those with allergies (and those without) a unique way in which to serve ice cream. The tubs are the perfect size for a single serve of ice cream, sorbet or fruit. Eskal Party Tubs are gluten free, wheat free and dairy free. Available in a 8x36g case.
NICE & NOBBLY GRANOLA
Nature's Path
Tel: 0800 0723658
www.naturespath.co.uk
WHY SETTLE FOR SAFE and SMOOTH WHEN THERE'S NICE & NOBBLY Despite Nature's Path significant success in building the indulgent 'free-from' breakfast cereal category for both adults and children in the UK these last few years, there have always been a few well-meaning voices asking when we'd be in a position to include some top drawer 'free-from' granolas. This is an astute question when one considers that Nature's Path first made its name in 1985 producing gloriously moreish organic granolas made with only the most nutritious, environmentally responsible grains, seeds, nuts and fruits and golden-baked wholegrain clusters. Our organic granolas are just as nature intended, all NICE & NOBBLY.
NEW Barkat Wafer Rolls
Gluten Free Foods Ltd
Tel: 020 8953 4444
Fax: 020 8953 8285
E-mail: [email protected]
www.glutenfree-foods.co.uk
This year we are delighted to introduce our NEW Chocolate, Vanilla and Hazelnut Cream Wafer Rolls.  A great snack on their own or dipped in Ice Cream to make the perfect desert! Together with the range of Barkat gluten and wheat free Foods, ALL products manufactured are dedicated gluten and wheat free and suitable for Vegetarians. Look out for the NEW products at this years Natural & Organic Products Exhibition. For more information on the range please visit our website at www.glutenfree-foods.co.uk or email [email protected]