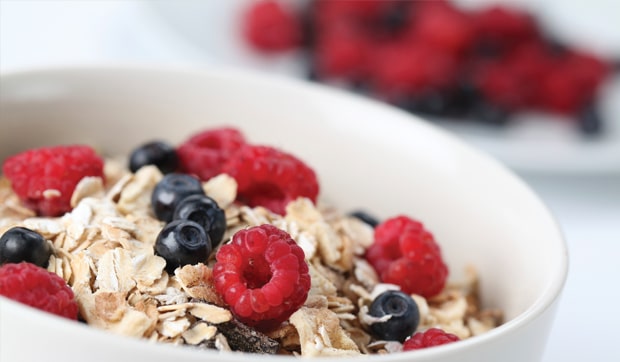 More consumers than ever are ditching the sugary cereals in order to feast on natural breakfasts. Natural Products gets an early start to check out the market, writes Matt Chittock
Breakfast may be the most important meal of the day, but could it also change the world? Alara founder Alex Smith, would like to think so. As a survivor of London's radical 70s squatting scene, he's a man who puts his ideals at the centre of his life and work. He once successfully lived for a year without money – and though these days his stance has mellowed somewhat, he still manages to run a company making tasty muselis that don't leave a bad ethical taste in the mouth.
The organic ethos is at the heart of Alara. Smith is proud that Alara was the first museli manufacturer to be certified in the UK, and he's positive that organic agriculture is the way forward for the planet.
"Globally, organic agriculture is gaining ground everywhere," he says.
"In the States it's up 10%, in Greece 6% and in Spain 8%. These are some of the places where austerity has hit hardest and still it's growing."
He believes that the shoppers who buy organic are the people more likely to be 'switched on' to sustainable issues. And he says that these are exactly the switched-on consumers that go to health stores for their shop.
Because of this fact, shoppers won't find Alara products in places like Tesco's.
"The supermarket model means pricing high to incorporate marketing and regular discounts," he says. "The way we price our muselis doesn't allow us to do that."
Meeting the breakfast market means tapping into current trends – which Alara hope to do with new Oomf! porridge pots.
Oomf! is aimed at gym-savvy shoppers that are seeking convenience mixed with a healthy dose of protein. Each serving features 20g of high-quality protein which promotes muscle growth and recovery after an exercise session while offering the kind of satiety that reduces overall calorie consumption.
"Oats are absolutely at the bottom of the scale in terms of the amount of carbon it takes to grow and manufacture food," says Smith.
"They also have soluble fibre that sucks up bad cholesterol and contains long-chain carbohydrates which are released over a long period of time to help you feel full."
A big part of Alara's business is gluten-free products. It has over 20 years' experience making gluten-free museli and was the first company in the UK to produce museli registered with the Coeliac Society.
This has naturally led to Alara developing a range of new products based on gluten-free oats.
"Since there's a Europe-wide shortage, when we found a source in Scotland, plus a working watermill to take the shell off the oats, we couldn't say no," he says.
The range, featuring organic gluten-free museli and oat-based granola, will debut at Biofach later this month.
Milking it
Soya milk has long been a health store stalwart for people who want to avoid dairy for ethical or health reasons. And until now Provamel has pretty much been the biggest player within the market. However, for 2013 a new brand is looking to provide some stiff competition on the shelves.
ViveSoy has been available over in Spain for over a decade – and now it's looking for a foothold in the UK with standard sweetened and unsweetened versions alongside innovative flavours like cappuccino, chocolate and vanilla.
"We did some research about soy and non-soy milk drinkers and we got a strong opinion back that said there was insufficient choice in the UK market," explains Simon Baxter, managing director of Vive Soy UK.
"Coupled with this, the UK consumer drinks about half the amount per person compared to countries like Spain. There is therefore a great opportunity for us in the UK to convert more people to a great tasting, healthy product whether they are currently soy drinkers or not!"
Despite its ubiquity in health stores, soya milk is still a growing category in the UK and makes up 2.5% of the total milk and alternative milk market, according to DairyCo – all of which means the sector still has plenty of room to grow. Vive Soy is aiming to boost the sector with a universal appeal.
"Having completed extensive consumer research before the launch, we focused on developing a soya milk to appeal to everyone," says Baxter.
"The key was the taste and texture. In blind tests the Vive Soy products came top, beating the market leaders into second place. Let's face it, flavour is the key to getting people to repeat their purchase and enthuse about it to other people."
Free-from boom
As in other health store food categories, there seems to be no stopping the rise and rise of gluten-free foods. And nowhere is this more evident than at the breakfast table.
On health store shelves Big Oz is a breakfast brand looking to capitalise on the trend with a wide selection of gluten-free breakfast products ranging from millet flakes to honey brown rice puffs.
"Our research indicates that a gluten-free diet is increasingly important for UK consumers," explains managing director Mark Lynch.
"More people are being diagnosed with a wheat intolerance, or simply choosing a gluten-free diet for health reasons."
"Consumers wanting to make a healthy choice in their breakfast cereal will look for low sugar, low fat products, made from a whole grain, and our products fit the bill very nicely," he adds.
Start me up
Trends in the breakfast market according to Mintel
The highest-earning consumers are most conscious of the need to maintain a healthy diet. They are willing to pay more for premium breakfast products.
Despite inflationary pressures pushing up the price of ingredients, breakfast cereals have remained the top breakfast choice for consumers in their homes.
Two thirds of consumers eat breakfast at home every day, rising to 78% of over-55s and 85% of those that are retired.
Hot cereals in general, and porridge in particular, have found favour with older consumers due to their perceived health benefits such as porridge oats having a low glycaemic index (GI).
Almost half of all consumers agreed that they ate breakfast at home more often in order to save money.
Healthy Breakfast Listings
Ener-G
General Dietary Ltd
Tel: 020 3044 2933
E-mail: [email protected]
www.generaldietary.com
Want yummy free-from bread? Try Ener-G Gluten-Free Loaf and Gluten Free Flax Loaf by General Dietary. Why so good? These loaves are light, soft and can be eaten straight from the pack – ideal for sandwiches – and Ener-G contains vitamins and minerals including calcium and folic acid. Free from? No wheat, gluten, milk, eggs, soya, maize or nuts. Suitable for vegetarians, vegans, and kosher diets. Where do I buy? From your local health food store.
GOOD HEMP milk
Braham and Murray Ltd, Collabear Farm, Tawstock, Barnstaple, EX31 3JZ  
Tel: 01271 858377
E-mail: [email protected]
www.goodwebsite.co.uk
GOOD HEMP milk is a creamy, nutty, dairy-free and vegan alternative to milk. Made from a blend of natural British hemp seeds, one tasty glass provides 50% of the daily-recommended allowance of Omega-3, as well as being low in saturated fat and cholesterol free. GOOD HEMP is great in tea and coffee, cereal or simply as a refreshing drink. It's easy to digest and cholesterol free. And because there is no Soya or Dairy, there's no need to worry about causing a hormonal imbalance, causing bloating feelings in your tummy or a risk of eating GM foods. For more information visit www.GoodWebsite.co.uk .
Available from: Waitrose, Holland and Barrett, Tesco, Sainsbury's, Ocado, Wholefoods, Planet Organic.
NICE & NOBBLY GRANOLAS
Nature's Path
Tel: 0800 0723658
www.naturespath.co.uk
NEW FOR 2013 – Why Settle for Smooth & Safe When There's Nice & Nobbly? Some things just go together well.  At Nature's Path we actively encourage our organic gluten-free granolas to be just as nature intended, all craggy, uneven and blissfully natural.  We pride ourselves on sourcing only the most wholesome, environmentally responsible grains, seeds and fruits within every lovingly blended batch of our golden-baked wholegrain clusters. Recognizing that granolas have a special place at the breakfast table as an 'every so often' treat, we work hard to ensure that we only jumble up only the most deliciously daring flavours that are truly worth getting out of bed for.
RAW Health Germinated Grain Granola with Figs and Apricots
Windmill Organics
Image House, 34A Clifton Road, Surrey KT2 6PH
Tel: 0208 547 2775
Fax: 0208 546 9942
E-mail: [email protected]
www.rawhealth.uk.com
At RAW Health we use only certified organic ingredients, where possible we soak and sprout them to bring their natural vitality to life. Ingredients are never heated above 42ºC to ensure the health giving nutrients and enzymes stay alive and well. For healthy breakfast and a super nutritious start to the day choose from Germinated Grain Fruity Granola with Figs & Apricots, whole Germinated Oat Groats or whole Germinated Buckwheat. Enjoy the crunch of the oat groats and buckwheat sprinkled over the salad or breakfast cereal. Mix fruity granola with fresh fruit and almond milk.  For a softer texture, grains can be just soaked in warm water for a couple of hours beforehand.  These active, power-packed grains are sure to create a buzz amongst raw-foodists. Available from your preferred wholesaler.
Meridian Almond Butter
Meridian Foods Ltd The Estate Office, Sutton Scotney, Stockbridge Road, Hampshire SO21 3JW
Fax: 01962 761860
E-mail:  [email protected]
www.meridianfoods.co.uk
Meridian Almond Butter offers a new way to access all the goodness of almonds without the hassle or need to wear a healthy halo. And as it's so delicious and naturally sweet, gobbling up essential nutrients has never been such a pleasure. Made from 99.5% almonds and just a pinch of sea salt, its spreadability makes it easy to enjoy at breakfast, lunch, in sweet and savoury recipes or for anytime dipping and snacking. Roasted in their jackets: Unlike many peanut butter brands, Meridian roasts its almonds with the skins on. This approach retains all the available nutrients including vitamin E, calcium, phosphorous and magnesium and locks in all the natural fibre.
Ways to enjoy Almond Butter: • Swirl a spoonful into porridge • A great addition to breakfast smoothies • Spread on toasted bagels, sans butter • Great on oatcakes with banana or try it on crackers with cucumber slices.
For more information visit www.meridianfoods.co.uk
Koko Dairy Free Original + Calcium 1L
Koko Dairy Free, Coconut House, 15 Aston Court,  George Road, Bromsgrove, B60 3AL
Tel: 01564 731980
Fax: 01527 831904
E-mail: [email protected]
www.kokodairyfree.com
Delicious & healthy dairy free milk. Enriched with calcium and vitamins D2 and B12, Koko Dairy Free is a unique dairy free alternative to cow's milk made with freshly pressed coconut milk. Koko Dairy Free is allergen free being 100% dairy, soya and gluten free. With a fresh, light flavour it tastes remarkably like cow's milk on breakfast cereals and can be added to tea & coffee without curdling. It has the same fat level as semi-skimmed milk, but just 27 calories per 100ml so it's even easier on the waist than skimmed milk.
* Koko Dairy Free replaces Kara Dairy Free from March order forms.