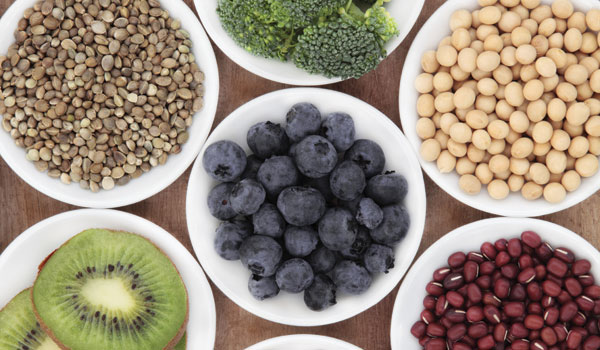 Jane Wolfe takes a look at nature's own functional foods
New superfoods' have been hailed as one of the top food and drink trends for 2014 by Innova Market Insights, which says that nature's own functional foods are being revisited and predicts the rediscovery of ancient grains.
What's in a name?
The term superfood has no definitive definition but it is generally accepted that these are foods exceptionally high in nutritional benefits. Martin Kemp, MD of Supernutrients, says: "Superfoods are food products that are natural and nutrient-rich, providing the goodness that nature delivers with minimal processing." "To us a superfood is a fresh product that has a powerful healing quality or it is a really good alkalizer, or it may have a higher than average vitamin or mineral content," says Ilona Wesle, co-founder of MyDetoxDiet.co.uk. "A lot of our juices are made with superfoods like apples, bananas, blueberries, kale, beetroot and spinach. Our food-to-go is also superfood-rich; dishes like quinoa salad, red lentil and carrot burgers and raw chocolate brownies," says Wesle. "We sell broccoli sprout and wheatgrass juice shots for a daily superfood top up."
A growing market
"The market is experiencing continued and exciting growth. As consumer awareness increases and superfoods are incorporated into more everyday diets, with people experiencing the benefits of good nutrition, we expect sales to grow in line with this trend," says Kemp. He explains that although superfoods have a way of selling themselves from the ground up rather than via usual marketing channels, consumers should continue to be educated on their nutritive benefits. "Promotions, PR campaigns and viral or social network marketing all help drive customers in store and retailers could invite trial by, for example, offering smoothie tasters," he says. So how does marketing a food with a 'superfood' tag affect sales? Wesle says it can only be a positive thing for sales if marketed to a conscientious audience who understands the benefits. "I think that eventually the superfood tag will become a bit of a given, the way it already has with foods like blueberries."
Old and new stars
Most consumers are aware of at least a few superfoods, but there are some less well known gems emerging. Lucuma is one rising star; a sub-tropical fruit native to Peru, it provides 14 essential trace elements and is a rich source of antioxidants as well as being anti-inflammatory. Sales of the ancient grain chia are also set to boom, with Chia drinks touted as the next big thing in this category. Long popular in Scand-inavia and used by Native Americans for diabetes and cardiovascular illness, lingonberries are high in antioxidants, are anti-inflammatory, help lower blood sugar and protect blood vessels. The fruit of the African baobab tree is known for having one of the highest antioxidant capacities of any fruit and a 50% fibre content. Rich in vitamin C, calcium, potassium, thiamin and B6, it benefits the skin, immune and digestive systems as well as combatting fatigue. The Japanese Yuzu is one of the latest superfruits to hit UK shelves. Lauded by celeb chefs such as Nigel Slater and Jamie Oliver, the fruit is exceptionally high in vitamin C, with three times more than a lemon. Another up and coming supernutrient category is tree water. Maple water is high in antioxidants, vitamins and minerals and has the potential to reach the same market size as coconut water, according to Julian Mellentin, director of New Nutrition Busi-ness. And birch sap is already popular in Scandinavia and Eastern Europe, and is traditionally used for arthritis to boost the immune system and combat tiredness. And juices are still a popular way of getting your superfood fix: "Our Raw Super Green Juice is really popular at the moment," says Wesle. "We expect to see more companies moving into the juice market." Finally, superfoods aren't exclusively for humans. Wickedly Raw Superfoods from Din Dins is a natural and organic blend of superfoods, Seagreens and probiotics specifically formulated in two varieties for cats or dogs.
Hot Stocks
In the mix
Aduna Baobab Fruit Pulp Powder comes in sachets, capsules and loose powder. 100% natural wild-harvested, it can be added to shakes, smoothies and juices or used as an alternative to sugar. BodyMe Ltd offers organic superfoods in powdered, whole or capsule forms for easy mixing into smoothies, juices and breakfasts. The range includes Acai Berry, Apricot Kernels, Barley Grass, Cacao and Fo-Ti. Supernutrients' newly-launched retail-ready offer comprises 18 superfoods such as Organic Banana and Hemp Protein powders and Lucuma powder.
Kick-start
Get the day off to a great start with Of the Earth Superfoods' organic, gluten-free Dear Me Breakfast Without Cereals containing a mixture of superfoods including chia, hemp seeds, buckwheat, amaranth, goji berries and lucuma fruit powder. Super snacks IQ Superfood Chocolate offers raw chocolate bars incorporating organic coconut blossom sugar – a superfood high in amino acids, potassium, magnesium, zinc, iron, and a natural source of vitamins B1, B2, B3, B6 and C. Tempting bars include Cocao-Nib Crunch, Orange with Wild Raspberry and Cranachan Symphony. Millet Rosemary Crackers from Conscious Foods contains foxtail millet, a naturally gluten-free Indian heritage grain, blended with whole rosemary leaves; its Coconut Nuggets are made with coconut, dates and jiggery.
Blending in
Launching in the UK at Natural & Organic Products Europe are two products from Amazing Grass: ORAC Green Superfood which has 40,000 ORAC units in one scoop; and Raw Reserve Berry Green Superfood which contains over 25 billion probiotics per serving.
Superfoods Listings

Aduna Baobab Superfruit Powder
Aduna Ltd,
Tel: 020 7100 4329
E-mail: [email protected]
www.aduna.com
Aduna's best selling Baobab Superfruit Powder is now available in two sizes. The new, smaller 80g unit is ideal for consumers looking to experience the benefits of baobab for the first time. An introductory 20% discount is currently available from your distributor. RRP £7.99
Palmyra Jaggery
Conscious Food UK Ltd
Tel: 0207 720 7099
E-mail: [email protected]
www.consciousfood.co.uk
Nature's Ultimate Low GI Sugar Alternative. The only Organic Palmyra Jaggery in the UK! From the Palmyra palm tree not the coconut palm. Contains the only plant-based source of Vitamin B12 and rich in other B Vitamins and essential minerals, particularly iron. Low GI of 40. Use 30% less than sugar. Suitable for baking, cooking & drinks. Wonderful rich caramel taste. Unrefined, chemical free. Supports sustainable agriculture in India. Used for over 6,000 years in Ayurvedic medicine. An essential healthy sweetener for your kitchen! Cases of 6. RRP £7.99. Available in bulk. Prices on request. Tree of Life, CLF, Suma & Natural Dispensary.
Organic Super Greens & Organic Super Energy
BodyMe Ltd,
Tel: 01179 152070
E-mail: [email protected]
www.bodyme.co.uk
BodyMe® new all-in-one organic superfood mixes. Two synergistic blends of nature's finest superfoods. All organic, vegan, vegetarian and gluten-free ingredients. Each kraft pouch contains 250g of the finest quality powder to give juices and smoothies a natural nutritional boost. Organic Super Greens is an infusion of New Zealand wheatgrass and barley grass, spirulina and chlorella, packed full of chlorophyll, fibre, protein, vitamins and minerals. Organic Super Energy is a balanced blend of energy superfoods including baobab, guarana, maca, lucuma and acai. A great source of energy, fibre, vitamin C, calcium and many other vitamins and minerals. Live Natural. Live Life.
BEYONDpure® GliSODin®
Soo Cieszynska
Tel: 01730 813642 Fax: 01730 815109
E-mail: [email protected]
www.xynergy.co.uk ­
Yes it's true! GliSODin® is back in stock and available for immediate fulfilment! Superoxide Dismutase (SOD) is naturally present in the human body and is the most powerful of the physiological antioxidants known in immune system defence. GliSODin® is the first orally effective vegetarian form of SOD that takes an entirely different approach to immune support; GliSODin® has a catalytic effect that primes the body's own internal antioxidant system by promoting production of the most powerful primary antioxidants at a cellular level: SOD, Catalase and Glutathione Peroxidase (Gpx). With a plethora of scientific support, talks by key figures in immunology, cellular health and nutrition, BEYOND pure® GliSODin® is believed to be the optimum premature anti-ageing product for natural enzymic regeneration. GliSODin® can be used in situations whenever oxidative stress and excessive free radicals are present such as exposure to ultra violet light, immuno-deficiency conditions and during exercise.
rawLicious Raw & Organic Kale Chips
Ultimate Foods Limited
Tel: 01534 768265
E-mail: [email protected]
www.ultimatefoods.eu
rawLicious have launched their latest product, the Raw & Organic Kale Chip range at this year's Natural & Organics Show. The first of its kind to be produced in the UK and certified organic by the Soil Association, these delicious snacks are hand-crafted from the best available organic produce available within the UK and offer an alternative twist to raw nutrition. With mouth-watering flavours such as Oh So Cheesey, Double Pepper Twist, Thai Chilli Twist & Indian Spice Twist, these organic kale chips come in 40g packs, retailing at £2.99 and are available from www.ultimatefoods.eu
TotalNutrition Superfood
BetterYou Ltd
Tel: 0114 220 2229
E-mail: [email protected]
www.betteryou.com
BetterYou™ TotalNutrition Superfood combines 10 organically harvested foods to create a fast acting nutritional formulation to provide support for every body system. Bursting with antioxidants and detoxifying nutrients, TotalNutrition Superfood is 100% natural and provides a full spectrum of vitamins and minerals as well as sources of omega 3,6 and 9. TotalNutrition is the cornerstone of a complete nutritional diet containing Pre-sprouted Barley, Apple (whole), Flaxseed, Barley grass, Quinoa, Spirulina, Bilberry fruit, Carrot, Turmeric, Kelp with no artificial additives. Just one scoop provides effective support for modern active lifestyles. Available from Holland & Barrett, independent health stores and www.betteryou.com
Amazing Grass
Kinetic Natural Products Distributor
Tel: 08450 725 825 Fax: 08450 725 826
E-mail: [email protected]
www.kinetic4health.co.uk
Amazing Grass pure raw Wheat Grass powder gives an antioxidant-packed boost that alkalises and energises with every serving. Just one 8g serving provides a balanced source of Phytonutrients and Carotenoids, twice the dietary fibre of an 8g serving of oatbran, twice the iron of a 30g serving of fresh spinach, and an excellent source of folic acid, beta carotene and vitamin C, and is equivalent to 5-9 servings of fruits and vegetables. This product aids with weight loss through increasing and sustaining energy naturally, detoxifying and cleansing the body and alkalising. It's also more nutrient dense than tray grown wheatgrass and many competitors as it is only harvested once a year – it's left to grow deep roots through the winter and thus obtain more nutrients from the soil.
ENERGYMEL
NuVitality Products
Tel: 01782 622957
E-mail: [email protected]
www.NuVitalityproducts.com
'A Natural Energy Boost Rich in Anti-Oxidants' 'It's Totally Unique' EnergyMel is part of the LifeMel Range well known for it's energising properties. Boost your energy with the help of this unique product from the honey bee, the bees are fed with a powerful mix of herbs, these herbs will help with chronic fatigue, improve resilience, stamina and expedites the healing and strengthening process following severe illness. EnergyMel is for those who engage in stressful work both physically and mentally. This amazing product, rich in anti-oxidants, is available from NuVitality Products who are exclusive distributors in Europe.Visit our website. www.nuvitalityproducts.com or E mail [email protected] Contact 01782 622957
Rio Amazon Maca
Rio Trading Company
Tel: 01273 570987 Fax: 01273 691226
E-mail: [email protected]
www.riohealth.co.uk
Rio Amazon Maca is now gelatinized! Gelatinized Maca is more concentrated, more water soluble and easier on the digestion. The Maca powder is heated under pressure for a few seconds to break down the starch, whilst preserving the primary and secondary metabolites which are responsible for Maca's actions. Also known as Peruvian Ginseng, Maca has been used for centuries in the Andes to enhance fertility, and to maintain energy and stamina. It is packed with vitamins, plant sterols, essential minerals, proteins in the form of polypeptides and amino acids, and fatty acids. Available in capsules and powder form.
Join Pukka's Green Tea Revolution
Pukka Herbs,
Tel: 0845 375 1744 Fax: 0117 964 0804
E-mail: [email protected]
www.pukkaherbs.com
Bring your customers to life with Pukka's four new delicious organic whole leaf green teas – Supreme Matcha Green, Clean Green, Serene Jasmine Green and Cool Mint Green. As with everything they do, Pukka are shaking up and premiumising the green tea category. These revolutionary new teas bring a depth of flavour and a functional benefit made possible by our incredible herbs and magical blending of master teasmith Sebastian Pole. Whether to detoxify, boost your energy, refresh or calm, each tea boasts the benefits of deliciously smooth green tea as well as a unique blend of incredible organic herbs.
New Organic Burst Chlorella Tablets and Powder, Organic Burst Spirulina Tablets
Simply Organic Europe Ltd.
Tel: 0207 731 0968
Have you already heard of the new supergreen additions to the multi-award winning UK range of superfoods Organic Burst? Their new chlorella is grown organically high up in the Mongolian Plateau in crystal clear mineral-rich underground spring water. That is why it is especially rich in Vitamin D, K, selenium and folic acid. Its cell walls are cracked to further enhance nutrient absorption. Available in 100% pure powder form and easy-swallow pure tablets with no binders or additives. The best-selling Organic Burst Spirulina now also comes as easy-swallow pure tablets. Recommended by the top health and fitness experts in the UK.
Super Oats – Raw Superfood Breakfast Mixes
Iswari Ireland Ltd.,
Tel: 0858 301052
E-mail: [email protected]
www.iswari.net
Super Oats are part of a new Raw Superfood Breakfast range by Iswari. Combining Raw, Spouted, Organic, Gluten-Free Oat Flakes with Superfoods such as Cacao, Lucuma, Hemp, and Goji. The Oat Flakes in this mix are the first of their kind to be raw, sprouted, gluten free and organic (these are also available separately). The mix is easy to digest, energising yet filling. With no added sugar or sweetener, they are low-glycemic and diabetic friendly. The mixes come in 3 flavours: Cacao & Goji, Banana Bliss, and Hempalicious. Look out for our other breakfast mixes "Buddha's Awakening" containing milled Chia and Flax.
Superfoods come of age
Super Nutrients
Tel: 01225 830517
email: [email protected] 
www.supernutrients.co.uk
In an ideal world, we should get all the nutrients we need from a healthy, balanced diet. However, given the nature of modern diets, processed foods and foods depleted in nutrients due to soil conditions and other factors, it makes sense to consider boosting your intake of naturally derived goodness by incorporating superfoods into your daily diet. Supernutrients is firmly established as one of Europe's leading importers and wholesalers of organic superfoods and has been at the forefront of the business since 2006. We source our products from proven, professional and appropriately regulated suppliers from around the world and are focussed on quality, reliability and service. Due to growing customer demand, we are pleased to introduce a retail ready range that includes the most popular and best-selling products from our wholesale list; 18 high quality superfoods presented in conveniently sized, resealable pouches to provide a comprehensive, affordable and attractive choice for your customers. Making up one of the largest branded retail ranges available, and developed with the needs of both independent health stores and larger retailers in mind, the range will evolve in line with market trends and consumer demand. The Supernutrients retail range is available through key distributors or contact us directly for trade terms.