Ahead of Veganuary 2021, Rosie Greenaway catches up with Toni Vernelli, the campaign's international head of communications, about how the pandemic has boosted interest in plant-based living – a sector which just goes from strength to strength
It's been a big year for the vegetarian and vegan sector. 2020 began with the European Parliament considering a 'sustainability charge' on meat in January, while days later the dairy industry launched Februdairy – its response to the annual Veganuary campaign – and George Monbiot brought us the provocative Apocalypse Cow: How Meat Killed the Planet, proving that the conversation between carnivores and herbivores has never been more active.  
In the land of fast food, some big names jumped into the vegan spotlight this year; KFC added the 'fingerlickin' vegan Zero Chicken burger to its offer in January, and in the US Burger King got sued over claims its 'no beef' Rebel Whopper was cooked alongside beef, leaving the plant-based patties 'coated in meat by-products'. Subway, too, embraced a meat-free swap for its signature sub, creating the Meatless Meatball Marinara; while Iceland's latest is No Lamb Koftas. And who could forget that sell-out vegan sausage roll from Greggs?
There has been plenty of investor confidence in the sector, as evidenced by the venture capital firms throwing their (vegan) eggs into the baskets of brands like THIS Isn't Chicken, the plant-based meat label which secured £4.7 million to help progress R&D. 
Information sharing remains a priority, with apps like Giki adding a Vegan Badge to 'make life easier' for shoppers, and the HappyCow app helping isolated veggies and vegans stay connected during social distancing. Even subscription boxes are becoming more prolific; the likes of Vibrant Vegan selling frozen vegan ready meals to the public while supporting WarChild – for each meal sold, the brand donates money to feed children caught up in conflict.
On the NPD side, The Plant Based World reports that in 2018  one in six food pro-ducts launched carried a vegan claim. At the start of 2020 that translated as 1,200 new vegan products, according to Veganuary. This list included a 3D printed plant-based pork muscle cut by Novameat; fishless Catch Free omega oil from Wiley's Finest; aquafaba-based, ready-to-pour 'egg' product, OGGS; and Shaken Other coconut milkshakes. 
And since we're talking numbers, Veganuary's sign-ups have now totalled 900,000 (including celebs Deborah Meaden and, ahem, Meat Loaf). 
If this pandemic isn't the kick up the backside that people need, then what is it going to take?
Even the fine dining scene isn't getting left behind – kitchen supplier Sous Chef reports that in UK Michelin-starred restaurants the top ten ingredients on menus are meat-free. 
So, what is driving this shift in the UK food scene? Here to explain the progression of the UK's vegan scene is Toni Vernelli, international head of communications at Veganuary. 
"It appears that with the pandemic, [the] increase is very much focused on health concerns. We do know that there's a growing number of people eating plant-based foods because of the environmental impact of animal products. Last year we saw the rise being due to climate, and then the added health incentive because of COVID … people are now beginning to see the wider environmental impact of the way we farm animals – not just the intensive farming being linked to easier outbreaks of viruses and transmission, but also the amount of habitat destruction for the feed that's produced, and how that interaction between humans and wildlife actually leads to pandemics." 
And the crisis has, perhaps not surprisingly, helped maintain the momentum the vegan movement was already enjoying. "Lockdown presented an opportunity to people to do something they might have been wanting to do already. Individual health [and] health of the planet is so interlinked. We can't just carry on as we were before. It's unsustainable for the planet, it's unsustainable for our health. We have to change." 
Back to basics
At the dawn of 2020, sustainable food expert and founder of OF+ Consulting, Simon Wright, predicted 'a rise in the vegan backlash', with people turning away from 'highly processed' products 'of questionable nutritional value'. He hoped it would 'bring some perspective to market, allowing vegans to marry convenience, taste, health and sustainability'. "One opportunity for 2020 will be education on 'vegan scratch cooking', where retailers sell ingredients which permit a more natural, plant-based diet with organic wholefoods – fruit, veg, nuts, grains, bean and pulses – making this more accessible to the masses and providing a competitor to recently launched over-processed food and drink," Wright forecast back in the New Year. So, has that vision come to fruition?
Vernelli again: "We did a survey in July … with our participants from January 2020. We asked them if COVID-19 had had any impact on how much vegan food they were eating. 32% said they were eating more vegan food. We then asked them why – 73% said they were trying to be healthier, 43% because they had more time to cook and 41% because of the link between animal farming and pandemics.
"We know people have this renewed interest in cooking from scratch [and] we know people are going to be on a tighter budget as well, with the massive recession we're in now. Not just cooking from scratch but economizing. We've put together a value vegan meal plan with how much it's going to cost per serving." She explains the meal plan will form part of Veganuary's pledge series – something that retailers can share with customers as a kind of scratch-cooking shopping list for plant-based ingredients, straight from their shelves.  
The world according to Attenborough
This autumn saw two new thought-provoking documentaries from Sir David Attenborough hit our screens: Extinction: The Facts and A Life on Our Planet, described by the national treasure himself as his 'witness statement'. His core message was that 'we can't keep treating the planet as we have been and expect a different result'. Vernelli agrees: "David does actually say: 'We can't carry on eating meat like this, we do need to change our diet'. Fingers crossed it has the same impact as when he talked about plastics. 
We have to make these changes or our children are going to inherit a very different planet
"To have someone as influential as David Attenborough saying it, I suspect it to have a huge impact. One hates to stereotype, but stereotypes exist for a reason – to see someone of his age, in his nineties, changing his opinion on something and changing his behaviour based on new facts is really encouraging. It's so common for older people to just be entrenched in their ways. For him to say 'We have to make these changes or our children are going to inherit a very different planet' I think is very grown up. If this pandemic isn't the kick up the backside that people need, then what is it going to take?"
Striving for progression
Vernelli explains that the most successful way of campaigning for people to reduce their intake of animal products is to forget the misguided notion of perfection and focus more on aiming for realistic progress. From her point of view, if 'the idea of having to adhere to perfection deters people from taking that first step' then the battle is lost before it's even begun. 
"That's just not how humans work. The idea of giving up all the foods you love, overnight, forever, is really off-putting. That's why Veganuary is so popular and has had such a dramatic impact – it's 31 days. Our messaging is: 'Just try it and see'. Personally, for me, I love that approach. I've got a PhD in psychology, so I know how people change. They don't change overnight. Even people who do change overnight, it's unsustainable. You see people going back to their old habits when they try and do it that way."
But supposing the 'progress over perfection' tactic works, and the momentum of campaigns such as Veganuary continues to build, can Vernelli imagine a future world in which most of the population has never tried meat or tasted dairy products? A society in which children grow up on oat milk and jackfruit, in which it is normal for an adult to have never eaten cheese? "I think it's inevitable really. It won't be in my lifetime, but I do think that just from a pure sustainability point of view it will be inevitable. As it is now, I've got a friend in her thirties and two friends in their twenties who have never eaten meat. I've got two sisters who are raising their children vegan. That's just going to increase generation after generation."
Essentials4Vegans NEW
HOLFORDirect
Tel: 0370 3341575
E-mail:  [email protected]
www.holfordirect.com
Patrick Holford's NEW Essentials4Vegans is a combination of the four nutrients that are hardest to get on a vegan diet – vitamin B12, vitamin D, omega-3 DHA and the phospholipid choline. Taking two vegecaps a day provides these four nutrients in optimal amounts: Vitamin B12 10µg, Vitamin D3, derived from lichen, 1000iu (25µg), Omega-3 DHA 250mg, Choline 200mg. Taken together with the Optimum Nutrition Formula – a multivitamin and mineral – comprehensively covers all nutrients required for optimal health, supported by a wholefood diet. His book Optimum Nutrition for Vegans (Piatkus) is out on 17 December. All are available from www.holfordirect.com
Vegan CBD
Pura Vida Organic
E-mail:  [email protected]
www.puravida-organic.com
Organic certified Vegan CBD skincare for everyone. Our extensive range of premium skincare includes everything from highly nutritious CBD oils, to extremely nourishing and soothing massage oils and balms. Cleansers, face masks, moisturisers, serums and facial oils targeting acne, dermatitis and anti-ageing.
A dedicated men's line of cleansers, aftershave moisturisers, anti-age serums and beard oils.
For easily irritated and super-sensitive skin types we have balms (including baby balm), oils and creams. There is something special for anyone at any age group or skin type. Experience the power of CBD with skincare crafted specifically for YOU.
Veggie Sheet – The Gluten Free Vegetable Wrap
Veggie Sheet
Tel: 07930 286 114  |  07766 774 379
E-mail:  [email protected]
www.veggiesheet.co.uk
In an effort to create a vegan, gluten-free, and healthy food wrap that can be used in a variety of dishes, VEGGIE SHEET is made from discarded vegetables aka Wonky Veg that are wasted and disposed of throughout the world. Currently there are five varieties of sheets available: carrots, radish, tomatoes, pumpkin, and spinach. For more information, visit: www.veggiesheet.co.uk 
Organic Lemon Balm Tincture
Viridian Nutrition
Tel: 01327 878050
E-mail:  [email protected]
www.viridian-nutrition.com
Viridian's 100% organic Lemon Balm Tincture is a high potency liquid food supplement made using fresh lemon balm with naturally occurring rosmarinic acid and picked by hand to help preserve the delicate leaf and nutrient density. The lemon balm (Melissa officianalis) is grown organically in the UK and added to water and organic alcohol to produce a pure tincture which harnesses the natural beneficial properties.  Viridian's therapeutic formulation has a ratio of 1ml equivalent to 480mg of fresh herb and can be helpful for people looking to find thoughtful balance and mindful rhythm. Available in 50ml. Vegan, ethically made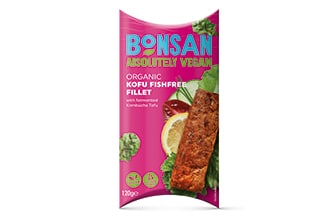 Bonsan Vegan Organic Fishfree Fillet
Tel: 0208 547 2775
E-mail:  [email protected]
www.bonsan.co.uk
Preserve the Ocean's natural resources and enjoy the delicate taste and flaky texture of our sustainably sourced Fishfree Fillets. Made from kombucha cultured tofu, these vegan fillets are gluten free, high in protein and delicious when paired with a simple fresh salad or used to create the ultimate vegan fish and chips! Now available from Waitrose!
Nutiva Squeezables
Kinetic Natural Products Distributor
Tel: 08450 725 825
E-mail: [email protected]
www.kinetic4health.co.uk
The latest additions to the Squeezable collection from Nutiva: Organic Coconut Manna – best seller now in easy grab-and-go convenient packaging; Organic Virgin Coconut Oil – cold-pressed right after harvesting, to yield a pure, smooth oil that is never deodorised, bleached, or refined; Organic Steam Refined Coconut Oil – from organic dried coconut, steam-refined without the use of chemicals to create a neutral scent and flavour; and Organic Avocado Oil MCT Oil Blend – all the benefits of medium-chain triglycerides from organic coconuts and monounsaturated fats from avocados. A versatile oil that can be used with meats, fish, vegetables, salads, dressings and sauces.