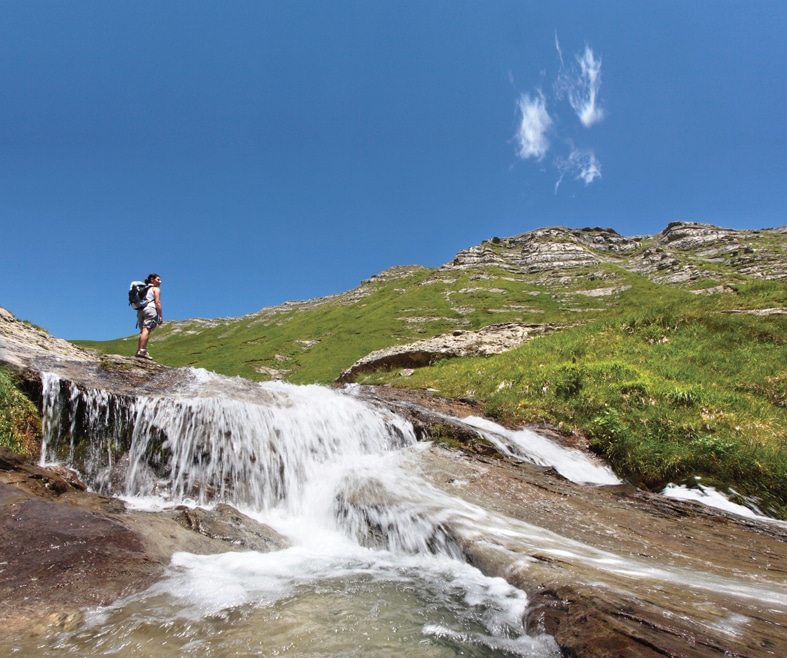 The green cleaning sector is defying the doldrums on the high street and offering retailers more and better products than ever
With the high street in the doldrums and consumers being more selective about their ethical spending decisions these could be tough times for the green cleaning sector.
Yet leading players continue to innovate and commit serious NPD investment. New names are appearing on the scene too, while specialist brands have been reporting some very respectable sales growth. One leading band is even exploring the potential of Zen and the art of washing up!
Feeling special
So, what's capturing the consumer's imagination in green cleaning and driving those increased sales? Mathew Clark of Natural Eco Trading – UK distributor of Earth Friendly Products – thinks that that the growth of specialised products is playing a key role.
Over the past few years we've seen the green cleaning sector follow a very familiar trajectory. Starting out with one or two basic, albeit pioneering, product offers – a washing up liquid and laundry cleaner – it is now closely tracking the mainstream and reacting quickly to opportunities, especially where it has some natural advantages. So, from the kitchen to nursery, shower head to dashboard there is now a green cleaning product to match the need.
Fit for purpose
Comments Clark: "We find that consumers increasingly want reassurance that the product they are buying is right for a specific task or are seeking specific features. For instance, our Fragrance Free range has been growing, driven by people with chemical and other sensitivities. Added together, specialist products grew by 51 per cent in 2011 including products such as Baby Laundry Detergent and the Fragrance Fee ECOS Laundry Detergent."
Earth Friendly's Fruit & Vegetable Wash, another specialised product, has also been gaining new customers due to last year's E-Coli outbreak in Europe (let's not say where!) providing an added impetus to consumers. Clark says that 2011 was a good year for his Kent-based company with overall sales up 10 per cent.
Ethical champion
Yorkshire-based green cleaning and laundry products manufacturer Bio-D is celebrating racking upo 30 years' worth of leading ethical accreditation. Sales and marketing director Sara Holtby told us she is delighted that the products still comply with Ethical Consumers' rigorous testing standards after all this time. She says: "The Best Buy Label helps shoppers choose genuinely effective ethical products and services. Because Ethical Consumer is an established and trusted name within the ethical market, shoppers can be reassured that when they're buying a product or service carrying a Best Buy Label they're making the best possible ethical choice."
All-natural
You would have to be a brave person, or at least someone with strong reserves of self-belief, to jump into the crowded eco cleaning sector. Enter former retail analyst and university lecturer Christina Hawkes. Hakwes is the founder of Somerset-based natural and organic brand Greenscents. Now she is about to go national with the fully natural range that began life as a kitchen table operation just two years ago.
Hawkes believes that the new brand's strong all-natural credentials will make it stand out on the shelves. She says: "I love fragrances but many eco brands use perfumes rather than natural fragrances. So you have continental and US brands that tend to be very techie and more about reducing energy than using natural ingredients.
"We use wholly natural ingredient such as horsetail and seasweed extract. It means that we have higher ingredients costs, but we're still able to price our products competitively (retail prices range from around £2.50 for a 500ml washing up liquid to just under £5 for a 750mm laundry liquid) — and still give the retailer 33 per cent."
Bacteria busting
The green cleaning sector has approached the "kills 99 per cent of all household germs" mantra of the conventional disinfectants sector with a degree of caution. For one thing it is heavily associated with chemical agents – the antithesis of natural cleaning. Then there is the link between anti-bacterials and the rise of allergies.
But many customers want the reassurance of bacteria busting products. And now, using a combination of messaging (natural but tough on germs), brands are lining up their own 'bacteria busters'.
Alma Win is one. The company insists that using an eco-friendly cleaning range doesn't mean compromising on an effective clean. Step forward its cruelty-free, 100 per cent biodegradable but bacteria-busting bathroom duo, Alma Win Organic Bathroom Cleaner and Alma Win Organic Toilet Cleaner. and limescale.
Bentley Organic meanwhile offers an Organic Toilet Cleaner featuring a "unique antibacterial action" and "proven to kill 99.9% of bacteria", while its Kitchen Surface Cleaner flags up its killing credentials too (E Coli, Listeria and Salmonella to be specific). Faith in Nature's Antibacterial Cleaning Wipes and Antibacterial Spray Cleaner — also continue to clean up very nicely.
Green Cleaning Listings
ECOLEAF CLEANING RANGE
Suma Wholefoods, Lacy Way,
Lowfields Business Park, Elland, HX5 9DB
Tel: 01422 313 848 • Fax: 01422 313 869
E-mail: [email protected]
www.sumawholesale.coop
A unique range of environmentally friendly household cleaning products that are non-toxic and safe for use around the home. The Ecoleaf range of cleaning products are derived from plant extracts and are based on biodegradable and non-hazardous ingredients. All the extracted plant ingredients are from sustainable sources. Made in the UK – unlike many environmentally friendly cleaning products on the UK market this range is actually produced in the UK. BUAV logo √– approved by the BUAV who campaign against all animal experiments. Vegan Society Logo – products are registered with the Vegan Society. All containers are recyclable. Available in bulk refill containers – 5 & 20 litres.
eco2life
Planet Earth (Europe) Limited, Suite 140,
Courthill House, 60 Water Lane, Wilmslow, Cheshire, SK9 5AJ
Tel: 01625 250301
E-mail: [email protected]
www.myeco2life.com
Planet Earth eco2life offers a range of four household cleaning products with a unique refill and reuse system that has been scientifically tested to perform as well as the leading brand. It's an eco winner. Made up at home using ordinary tap water there is no lugging of 'water' back and forth, requiring less production, less energy, less packaging. Our spray trigger is designed for a long life and our spray bottles are reusable. Vegetarian Society Approved and 'loved' by Janey Lee Grace, it's made in the UK and made from naturally derived readily biodegradable ingredients with fully recyclable packaging. Planet Earth eco2life 'The brilliantly simple refill system'!
Anti-Bacterial Multi-Surface Cleaning Wipes

Faith in Nature
Tel: 0161 724 4016 Fax: 0161 724 8210
E-mail: [email protected]
www.faithinnature.co.uk
Many busy households now utilise anti-bacterial wipes as they offer great convenience. For a natural alternative choose Faith in Nature's Anti-Bacterial Multi-Surface Cleaning Wipes. Not only do the handy wipes kill E.coli, Salmonella and Listeria, but it is completely natural being derived only from plant material. Suitable for use on all hard washable surfaces in kitchens, bathrooms, food preparation areas and even nurseries, the wipes are 100% Viscose meaning they are both biodegradable and compostable. The big value pack has 40 large wipes for £3.35 rrp, proof that effective cleaning doesn't have to cost the earth.