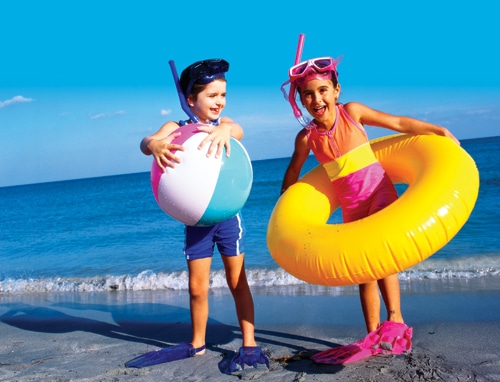 Sarah Callard explores the market for natural holiday health products for your more adventurous travelers
Holidays and travel in general are a much bigger part of many people's lives now than even a few years ago. Cheap flights and wireless communications have made our world much smaller and more easily accessible. And independent travel companies are widely available to cater for even the most adventurous traveller.
The result of these changes is that demand for travel-related health products is increasing and, with that, so too is the demand for natural health products.
When people look for holiday health supplements, it is very important that they are convenient, according to Cassandra Barns, nutritional therapist at The Nutri Centre.
"Supplements that are easy to carry around are obviously a big consideration. We often see customers looking for a tablet or capsule alternative to their normal liquid multivitamin or fish oil, for example."
"They may also look to change to 'one-a-day' supplements for the sake of having to carry less. For probiotics — most of which have to be kept refrigerated — people are looking for products that are stable both out of the fridge and in warmer climates," she adds.
Tummy aches
The first thing that many people think of when they are planning a trip to foreign shores is the safety of the water and how to best avoid tummy upsets due to the change in diet they are likely to encounter.
Barns at The Nutri Centre confirms that one of the main reasons people look for supplements before travelling is for what she describes as "Delhi belly," and says that the nutritionists at The Nutri Centre often start by recommending a good probiotic.
Probiotics
Travelguard from Biocare is a product designed to support intestinal health and protect the good bacteria in the gut. Technical advisor for Biocare, Mark Robertson, advises: "I would recommend that people start taking TravelGuard five days before their trip and that they continue taking it during their holiday."
It's a dual action product, combining the benefits of plant oils and probiotics. "Travelguard stands out from other probiotic products because it uses DuoCap technology which allows one capsule to deliver both plant oils and probiotics," says Robertson. "Furthermore, the LAB4 combination of bacteria we use has clinically-proven efficacy. The product is also guaranteed to deliver the advertised amount of probiotic bacteria and doesn't require refrigeration."
Barns suggests that travellers supplement with a grapefruit seed extract supplement, such as Higher Nature's Citricidal, because it is antiseptic and anti-microbial, as well as with a separate probiotic such as OptiBac Pro-biotics For Travelling Abroad. This product is designed for people on the move who want to support and protect their digestive systems. It contains a probiotic formula which has been developed specifically for those travelling to environments such as India, Egypt and Mexico.
Herbs for holidays
Herbs are another way to keep tummy troubles at bay. Nature's Answer's Black Walnut & Wormwood Complex from Kinetic is designed to eliminate a wide variety of parasites at different stages of development. It combines black walnut extract — which contains alkaloids — with anti-parasitic and anti-fungal properties. It also contains sweet annie, a bitter herb which assists liver and digestive activity, as well as having anti-parasitic properties.
Naturally repellent
The next big health concern for travellers appears to be avoiding insect bites. Says Barns: "Because many people are worried about insect bites, we often recommend a vitamin B1 supplement or a B Complex with high or extra B1. When taken from two weeks before travelling and during the trip, taking high dose vitamin B1 is thought to help deter insects," she explains.
Barns also recommends a good natural insect repellent spray such as Alva's Effitan Insect Repellent Spray or A Vogel's Neem Insect Repellent. The herb neem has been traditionally used to deter insects such as midges and mosquitoes.
A Vogel developed its insect repellent product based on research from the University of Edinburgh and the Scottish Agricultural College, based on the notorious biting midges in the Highlands of Scotland. As well as neem oil — a powerful natural repellent derived from the neem trees which originate in Southern India — the product also contains the essential oils of bergamot, rosemary and eucalyptus for their antiseptic and anti-parasitic properties.
Stop Pic from Nature's Dream is another natural insect repellent. It comes in a roll-on format and contains a mixture of essential oils including thyme, basil, mint and lemon, which have a natural repellent action. And Kiwiherb's Herbal Insect Repellent combines chaste tree extract, fennel and lemongrass essential oils.
For customers looking for remedies to treat the inevitable bites or stings, there is a broad range of natural, soothing products to ease the pain. Napiers' brilliantly titled Bugbuster Cream is a combination of herbs and essential oils with natural insect repellent qualities including lavender and citronella. It also contains chickweed and peppermint to soothe and calm bitten and irritated skin.
Z-Gel from Kinetic is a natural anti-microbial and antiseptic product. It contains arnica extract for its anti-inflammatory properties and calendula to help soothe inflamed skin. Z-Gel also contains a blend of Bach flower remedies to address any emotional distress that might result from the injury.
Rescue Gel from Living Nature contains manuka honey to heal broken skin and irritation from insect bites, and Kiwiherb's Manuka Oil is a natural solution of essential oils from the manuka tree.
Urtical cream from Helios, otherwise known as the traveller's friend, contains organically-grown Urtica urens and combines this with herbal tinctures, essential oils and other plant-based ingredients, including calendula to soothe insect bites and irritated skin.
"For probiotics — most of which have to be kept refrigerated — people are looking for products that are stable both out of the fridge and in warmer climates"
Motion sickness
Cassandra Barns at The Nutri Centre says that another key concern for travellers is the prevention of travel sickness. People who suffer from motion sickness, whether it's caused by car or sea travel, often dread the start of their holiday. However, there are an increasing number of products available for the reluctant traveller.
Sea-Bands is a natural remedy for motion sickness, which works on acupressure points, following the same principles as Chinese medicine. The product comprises an elastic band with a hard button designed to place pressure on a particular point on the wrist.
"There are a lot of user studies and clinical trial research to support the efficacy of Sea-Bands," says company director, Paul Joels.
"It works on a pressure point called Pericardium 6, which is found between the two tendons on the inside of the arm and this has been found to be the optimum position for reducing nausea," he explains.
Joels says Sea-Bands are mostly used for car travel, and in particular for children who get sick in cars because they are looking at books or playing games. However, research suggests that the product helps all types of motion sickness as well as morning sickness, post-operative nausea and the nausea associated with chemotherapy.
Nelsons' Travella product is a homeopathic aid for reducing travel sickness. Travella contains a 6c homeopathic potency of apomorph, staphisagria, cocculus, theri-dion, petroleum, tabacum and nux vomica. Each of these has been selected to provide relief from symptoms such as nausea, sickness, dizziness and headaches.
The spice ginger has long been known for its antiemetic properties, and Kiwiherb has developed Ginger & Kawakawa Syrup, combining ginger, peppermint and kawakawa, to relieve travel sickness symptoms. All three ingredients are known to ease nausea and reduce stomach cramps as well as soothe unsettled tummies.
"Because many people are worried about insect bites, we often recommend a vitamin B1 supplement or a B complex with high or extra B1"
Protecting skin from sun damage
Many holiday destinations have much hotter climates, so sun protection is often a big concern for travellers. There are various natural sun protection ranges on the market which contain natural antioxidants such as grapeseed extract to protect against the rays of the sun. Lavera, JASON, Yaoh and Green People all produce sun protection products made from plant-based ingredients which offer varying degrees of UV protection.
Supplementation can also be beneficial for people who are exposed to the sun's rays. The Viridian Nutrition range features a number of supplements relevant to sun protection, including High One B-Complex, Ultimate Beauty Skin Repair Topical Oil and SPF Skin Pro-Factors veg caps, a skin strengthening complex.
"If someone is worried about protecting their skin in the sun, I like Viridian's SPF Skin Pro-Factors supplement," says Cassandra Barns from The Nutri Centre. "The product contains a mixture of astaxanthin, carotenoids (found in high levels in orange vegetables and fruits), grapeseed extract and GliSODin — which are all powerful antioxidants. It is a fairly unique supplement that has been designed to support skin health in the sun," she adds.