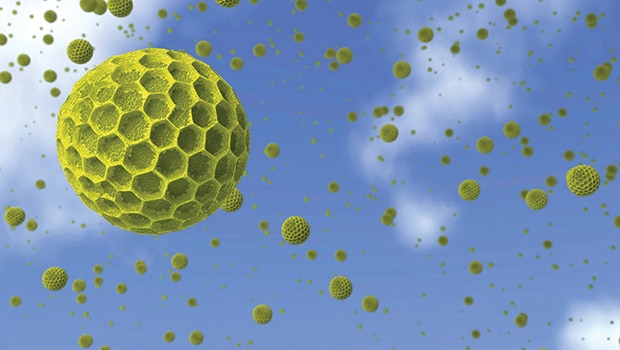 Everybody knows that allergies are on the rise in the UK. So how can natural health stores help shoppers ease their sneezes?
The rising tide of allergies in the UK is certainly not a problem to be sniffed at.
Today, according to leading allergy charity Allergy UK, the number of allergy sufferers rises by 5% every year, and half of those affected are children.
In fact, this figure is increasing so quickly that allergies will affect more than half of all Europeans in the next decade.
So what exactly is going wrong? Dr David Mantel, medical adviser at Pharma Nord believes that a number of different factors could
be responsible.
"Within recent decades, there has been a dramatic increase in allergies, including food allergies, eczema, hay fever and asthma," he says.
"These disorders are now thought to result in part from the immune system not being properly primed early in life, although genetic factors may also be involved.
"This is due to insufficient early exposure to bacteria (particularly in the digestive tract) as a result of increased levels of general hygiene (known as the 'hygiene
hypothesis'), the use of anti-biotics and changes in diet associated with modern Western society."
Added symptoms
Whatever the reason behind the rise, health store retailers already realize that allergies cause misery for millions of customers each year. And though plenty of help is available from the pharmacy, consumers don't always enjoy the side effects that come with the drugs available.
"Conventional treatments can leave you feeling groggy, thirsty and worse," says Stephan Terrass, founder of Terranova Nutrition.
"Your doctor is likely to recommend that you take antihistamine drugs, such as Zyrtec and Benadryl, which block the action of histamine. While they can be effective at relieving hay fever symptoms, they can also cause unpleasant side effects such as drowsiness, headaches, indigestion and a dry mouth."
These side effects are part of the reason why consumers are so keen on natural solutions for allergies such as hay fever. And the industry continues to innovate in order to meet their needs
For instance, this year Terranova is helping people fight back naturally against hay fever with a new launch: Quercetin Nettle Complex. The product is based on the traditional wisdom that nettles contain naturally-occurring substances which help neutralize irritation.
"In addition to its main active ingredient, nettle leaf, the formula also contains quercetin, vitamin C, turmeric, bromelain and elderflower," says Terrass. "Nettle works in a similar way to conventional antihistamines, but won't leave you feeling drowsy."
Immune support
Experts agree that the foundation stone for consumers who want to take a natural approach to everyday allergies is vitamin C.
"Vitamin C is well known to support the immune system and works synergistically with quercetin," says Jenny Bodenham from Higher Nature. "It can be supplemented along with zinc and vitamin B6, which play a role in balancing histamine levels and strengthening the immune system."
She adds that another health store staple, omega-3, is also very helpful. "The omega-3 fatty acids are pre-cursors to natural anti-inflammatory molecules, and a good marine-based supplement that has been screened for pollutants may be useful," she adds.
One natural supplement that customers might not immediately think of for allergies are beta glucans. "They're naturally occurring complex sugars (polysaccharides) obtained from brewer's yeast," says Mantle. "Supplementation with beta 1,3/1,6 glucans helps to promote normal immune function and reduce the risk of developing allergic disorders."
He explains that in the immune system mechanism, the production of IgE antibodies by B-lymphocytes is regulated by so-called helper T-lymphocytes, another type of white blood cell.
"There are two types of helper T-lymphocytes, called Th1 and Th2," he says. "Th1 cells drive the type 1 pathway (cellular immunity), which provides protection against intracellular pathogenic microorganisms such as viruses, and Th2 cells drive the type 2 pathway (humoral immunity), which provides protection against extracellular pathogens such as parasitic organisms.
"In allergic disorders, supplementation with beta 1,3/1,6 glucans helps to modulate an overactive Th2 pathway and rebalance the Th1/Th2 ratio," he adds.
"You could try Pharma Nord's Bio-Glucan Plus which combines beta 1,3/1,6 glucans with vitamin D3 and selenium for extra immune support."
Mantle also flags up pycnogenol, an extract obtained from the bark of the French maritime pine tree. "The active substances in pycnogenol have IgE-reducing, antioxidant and anti-inflammatory actions, which are of relevance to allergy. As an antioxidant, pycnogenol inhibits the release of histamine from mast cells," he says.
Dietary answers
Away from supplementation, following the right diet can be beneficial for allergies as well. American doctor Mark Hyman has been causing a particular buzz on the US health scene with his 10 Day Detox Diet book, which promises to 'turn off' inflammation by avoiding foods like sugars.
Bodenham highlights how this kind of diet can be great news for allergy sufferers. "Adopting an anti-inflammatory diet may be helpful for many people and for those individuals who experience cross reactions with foods," she says.
"Avoid alcohol, beer, wine and spirits as they all contain histamine, the chemical that sets off allergy symptoms in your body. Avoiding wheat can be beneficial for some people, although certain grains such as brown rice and quinoa may be tolerated.
"Increase antioxidants and bioflavonoids in your diet a month before your allergy symptoms normally start by eating plenty of colourful fruits and vegetables such as dark berries, green leafy vegetables, grapes and apples, until the season is over. This will ensure optimal amounts of these nutrients in your body whilst you're being bombarded with pollen!"
Of course, natural solutions aren't just about prevention, there are products that can help relieve symptoms too.
"Try Nature's Answer Eyebright liquid extract in a coconut glycerin base for a quicker assimilation," says nutritionist Thierry D'Amour. "This plant would help with the hay fever symptoms of watery eyes, red eyes and inflamed eyes."
Safer allergy-free skincare
There's a relatively new beauty category which is busy gaining ground in the natural market: allergy-free skincare.
As one of the people behind the FreeFrom SkinCare Awards, which emerged five years ago from the popular FreeFrom Food Awards, Alex Gazzolla has witnessed first-hand the rise of this sector.
"We saw that people who followed the FreeFrom Food Awards also had various issues like eczema, which meant they were looking out for other allergy-aware products, such as skincare. They also might be allergic to nickel, or fragrances as well."
The idea behind the awards, which are open for entries now, is to raise the standards of allergy labelling, and the products, across the board. Previous winners have included brands like Bloom Remedies (which was the overall winner last year), Balm Balm and Bentley Organics.
Gazzolla says that as allergy awareness increases, the sector continues to grow, but that allergy labelling can prove controversial.
"Many chemists, and big brands, hate free-from labelling because they believe it triggers alarm in consumers," he says. "I do sympathize with their point of view, but people with allergies really do need clearer labelling."
A shop with a view
Josie Atsma from Stirling Health Food Store tells NPN what sells in her store allergy-wise.
"For hay fever, local honey is popular. We stock a Scottish honey called Heather Hills, which people really like.
When customers come in it's important to find out if they have an allergy or an intolerance. We don't do allergy testing ourselves, as there isn't really the space in the store, but there's a holistic health centre around the corner that does. Often people go there to be diagnosed and then come to us.
In the last five years I have seen a rise in people coming in with food allergies and intolerances looking for specific free-from foods.
I think this is because there's so many special diets now. Also people want to lose weight, they find they're eating something which makes them bloated and they're looking to cut it out.
You can find gluten-free bread almost everywhere in the supermarkets now, so we tend to focus on the harder to find products like bread mixes, flour and pizza bases.
Dairy-free cheese is always popular. We sell a local one from Bute Island Foods (called Sheese), which is really tasty and available as a hard or soft cheese. Of course, there's some people that are allergic to soya, so for them we do Violife, which is a coconut-based cheese.
Quercetin B5 Plus Complex Veg Caps
Viridian Nutrition Ltd,
Tel: 0132787050
E-mail:  [email protected]
www.viridian-nutrition.com
Quercetin B5 Plus Complex Veg Caps from Viridian Nutrition is a functional combination of the bioflavanoid Quercetin with the addition of Vitamin B5, Nettle leaf extract, Pine bark extract, Chamomile flower, buffered Vitamin C, Bromelain and Acerola fruit – ingredients which have application year-round, but are especially popular in the Spring when nature is blooming. Viridian Nutrition is an award-winning company with more than 200 nutritional products. With experienced sales, marketing and technical expertise, Viridian is dedicated to the security and future development of the specialist health food store.
Terranova Quercetin & Nettle Complex
Kinetic Natural Products Distributor,
Tel: 08450 725 825
E-mail:  [email protected]
www.kinetic4health.co.uk
Terranova Quercetin Nettle Complex is an intensely synergistic combination of quercetin, freeze dried nettle leaf, freeze dried turmeric, freeze dried elderflower, bromelain and vitamin C (as magnesium ascorbate). Quercetin is popular for allergy managment, particularly due to its targeted inhibition of histamine release in the respiratory tract. Scientific evidence suggests that freeze dried nettle leaf may help support healthy inflammatory response to environmental allergens, especially in the respiratory tissue. Enhanced by Magnifood to maximise bio-availability and absorption. Contains no fillers, binders or other excipients and suitable for vegans and vegetarians.
Ultimate Flora For Kids
Renew Life
Tel: 0800 707 6671
E-mail:  [email protected]
www.renewlife.co.uk
Ultimate Flora For Kids contains high amounts of Bifidobacterium infantis and Bifidobacterium bifidum. These key probiotic strains are often lacking or in very small amounts in other probiotic formulas. Research studies show that these probiotic strains benefit health issues such as allergies, low immunity, digestive problems and poor absorption of nutrients. Ultimate Flora For Kids delivers 10 billion live probiotic bacteria, and 9 specially selected probiotic strains that are prevalent in the digestive system of healthy children. Delicious chewable tablet. Vegetarian Society approved. Free from sugar, dairy, soy & gluten. Age 2 and up.
HELIOS HAY FEVER
HELIOS HOMEOPATHY LTD
Tel: 01892 537254
E-mail: [email protected]
www.helios.co.uk
Hay Fever forms part of a brand new range of homeopathic combination remedies with indications from Helios.  Hay Fever contains three homeopathic remedies, Allium Cepa, Euphrasia and Sabadilla, traditionally used to relieve typical hay fever symptoms without side effects. Other products in the range cover Childhood, teething, fevers and earache; Injuries; Sleep and Stress Relief and the great news is we can say exactly what they do, helping your customers choose what is needed. Attractively packaged all products come in lactose free, sucrose pill form in our easy to use single dose dispenser.
Allergies – Food Intolerance or Food Allergy
A food allergy is a hypersensitive reaction to specific food components (often proteins such as cereal gluten or milk casein), typically within a few minutes to a couple of hours after eating the offending food. This is a consequence of a malfunctioning immune system1 where specific IgE antibodies falsely target these components as hazardous and trigger the release of inflammatory chemicals such as histamine. The most common symptoms include tingling, itching or swelling in the mouth or face, nasal congestion, trouble breathing, abdominal pain, diarrhoea, vomiting or dizziness. In life threatening anaphylaxis, symptoms will be more severe. In a true allergy the offending food should be avoided entirely. A food intolerance reaction on the other hand is much slower to appear, sometimes days later, and could cause nausea, bloating, abdominal pain and diarrhoea.
Microbial dysbiosis (imbalanced gut microbes) in early life can alter the development of the infant's immune system and may provide the setting for allergic disorders later in life.  The gut mucosal barrier houses approximately 70% of the body's immune cells,2 and is lined and influenced by a diverse microflora that play an important role in the development and function of the corresponding immune system.3  Specific beneficial strains appear to stimulate more regulatory or calming immune cells.3  Dysbiosis or a less diverse range of species, has been observed in those suffering allergic diseases3 and intestinal permeability has long been associated with the development of such food sensitivities.4  Both maternal and child's use of antibiotics have been associated with an increased risk of cow's milk allergy.  The use of live bacteria supplements could therefore be considered as part of a preventative or management plan to rebalance the gut flora, modulate the corresponding immune system, control pathogenic overgrowth and their toxic by-products, to improve digestive efficiency and to restore a healthy gut lining.
Bee Prepared immune support daily defence & max strength & Bee Energised energy & focus
Tel: 02079 932471
E-mail:  [email protected]
www.unbeelievablehealth.com
Get the buzz! With bee supplements predicted to be a top 5 trend, make sure you're stocking Unbeelievable Health! Their plant based supplements are unique in that they combine highest quality nutrients with a proven history of benefits, which are not usually found in a regular diet, making them the perfect addition to any health regime. These convenient all-in-one, targeted supplements are formulated by health experts & are 'Free From' & Vegetarian Society Approved.
Bee Prepared immune support (Daily Defence & Max Strength) are rated 5 stars in over 90% of reviews for it's use for colds, flu, hay fever & travel and have won 8 awards. Bee Prepared Daily combines extracts of propolis, elderberry, olive leaf, beta glucans & acerola cherry. Bee Prepared Max is a more concentrated version, with the addition of astaxanthin & reishi for when you need an extra boost. Suitable for most ages, contents may be added to juices & more. May be taken daily or as needed.
A NEW must stock item is BEE Energised, combining organic bee pollen, matcha, spirulina, rose hips, ginseng and more, helping provide a steady stream of energy, focus, stamina and mental alertness throughout your day, without the jitters and crashes. Benefits build with time to help resolve ongoing issues of fatigue & lethargy. There is nothing like this natural energy booster anywhere in the market!
Helping you SELL! Unbeelievable launches a new website in March which will link to stockists' info & websites (if selling the products online). Unbeelievable doesn't sell online, preferring to send sales direct to stores. Email to request photos & info. They are also active on social media so say hi & ask for shoutouts!
The products are available via Tree of Life, The Health Store, CLF, Wholefoods Ireland, IIH & Veggie Mart Email [email protected] for info.