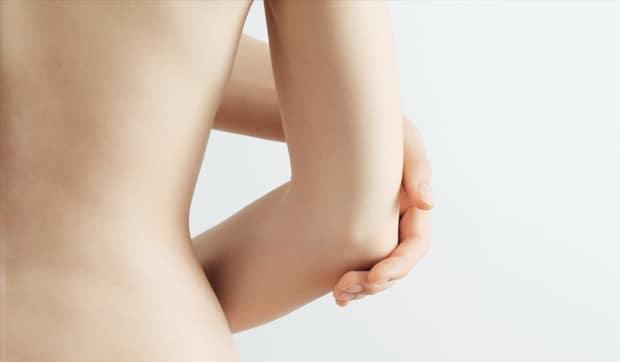 Matt Chittock investigates the best natural approaches to bone and joint health.
According to leading charity Arthritis Care, some 10 million people currently live with arthritis in the UK. In part, this figure is simply a result of people now living longer – but it's also proof of the way that our joints can simply wear out over time.
This gradual entropy can be caused by obesity putting an excess of weight on our joints, and it's also the result of the 4,000-odd steps the NHS estimates that we take every single day of our lives.
"It's a fact that as we age and become less mobile, we suffer more from general aches and pains," says Phil Rasmussen, the medical herbalist behind the Kiwiherb Herb Remedies range.
"If you suffer from the stiff, aching joints of arthritis, whether osteoarthritis, the wear-and-tear version of the condition, or rheumatoid arthritis, you'll also know first hand just how bad the pain can be, as well as the restriction the condition places on your mobility."
Herbal helpers
There are plenty of solutions to soothe joint problems available in herbal form. For instance, tumeric has been found to prevent joint inflammation and inhibit the inflammatory process associated with arthritis. The humble stinging nettle also helps, since it has powerful anti-inflammatory and antioxidant properties.
Modern manufacturers are discovering new ways to combine these approaches to get the maximum benefits in innovative new products. Terranova's new Tart Cherry, Nettle & Tumeric Super-blend features ingredients all considered useful for maintaining joint health.
This powder product was formulated by Terranova's experienced technical director Stephen Terrass.
"In addition to their influence on inflammation, tart cherries are also known to help rid the joints of uric acid – the main reason why they have been so useful in relieving gout," he says.
"Nettle leaf, turmeric, celery and ginger have all been shown in research to contain significant anti-inflammatory compounds. Most of these ingredients are also associated with analgesic effects.
"The extraordinary antioxidant properties of tart cherry, nettle and turmeric are also worth mentioning since free radicals are such a major destructive influence in joint damage."
The product has been designed as a stand-alone supplement, or to complement traditional chondroitin approaches.
"Glucosamine and chondroitin are widely researched for their remarkable regenerative effects on joints, but it can take weeks or even months for this to significantly influence symptoms," he adds.
"One role of these  ingredients is to benefit the symptoms in a matter of days, while waiting for the cartilage-healing properties of glucosamine or chondroitin to take hold."
Comfrey is another useful herb in bone and joint health. Rassussen says that he discovered the effectiveness of the herb first-hand when treating patients.
"Following many years as a medical herbalist in New Zealand using a topical application of Comfrey, I found that my patients, whatever their age, experienced significant improvements in their joint, bone and muscular health," he explains.
"Whether a joint sprain, strained muscle, back pain, a sports-related injury or general aches and pains, these herbs help ease stiffness, improve mobility and reduce any associated pain."
He adds that Comfrey efficacy is supported by a long history of anecdotal evidence and that it doubles as a handy natural way to repair skin, a point flagged up by the herb's pseudonyms, Knitbone, Boneset and Bruisewort.
"What makes Comfrey so special as a joint health herb is its key constituent, Allantoin," he says.
"It's a substance that helps strengthen both skin and tissue, and promotes the growth, and multiplication of connective tissue, bone and cartilage cells, which in turn helps speed-up the healing process."
Omega answers
Omega 3 is already one of the big-hitters on health store shelves because of its versatility. So it comes as little surprise that the experts recommend it for joint health.
"The number one approach at the moment is fish oils," explains Glenville.
It's now well understood by shoppers that fish oil contains both EPA and DHA fatty acids – the magic omega 3s that currently chime with consumers.
Omega 3s have been shown to reduce inflammation by disrupting the production of the inflammation-producing compounds that irritate the tissue's pain nerves. Oily fish is a great source of dietary omega 3, but Glenville advises striking the right balance between omega 3 and omega 6.
"There's evidence now emerging that people are getting too much omega 6 from their diet – which can actually increase inflammation.
"By making sure you get foods featuring omega 6, you can get a better balance of oils."
Fortified margarines, nuts and seeds are all good sources of omega 6.
Among manufacturers, controversy also rages on about the best source of omega 3 – a debate which includes factors like sustainability and purity of the source.
One recent study underlined the importance of Krill Oil, oil taken from krill, tiny crustaceans that are counted as one of the most abundant life forms on Earth. In the study participants taking krill oil reported an improvement in pain levels of 47 per cent. There's also evidence that krill oil is more bio-available than fish oil.
Talking collagen
According to recent studies, for every year we age we lose 1.5 per cent of our collagen reserves after the age of 30 – and that by 40 the body stops producing it altogether. This is a critical factor, since collagen is an essential protein that helps protect the bones and ensure joints operate smoothly throughout your life.
However, studies show that some types of collagen could be more useful to joints than others.
A 2009 research study found that undenatured collagen type II was shown to be twice as effective in relieving joint pain and stiffness associated with osteoarthritis in a first comparing study.
Springfield has taken advantage of the study with its Undenatured Collagen type II capsules, designed to be taken one-a-day after meals to reduce joint pain and swelling.
Exercise solutions
"In the clinic we see lots of runners in pain from having run on the pavements," says Dr Marilyn Glenville. "Exercise like that puts a lot of wear and tear on the joints."
If you do exercise, it's important to moderate the kind of exercise you do. For instance, dynamic yoga can have positive calorie-burning results without the same strain on the joints.
Supplements can also be a great part of a standard post-exercise regime.
"Exercise can produce an imbalance between free radicals and antioxidants, which is referred to as oxidative stress," explains Ekaterina Igumentseva from Organic Burst.
"This is because the body produced more free radicals than antioxidants when exercising. Antioxidants help to neutralise free radicals and break up the chain reaction of oxidation. Free radical damage causes degeneration of the healthy cells in our body (DNA, proteins and lipids) and is the main cause of ageing."
"Freeze-dried Acai has been found to have the highest reported total antioxidant level (ORAC score) of any fruit or vegetable."
She says that consuming Acai also creates a three-fold interest in antioxidant capacity (as found by (Mertens-Talcott, Rios, 2008) and so is a powerful tonic against free radical damage.
Boning up on joint health
Harley Street Nutritionist Yvonne Bishop-Weston – (www.optimumnutritionists.com) shares her take on joint health
In your experience are joint problems on the rise in the UK? What trends do you think are causing these problems?
What I have noticed is more young people suffering from joint pains and poor recovery from sports injuries than we used to see. I would imagine a key factor is stress. When we are stressed we are more likely to miss regular meals and snacks as we try to fit everything into our day. This can contribute to unbalanced blood sugar levels tempting us to reach for caffeine and sweet things to give us a speedy high which of course leads to an energy and mood slump and the craving for more.
The insulin releases this triggers can lead to inflammation in the body, giving us aches and pains in places where there is injury or simply extra wear.
How can diet help prevent future joint problems?
Prioritise your food. We need to eat regularly and we need to eat the foods our bodies depend on. Have three regularly spaced meals and snacks a day with some lean, ideally plant-based protein at each to slow the release of the carbs from food to bloodstream.
Ensure you have eight portions of veg and fruit a day, focus more on the veg as they are lower in sugar and include as much variety as possible. Have green leafy veg daily which are good mineral providers and important for bone health and the orange, red and purple ones for vitamins and antioxidants to help protect cells from daily damage.
It is easy to fall into the dairy trap, thinking this is an ideal source of calcium to keep bones strong. It is difficult for humans to digest and doesn't come along with the synergist minerals we need to get it into the bones where we need it. High dairy calcium intakes may therefore lead to calcium dumping in the soft tissues, which can contribute to joint problems.
A key bone health nutrient you are likely to not have enough of is vitamin D. It's made by the action of sunlight on the skin and most of us simply don't get enough. Protect yourself by having a daily vitamin D spray under the tongue.
In your view, are there any good supplements sufferers should take regularly?
For bone minerals it's best to choose a formula like Osteo-P Complex by Nutri Ltd. For additional vitamin D try Better You DLux 1000 and an anti-inflammatory omega 3 oil such as BioCare Mega EPA or a naturally toxin-free algae oil such as V-Pure or Opti3.
Health Listings
BioMulsion JointGuard®
BioCare® Ltd, Lakeside, 180 Lifford Lane,
Kings Norton, Birmingham B30 3NU
Tel: 0121 433 3727
E-mail: [email protected]
www.biocare.co.uk
BioMulsion JointGuard® is a unique combination of emulsified fish oil, glucosamine and ginger in a tasty, fruit flavoured liquid. Fish oil is a natural source of omega-3 especially eicosapentaenoic acid (EPA). EPA and ginger both help to support a balanced immune response in joint tissue, while glucosamine is a vital structural component that imparts strength and flexibility to joint tissue. BioMulsion JointGuard® utilises NEO-3™ – an enzymatic concentration technique, resulting in a fish oil of outstanding purity and high potency, whilst retaining its natural triglyceride form and ratio of EPA:DHA. RRP £28 for 300ml.
OsteoflexPlus
HealthAid Ltd, HealthAid House, Marlborough Hill,
Harrow, Middlesex, HA1 1UD
Tel: 020 8426 3400
Fax: 020 8426 3434
E-mail: [email protected]
www.HealthAid.co.uk
Osteoflex® Plus – Keeping you Flexible. Osteoflex®Plus tablets, an optimum formulation providing a combination of Glucosamine and Chondroitin, which helps the body repair damaged cartilage and lubricate the joints. Vitamin C and Turmeric are incorporated in the formula for their powerful anti-inflammatory properties. Osteoflex® Plus has the added benefit of Hyaluronic Acid, helps to improve joint health – especially cushioning of the joints and to improve the quality of synovial fluid that acts as a lubricant, shock absorber and helps to maintain the structural and functional characteristics of the cartilage matrix. Osteoflex® Plus retails at £17.99 for 30 tablets.
Magnesium Oil Joint Spray
BetterYou Ltd
Tel: 0114 220 2229
Fax: 0114 220 2230
E-mail: [email protected]
www.betteryou.uk.com
BetterYou Magnesium Oil Joint Spray contains a concentrated solution of the purest magnesium chloride known. Our unique source is found one mile below ground and has been condensed, purified and protected from man-made pollutants for more than 250 million years. With a transdermal application Magnesium Oil has been proven to deliver this essential mineral up to five times faster than oral means. Key for skeletal strength, normalised muscle function, energy production and the body's ability to detox. Includes natural sources of glucosamine, menthol oil and wintergreen oil. Over 800 sprays per bottle.
Terranova Tart Cherry, Nettle & Turmeric Super-Blend
Kinetic Enterprises Ltd, 258 Belsize Road, London, NW6 4BT
Tel:  08450 725 825
Fax: 08450 725 825
E-mail: [email protected]
www.kinetic4health.co.uk
One of the most popular products in Terranova's exciting freeze dried botanical powder range, Terranova's Tart Cherry, Nettle & Turmeric Super-Blend is a powerfully active and intensely synergistic formulation for maintaining both healthy joints and inflammatory response. Featuring the fresh freeze dried form of tart cherry, nettle leaf, turmeric root, celery and ginger root, Tart Cherry, Nettle & Turmeric Super-Blend can be used either on its own or in combination with Terranova Joint Support Complex or another glucosamine-based product. Research shows freeze drying of plants to be superior to other drying methods in terms of activity, biochemical complexity, solubility and stability, as well as retaining a plant's enzymatic integrity.
Calcium with Magnesium and Vitamin D3
Martin Greaves
Tel: 07951 414616
E-mail: [email protected]
www.fitnesspharma.uk.com
To help maintain healthy and strong bones, Fitness Pharma Calcium + Magnesium + Vitamin D3. One in two women and one in five men over the age of 50 in the UK will break a bone, mainly through osteoporosis. To build strong bones, there are three key nutrients that work in tandem: Calcium – the key mineral for healthy bones. Magnesium – an important bone mineral which helps balance the calcium and improves its absorption. Vitamin D – needed for the maintenance of bone health and the absorption of calcium. 90 tablets / 45 days' supply.
RSP £9.95 equivalent to 22p per day.
Joint Support Plus
Natures Aid
Tel: 01772 686231
Fax: 01772 688700
E-mail: [email protected]
www.naturesaid.co.uk
Joint mobility problems are becoming increasingly common with an ageing population. Joint tissue needs to have a variety of properties, including elasticity, resilience and toughness in order to perform its task, but these qualities begin to deteriorate with age. Existing products generally offer pain relief or joint tissue nutrition, rarely both. This new combination of Glucosamine, Chondroitin, Hyaluronic acid, MSM, Celadrin and Rosehip, plus micronutients may help to improve comfort in the short term whilst maintaining tissue quality and function in the long term. Natures Aid Joint Support Plus is available in 30 & 90 capsules RSP £8.70 & £20.45.
Cleanmarine Krill Oil
Savant Distribution Ltd
Tel: 08450 606070
E-mail: [email protected]
www.cleanmarinekrilloil.com
The balance of Omega 3 and 6 is important when it comes to controlling joint pain due to inflammation. The Omega 3 from Cleanmarine® Krill Oil is in a form that is more easily absorbed and more effectively used by the body than that found in fish oil meaning "less is more" – leading to similar to superior benefits at tackling joint inflammation. And these smaller, one-a-day capsules have no fishy aftertaste meaning they are less off putting for reluctant members of the family! In addition, unlike fish oils, Cleanmarine® Krill Oil is sustainably and ethically sourced and is 100% pure.
Celadrin
Solgar Vitamin & Herb
Tel: 01442 890355
E-mail: [email protected]
Within the UK alone, a shocking 206 million working days are lost each year because of joint-related health conditions. Whether it's a simple strain or something more serious, more and more people are looking for a natural alternative to help them deal with these sometimes debilitating problems. Research suggests a natural ingredient, Celadrin®, may help with the cause of joint pain and promote healthy joint function by reducing inflammation and restoring mobility. An all-natural proprietary blend of eight cetylated fatty acids, Celadrin® is thought to enhance the fluids that cushion your bones and joints to maintain flexibility.
Cherry Turmeric Complex
Solgar Vitamin & Herb
Tel: 01442 890355
E-mail: [email protected]
Many health and nutrition experts believe that inflammation is at the root of most health conditions. In recent years, there has been much research into the role of diet and its effect on inflammation. It is now known that factors such as refined carbohydrates, diets with a high glycemic load, hydrogenated fats and food allergies all contribute to an inflammatory state within the body. Many botanical compounds that have been used for centuries to support health and wellbeing naturally contain phytochemicals, including antioxidants, flavonoids, polyphenols and anthocyanins. Solgar has combined six of these botanicals to create Cherry Turmeric Complex that is suitable for those on a vegan diet.
Ultimate Bone Support
Solgar Vitamin & Herb
Tel: 01442 890355
E-mail: [email protected]
Unlike our skin, which is on display all the time, we often take our bones for granted. Most people know that calcium is essential for healthy bones and teeth, however it is important to understand that bone is a dynamic living organ and needs a complex mix of nutrients to stay strong and healthy. A bone supportive diet should include sources of calcium, magnesium, boron and other minerals that make up your bones, plus vitamins such as vitamin D3 and K2 to help these minerals to be absorbed. This comprehensive formula therefore provides the ultimate in absorption, the ultimate in utilisation and the ultimate combination of bone-supportive nutrients.
Collasense undenatured collagen type II 60 caps. 40mg
Springfield Nutraceuticals BV, P.O. Box 1574, 3260 BB Oud-Beijerland, The Netherlands
Tel: 0031 186 626173
Fax: 0031 186 621612
E-mail: [email protected]
www.springfieldnutra.com
For healthy joints and to maintain healthy cartilage. Collagen is the main structural protein in the connective tissue of the body. Collagen in cartilage consists mainly of collagen type-II. Collasense promotes the immune system, as a result of which the cartilage in the joints is supported in a natural manner. The collagen in joint cartilage exists for 85-90% out of collagen type II. The patented production process ensures that the specific spatial structure of collagen type II remains intact, which is essential for bioavailability. Just one small capsule with 10mg undenatured collagen type-II a day.  Collasense 60 caps. RRP £ 38.95.
Viridian Nutrition Organic B-vitamins
Viridian Nutrition
Tel: 01327 878050
Fax: 01327 878335
E-mail: [email protected]
www.viridian-nutrition.com
Organic B&C Complex and Organic Folic Acid, standardised to give an accurate and guaranteed dosage, are two new products from Viridian Nutrition to meet the growing trend for organic, food-based nutritional supplements. Certified by the Soil Association, the organic sources for the B vitamins are amla, lemon, guava and holy basil, cultivated in a 400-acre organic farm in India owned by the Orgenetics company. No synthetic material or vitamins are added during ISO-standard extraction or used during cultivation. Organic B&C Complex Veg Caps and Organic Folic Acid Veg Caps are part of the Viridian Nutrition range of 180+ nutritional supplements.