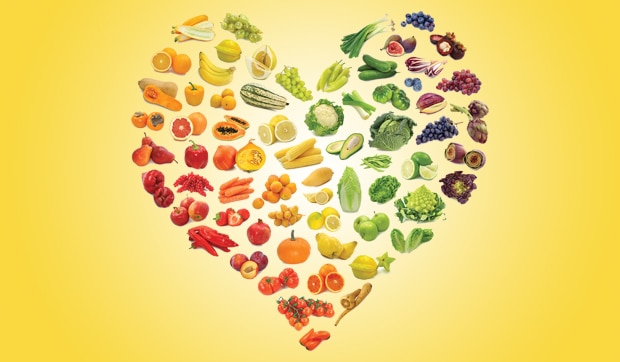 Innovative supplemental approaches and traditional herbal favourites form the heart of this dependable health store sector.
Heart-related problems are a big issue here in the industrialised West. In fact, according to the British Heart Foundation, heart and circulatory disease cause a quarter of all deaths in the UK at an estimated cost of £19 billion to the economy.
But despite the enormity of the problem, independent health stores are in the perfect place to lead the fight-back to health.
"Heart health is a fundamental factor in overall general health and wellbeing, the very principles on which health stores operate," explains Alex Kirchin, technical director at Solgar. "Health foods by definition support healthy physiological function, regulate normal body weight, and maintain homeostasis thereby protecting the cardiovascular system from the typical flaws in the current Western diet ie: high fat, high sugar, low fibre, calorie dense and nutrient-devoid fast food."
Kirchin says that he believes a healthy lifestyle, with plenty of exercise and healthy (preferably organic) food is the key to a healthy heart – and supplements should be a part of that too.
He does have one caveat however.
"A caveat is the care and caution required regarding individuals with serious, life threatening heart problems which of course need clear assessment and close supervision by a GP in the first instance," he says.
"In such cases the health food trade can help facilitate and advise individuals regarding adjunct dietary and supplemental approaches such as in the case of statin use and the beneficial effects of CoQ10 for alleviating statin-induced muscle myopathy."
He adds that helping build positive relationships and dialogue between health stores and GPs is a much-needed step towards the natural products industry's integration into the mainstream health arena.
Though the challenges are great, a younger generation seems happy to take the lead on heart health by taking responsibility for their own wellbeing.
Sophie Putnam, marketing manager at Revital, says that there's been a shift in the traditional heart health customer demographic.
"The average consumer of heart health products tends to be older and retired customers – but we have noticed a younger generation being increasingly aware of looking after their hearts and general well-being, especially in the sports category," she says.
Cholesterol controversy
One of the biggest heart health issues is coronary heart disease (also known as CHD). Basically CHD is when a waxy substance builds up inside the arteries. In the worst cases this can lead to a clot which inhibits blood flowing through the artery.
High cholesterol has always been flagged up as a useful predictor of heart disease. But is it the right one?
Nutrition expert Jack Challem told NP that there are far more useful measurements to consider.
"For much of the 20th century, doctors and patients chose to track (almost compulsively) the ups and downs of cholesterol levels to determine the risk of having a heart attack," he explains.
"But the evidence supporting the link between high cholesterol and heart disease has been, from the start, pretty flimsy. Certainly, people with extremely high cholesterol levels or familial hypercholesterolemia (an inherited condition) do have a higher risk of heart disease. But elevated cholesterol levels appear to be more of a symptom than a cause, which is a sign that something, somewhere is awry."
Challem cites evidence from the 1990s that suggest inflammation is the key player in heart disease. Doctor Paul Ridker developed a test for a "high sensitivity C-reactive protein (CRP)" that could detect low-grade inflammation.
He found that people with high blood levels of CRP had more than a four-fold greater risk of developing heart disease and having a heart attack.
"High CRP levels were far more accurate than cholesterol for assessing cardiovascular risk," says Challem.
"Heart disease, like all similar health problems, is multifaceted. There are many contributing causes, and many of them directly or indirectly involve inflammation."
"For example, oxidation of LDL cholesterol is an established risk factor – and a sign of inadequate intake of antioxidants, such as vitamins C and E. Trans fats (found in hydrogenated oils), plus sugars and refined carbohydrates also increase inflammation. And so does elevated blood sugar, a characteristic of prediabetes and type-2 diabetes."
Despite this controversy, products to reduce healthy cholesterol levels are still big with consumers. Beta Glucan is just one natural approach – a polysaccharide derived from yeast that could work to maintain cholesterol levels. Lifeplan's Beta Glucan features the 1,3 / 1,6 form, which studies suggest has a greater biological activity than 1,3 /1,4.
Co-workers
According to Putnam, co-enzyme Q10 is one of the rising stars of the heart health category.
"The heart health category is one of our most important categories," she says.
"It's being constantly updated with new and improved formulations."
Putnam highlights CoQ10 because of the amount of medical research, and press publicity, around the product.
Research has revealed that CoQ10 can be very beneficial for good heart health, since it's though to support energy production within the body. People's ability to generate CoQ10 decreases with age.
Some research suggests that CoQ10 is better absorbed when fats are present – which his why it's sometimes combined with Medium Chain Triglcerides (MCT). MCT is a class of fatty acids with a slightly lower calorie content than other fats.
"An upcoming product which we're very excited about is the Pharma Nord SelenoQ10 which is a perfect fit for anyone interested in improving their heart health," adds Putnam.
"The product is based on very significant results found in the KiSel-10 study, with regard to the prevention of heart disease."
The KiSel-10 study was conducted in Sweden with 442 subjects aged 70 to 88. Half the group took organic selenium, plus CoQ10, while the rest took placebos.
In the treatment group, cardiovascular mortality fell by 54% and key markers of heart health, such as ejection fraction, improved.
Associated Professor Urban Alehagen from Linkoping University Hospital, Sweden, confirmed the importance of the nutrients in his study. "Both selenium and coenzyme Q10 are crucial for normal heart muscle functioning," he said.
Heart helpers
Kirchin says that there are 'infinite possibilities' as far as supplemental approaches go – and there's a very complex and dynamic relationship between diet, genetics, lifestyle, exercise, emotions and the environment to consider.
"Some of the most popular remedies include omega 3, Magnesium, l-carnitine, D-ribose, Resveratrol and botanicals such as hawthorn, artichoke, garlic, Pycnogenol, and olive leaf," he says.
"Many of the potential therapeutic effects of nutritional intervention hinge on a range of effects including; antioxidant protection, mitochondrial support, regulation of inflammatory processes, helping to regulate the nervous system, support vascular integrity, and regulate normal heart rhythm."
As Kirchin highlights, garlic is a popular heart health botanical.
"Garlic has been used in traditional medicine for hundreds of years," says Dr Carrie Ruxton, award-winning dietitian, health writer and nutritionist
"More recently, clinical studies in humans have found that garlic supplements have a beneficial impact on heart disease risk factors such as raised blood cholesterol, the ratio of 'bad' to 'good' cholesterol, blood pressure, triglyceride levels, and excess blood clotting. The benefits can be seen after only a few weeks, although it's recommended that garlic is taken long-term."
In July a new research review published in Complete Nutrition confirmed the potential for KWAI Garlic (a standardised dried garlic preparation releasing 1800 mcg allicin per dose) to help reduce cholesterol levels linked with heart disease, along with a host of other cardiovascular benefits.
Dr Sanjay Prasad from the heart and stroke charity CORDA notes: "Coronary heart disease is the nation's biggest killer and it's vital that we all do all we can to protect our hearts. A large body of research and evidence has pointed to the potential that garlic with a guaranteed allicin yield at 1.8 mg can help lower LDL cholesterol and triglycerides – raised levels of these are strongly linked with an increased risk of clogged arteries and coronary heart disease. Further work is required to validate all these findings."
The research review compares the research behind garlic with that of phytosterols – plant sterols – and finds that standardised dried garlic preparations, especially those releasing 1.8 mg of allicin per dose of garlic has significant advantages in its ability to help heart health.
In particular, the research review finds that this standardised extract of garlic with the right level of active ingredients is crucial to maximise the health benefits available.
Heart Health Listings
Coconoil Virgin Coconut Oils
Garry Stiven, Bamber Watson Associates Ltd, 9 Heaton Avenue, Stockport, SK7 3LG
Tel: 0161 439 9988
E-mail: [email protected]
www.coconoil.co.uk
The Only Oil You Need – Coconoil is the healthy, versatile cooking and beauty oil suitable for everyone. Coconoil Virgin Coconut Oils are cold pressed, pure, unrefined and carefully produced by experts. Cholesterol, free, sugar free, salt free, chemical free, non GMO, and rich in essential fatty acids including Lauric Acid. Multi functional Coconoil Virgin Coconut Oils are very healthy cooking oils for frying, baking, roasting or for adding to hot cereals, vegetables or hot drinks etc. Coconoil is also a wonderful, completely natural skin moisturiser as well as a great pre conditioner for hair and helps prevent a dry scalp.
HeartMax®
HealthAid Ltd, HealthAid House, Marlborough Hill, Harrow, Middlesex, HA1 1UD
Tel: 020 8426 3400
Fax: 020 8426 3434
E-mail: [email protected]
www.HealthAid.co.uk
HeartMax™ – Take good care of your heart – The heart is the key organ in the circulatory system. As a hollow, muscular pump, its main function is to propel blood throughout the body.  If its function is in any way impaired this can affect the performance of the whole body. HeartMax™ has been specially formulated to combine the benefits of Omega-3 EPA/DHA with Garlic, Amino Acids, and powerful Antioxidants; to help maintain a healthy heart, circulation and cholesterol balance. HeartMax™ retails at £20.49 for 60 Capsules.  Contact HealthAid® on 020 8426 3400 for purchase and stockist information or visit www.healthaid.co.uk
Resveratrol
Solgar Vitamins UK Ltd
Tel: 01442 890355
Fax: 01442 890366
E-mail: [email protected]
www.solgar.co.uk
Resveratrol 250mg Softgels – Scientists have long been puzzled by the 'French paradox' – the surprising fact that the French eat more fatty foods than other populations in the western world, yet in general have a good level of cardiovascular health. About a decade ago, researchers honed in on red wine as a possible explanation. New research shows that one particular ingredient in red wine – called resveratrol, may be the reason why their cardiovascular health is comparatively better than other European countries. In addition it now appears that resveratrol may play a key role in controlling cellular ageing processes and could have far-reaching implications for health and longevity.
Ubiquinol
Solgar Vitamins UK Ltd
Tel: 01442 890355
Fax: 01442 890366
E-mail: [email protected]
www.solgar.co.uk
Ubiquinol 100 mg – Coenzyme Q10 plays a vital role in cellular health and energy production. Ubiquinol is the reduced, antioxidant form of Coenzyme Q10 (Ubiquinone). Ubiquinol has all the same benefits that have been established with Ubiquinone Coenzyme Q-10, performing a supporting role in cardiovascular health and energy production. Ubiquinol is also an important lipid-soluble antioxidant produced in the body.  It helps to protect the mitochondria and its lipid membranes from the onslaught of free radicals, which are by-products of energy production.  This premium formulation is offered in oil-based softgels to ensure optimal absorption and assimilation.
Udo's Choice Ultimate Oil Blend
Savant Distribution Ltd.
Tel: 08450 60 60 70
E-mail: [email protected]
www.savant-health.com
Fats have been given a bad name, particularly in relation to heart health but not all fats are the same. Whilst saturated fat makes blood platelets stickier omega 3 makes platelets less sticky plus studies have shown that replacing saturated fat or refined carbohydrates with omega 6 can help reduce CHD risk. Udo's Choice Ultimate Oil Blend is a blend of organic seed oils that provides all the omega 3, 6 and 9 every cell in the body needs to operate at its best. Simply add Udo's Oil to food after cooking – it can be used to make salad dressings, drizzled over steamed vegetables, mixed into porridge, fruit yoghurt or a smoothie.
Dr. Oats 100% Fruit & Oat Drinks
Dr. Oats Ltd
Tel: 07540 460337
E-mail: [email protected]
www.DrOats.co.uk
NEW! Award winning Dr. Oats 100% FRUIT & OAT Drinks are a combination of the great taste of premium fruits combined with wholegrain oats available in one easy to consume 250ml bottle. Dr. Oats Fruit & Oat drinks are approved to LOWER CHOLESTEROL offering natural healthy heart support. DAIRY FREE no added sugar, preservatives or artificial anything, not from concentrate. Available in 3 tasty flavours Apple Berry & Oats, Orange Passion & Oats, and Mango Pineapple & Oats. Target breakfast, snack, health and beverage markets. Refrigerated product. Contact us for other distributors and stockist information. RRP £1.99