Jim Manson introduces us to 'uncertainty fatigue' and paints a picture of how the upheaval and ambiguity of the pandemic has left weary Brits running on empty and locked in an endlessly tiring loop of hope, disappointment and exhaustion
"I hope this finds you well in these uncertain times," we began our letters and emails in spring 2020. Two years later, as we grapple with the full meaning of 'living with COVID', we are still in the grip of disorienting strangeness. Could this be why so many of us feel tired and wired, running on empty? 
"I really do think people have a weariness and sense of uncertainty about the future," says Naomi Murray, co-founder of Botanica Health in Tunbridge Wells. She is reflecting on the way the pandemic has exacerbated the problems so many people have with sleeplessness and managing their energy, but also the deep-seated anxieties it's triggered. 
Chronic uncertainty
Uncertainty fatigue is the relatively new term for the deleterious effects on our health and wellbeing caused by prolonged periods of uncertainty. The chronic uncertainty created by the COVID pandemic has left us feeling unmoored, the familiar anchors in our lives constantly just out of reach.  
Stephanie Marshall, co-founder of the women-led life coaching school Kickstartology, says that growing numbers of clients are presenting with uncertainty fatigue. She believes 'feeling out of control' is the root cause of much of the exhaustion and helplessness that clients report. A natural response in these uncertain times, she says, is to 'double down on trying to control everything' and in the process 'fall victim to circumstance'. 
Another by-product of the pandemic is our increased tendency to be continually projecting forward, wondering what our lives will be like in six months, or a year's time. Lynette Luckers, associate professor at Community College of Philadelphia, says this keeps us in 'constant hyperarousal mode'. Left unchecked, she says, this can lead to an 'endless loop of fatigue'. 
Approach carefully 
Of course, in these various ways, the pandemic is simply amplifying problems that were there all along. Numerous NPN retailer surveys have placed tiredness and fatigue in the top five health food product categories. Here's Murray again: "Tiredness and fatigue is a very common complaint. I'd say that nearly every day we have customers looking for a remedy to help them with tiredness." She advises a careful and thorough approach to exploring the issue with customers. "We always ask why the customer or client is tired. So, you might ask, 'Is this stress related, caused by insomnia or potentially post-viral?' Also try to find out if they are generally unwell.
"When we discover the root cause we can work through options with the customer, offering them advice on nutritional requirements, perhaps also suggesting a change to a lifestyle habit that might be contributing to the issue – and herbs and supplements when necessary."
Sara Canner, head nutritionist at Best Health Food Shop, agrees about the importance of tiredness and fatigue as a product category. "It's definitely one of the main conditions that customers want help and supplement support for, so it has earned its own shelf section, alongside 'sleep and energy'." She also encourages customers to think about the root cause of their symptoms. "Discussion points might include poor sleep, stress, conditions like chronic fatigue and post-viral symptoms, or general illness tiredness. Menopause-related tiredness is also a common cause of fatigue discussion and enquiries. 
"It's also important to ask background questions on whether customers know their iron status, thyroid function and vitamin D levels. As nutritional therapists we also check what medications a customer is taking to check for interactions with supplements we recommend – and may ask if they've seen their GP about their fatigue."
Making it personal 
"The approach we take with customers is to consider all of these factors and then address their personal situation. That might include encouraging good sleep hygiene, recommending beneficial food items in the shop – for instance those that would help with good regulation of blood sugar – and then an appropriate supplement, generally those that include magnesium, B vitamins, adaptogenic herbs like ashwagandha and lemon balm, or a sleep supplement if disturbed sleep is the root of the problem."
Asked about top-sellers and personal recommendations, Murray cites 'magnesium, B vitamins, ashwagandha and ginseng'. She singles out ashwagandha as her hero herb: "It's an amazing herb … it helps with insomnia, fatigue, stress, adrenal fatigue, thyroid issues and immunity. In common with other adaptogens it helps the body adapt to all manner of stressors."
Canner says top-sellers tend to be sleep-focused: "They include Viridian Cherry Night and Viridian L Theanin & Lemon Balm. In general vitamin D3 – especially by BetterYou – and magnesium and B complex formulas all sell well on a daily basis for fatigue. For a specific chronic fatigue or long-COVID case I would recommend and order in BioCare Mito Complex."
Wake-up call
The centrality of sleep to the problem of tiredness and fatigue is unignorable. New research reveals how deeply sleep and sleeplessness affect overall health. The neuroscientist and science writer Matthew Walker says this shows how sleep is 'more complex, profoundly more interesting and alarmingly more health-relevant than we could have ever imagined'.
In his best-selling book Why We Sleep, he shows how inadequate sleep 'demolishes your immune system, may determine if you get Alzheimer's, disrupts blood sugar levels so profoundly that you would be classified as pre-diabetic, and could set you on a path to cardiovascular disease, stroke and congestive heart disease'. Little wonder, then, that Walker describes lack of sleep as 'a slow form of self-euthanasia'. 
A 2021 study by supplement brand Formulate Health shows how widespread a problem insomnia is in Britain, but also teases out some fascinating insights into who struggles most with their sleep and where the highest rates of insomnia are found nationally. Highlights from the survey show that 39% of UK adults struggle to get to sleep at least on a weekly basis, and that nearly half of the UK has trouble falling asleep at least once a month. The survey also reveals a number of insomnia hot spots around the country. Walsall in the West Midlands scores the highest number of Google searches for 'can't sleep', while St Helens is the location for the highest prescribing of insomnia medication.
Women are shown to have more trouble getting to sleep than men, while people aged 45-54 struggle the most with sleep (two-thirds of this group report difficulty getting to sleep at least once a month). Young adults (those aged 18-24) are the second most impacted group. 
Prescribing sleep
While Walker's warnings about poor quality sleep are sobering, he actually wants us to turn this negative thinking on its head and look upon good sleep (and getting the right quantities of it) as a gateway to optimal health and wellbeing. To do that, he says, we need to think of sleep as the 'third pillar of the health trinity', alongside diet and exercise. He is so convinced about the connection between good quality sleep and good health that he talks about 'prescribing sleep'. Now, there's a business opportunity.
Keep calm, and carry on taking CBD
UK CBD brand TRIP says its mission is 'to share calm in everyday chaos'. In this spirit the brand recently launched its first national billboard campaign in a bid to 'share positive affirmations and help people find their calm during their daily life'. Founder Olivia Ferdi explains: "As we've shared positive affirmations online we've seen that our community really values it … We wanted to use our billboards to further encourage people to consider their mental wellbeing through our 'Be kind to your mind' campaign and open up conversations."
Three simple hacks to beat tiredness and fatigue
Kinetic nutrition adviser Ella Owen offers three simple ways to tackle tiredness and fatigue (if tiredness persists, she advises, talk to a doctor to rule out medical causes):
• Remember to drink water as it contributes to the maintenance of normal physical and cognitive functions
• If you often feel 'wired and tired', you may want to support your nervous system by incorporating rituals of relaxation into your day – such as essential oil baths and meditation
• A balanced, varied wholefood diet will supply you with energy-supporting nutrients such as B vitamins, magnesium, iron and vitamin C. It can be very tempting to reach for sugary and refined foods, caffeine and other stimulants when we are tired – they give us a quick energy rush, but do not sustain lasting energy. Go for low to medium glycaemic foods and swap sugary snacks for slower burning nuts and seeds, blueberries or hummus dips.
Reduction of tiredness
FSC
Tel: 0800 0830356
E-mail: [email protected]
www.fscsupplements.com
FSC Gentle Iron 20mg capsules are formulated to deliver the benefits of iron whilst being gentle on the stomach. Iron contributes to the reduction of tiredness and fatigue, whilst also supporting the normal formation of red blood cells and haemoglobin.
FSC Gentle Iron is made in the UK with the finest ingredients and based on widely recognised scientific evidence of their health qualities.
Mito Complex
BioCare Ltd
Tel: 0121 4333727
E-mail:  [email protected]
www.biocare.co.uk
A combination of powerful nutrients for energy production in the body's cells, muscle function, and protection from oxidative stress. It includes magnesium to support energy levels and muscle function, and vitamins B2 and B3 for supporting energy levels and reduction of fatigue. It also includes N-acetyl cysteine, N-acetyl carnitine and CoQ10 which are cofactors in the mitochondria along with d-ribose and the powerful antioxidant, alpha lipoic acid for optimum support. Specifically selected blend of nutrients to support energy, especially if you have poor stamina, feel tired due to overworking, or take a long time to recover from exercise or even simple daily activities. Find out more by visiting www.biocare.co.uk/mito-complex.
Formula CannabiGold
HemPoland
Tel: 07414 739323
E-mail:  [email protected]
www.cannabigold.co.uk/formula
Formula CannabiGold plant-based herbal products are perfect for when you feel tired or fatigued.
BLISS, for peaceful sleep
FLOW, for good mood
SHIELD, for immunity support
HARMONY, for peace of mind
Comprising no more than 6 ingredients, no synthetic preservatives, or unnecessary fillers, all 4 products are vegan-certified and contain valuable hempseed oil, rich in omega-3 for a healthy heart.
The "pill-free" liquid format makes them ideal for those who struggle to swallow tablets. They can be taken orally or added to food such as salads, smoothies, cereal or sandwiches meaning they  can be easily accommodated into your daily routine.
Haemovit®Plus Mind & Body stimulation
HaemovitPlus – HealthAid Ltd
Tel: 020 8426 3400
E-mail: [email protected]
www.HealthAid.co.uk
Haemovit®Plus capsules are specially formulated to provide vital nutrients needed for the maintenance of healthy blood cells and a strong immune system. Rich in Iron, Vitamin B12, Zinc and Copper which contribute to healthy nervous system, increased energy levels and reduction of tiredness and fatigue. Haemovit® Plus capsules also help improve hair and skin condition and maintain growth. Copper and Manganese are essential trace minerals that help strengthen blood vessels, bones, tendons, nerves and have antioxidant activity in the body. Copper aids in the absorption of Iron in the body. Haemovit®Plus  retails at £9.99 for 30 Capsules. Contact HealthAid Ltd on 020 8426 3400 for purchase and stockist information or visit www.healthaid.co.uk   
Nature's Answer Ashwagandha Liquid Herbal Extract
Kinetic Natural Products Distributor
Tel: 08450 725825
E-mail:  [email protected]
www.kinetic4health.co.uk
Nature's Answer Ashwagandha is unbeatable on purity and potency, with a super-concentrated dose of 2000mg per serving, not to be confused with less potent tinctures. The extraction process uses Nature's Answer's proprietary method – cold Bio-Chelated, yielding a Holistically Balanced Advanced Botanical Fingerprint extract in the same synergistic ratios as in the plant. The extract is in vegetable glycerin and purified water as a liquid supplement for fast absorption into the body. Alcohol- and gluten-free.  Studies suggest that Ashwagandha can help the body better adapt to stress, and cope with mental fatigue and anxiety.
Garden of Life mykind Organics B12 Spray
Kinetic Natural Products Distributor
Tel: 08450 725825
E-mail:  [email protected]
www.kinetic4health.co.uk
Garden of Life mykind Organics Vitamin B12 is the first certified organic, wholefood, non-GMO project verified B12 spray. Garden of Life's B12 provides the easily absorbed, active natural form of B12 (as found in the body) at a dose of 500mcg per spray, with a delicious organic raspberry flavour. One bottle contains 140 servings. Scientists have long been researching the relation between low levels of B12 (cobalamin) and memory loss and many experts claim getting enough B12 in your diet can help improve memory, whilst adequate B vitamins can also help your brain respond to stress appropriately.
Bee rested sleep support & Bee energised supplement
Unbeelievable Health
Tel: 020 7993 2471
E-mail:  [email protected]
www.unbeelievablehealth.co.uk
Award winners for sleep and energy.  – The ideal duo for helping fatigue, brain fog and sleep. Formulated by nutritionists using therapeutic amounts of highest quality plant-based ingredients. Bee rested blends royal jelly, saffron, hops, 5-HTP (griffonia seed) and more- to nod off faster and wake up less in the night. Bee Energised combines organic: bee pollen, matcha & spirulina plus ginseng, rosemary extract & more and is helpful when feeling run down, tired, & for fitness training, exams & more. They're concentrated, so fewer are required and capsule contents may be added to smoothies or food. Via  TOL, CLF, The Health Store, Wholefoods Ireland, & Jumla.
Lamberts® MagAsorb®
Lamberts Healthcare Ltd
Tel: 01892 554313
E-mail:  [email protected]
www.lambertshealthcare.co.uk
One of the first signs of magnesium deficiency is often fatigue. You may notice muscle spasms, weakness or stiffness as well. The adult NRV for magnesium is 375mg daily, yet surveys conducted in the UK show adults get an average of just 270mg of magnesium per day. Responsible for over 300 biochemical reactions within the body, magnesium is essential to many of your bodily functions. Lamberts® MagAsorb® is clinically researched and provides a highly bioavailable magnesium in citrate form. In tests comparing MagAsorb® with two other commonly used magnesium compounds, the absorption of MagAsorb® in the body was far superior.
Living Nutrition Fermented True Adaptogens
Living Planet Distribution
Tel: 020 3176 9982
E-mail:  [email protected]
www.livingplanetdistribution.com
Living Nutrition is on a mission is to deliver natural, bioactive nutrition in a capsule. The secret of their organic fermented herbal blends is a unique kefir-kombucha fusion that works with the whole plant to transform it into a highly bioavailable living food, bursting with enzymes, biotics and micronutrients. Now they've developed specific herbal blends to answer today's consumer needs, such as True Adaptogens—combining red ginseng, ashwagandha, holy basil and rhodiola—to help the nervous system balance and unwind. For a more targeted approach at a higher strength, each herb is also available singly.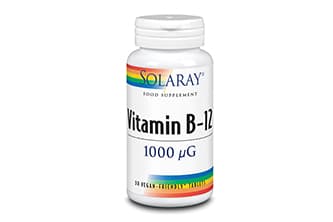 Tackle tiredness with Vitamin B-12 from Solaray
Solaray
www.treeoflife.co.uk
www.clfdistribution.com
www.thehealthstore.co.uk
www.jumla.co.uk
www.iihealthfoods.com
Solaray's Vitamin B-12 1000mcg tackles tiredness and fatigue that can affect general wellbeing. Vitamin B-12 (which is mainly found in animal products) helps to form red blood cells, converts carbohydrates to glucose to be used for energy and enables the body to absorb folic acid, supporting energy release. When levels are too low the production of red blood cells drops, causing weakness and exhaustion as a result of anaemia. Sourced from the finest natural ingredients and rigorously tested for efficacy and purity, Solaray's Vitamin B-12 1000mcg is a powerful solution to Vitamin B-12 deficiency, helping vegans, vegetarians and those suffering from tiredness and chronic fatigue to live brighter. solaray.co.uk
Strath
World Foods Brand Management Ltd
Tel: 01782 528611
E-mail: [email protected]
www.bio-strath.com/en
Strath liquid and tablets have been sold for over 60 years in the UK and are one of the most popular and trusted food supplements. New studies published last year have further strengthened the products appeal. The study demonstrated that Strath could increase bioavailability of nutrients in the digestive system by up to 10 times, ensuring people with compromised digestive systems can help maximise the benefits of any supplement regime. Bio-Strath bite size is a new educational program which provides more details on the clinical benefits of Strath, for more information email [email protected]
Yogi Tea® For the Senses Natural Energy
Yogi Tea distributed by Euro Food Brands
Tel: 01604 821200
E-mail: [email protected]
www.yogitea.com/en
Inspired by the power of essential oils: YOGI TEA® For the Senses with precious, naturally pure plant essences, opens up body, mind and soul to the "here and now". This is what new vigour feels like! With 100% organic quality, tangy bergamot and lemon oil, as well as premium quality white and green tea, YOGI TEA®  For the Senses Natural Energy is the perfect companion for an action-packed day. Take a deep breath and rediscover your zest for life! For a perfect brew, pour 250ml of freshly boiled water over the teabag and allow to infuse for 5-7 minutes.