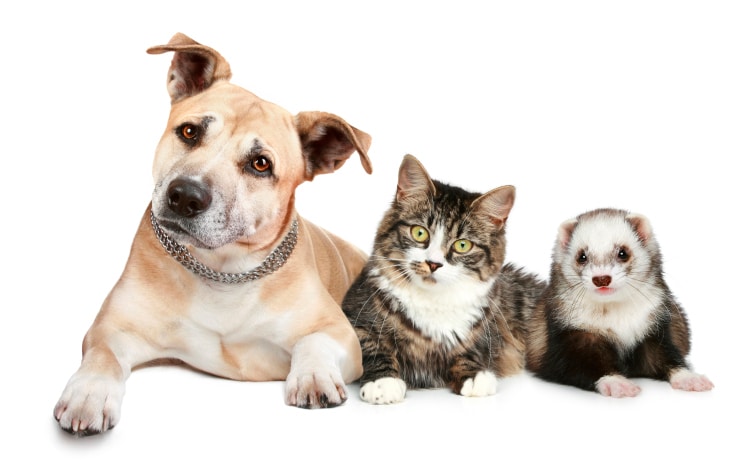 Should eco-friendly pet products give retailers paws for thought? Matt Chittock takes a walk on the wild side to find out more.
In the words of one retailer (who wished to remain anonymous) "To be honest – anything involving pets and babies is bound to be a success!" So if you have the right customer demographic then stocking up on pet products could be a great way to improve profits.
One of the best ways to test the market may be experimenting with pet food which, if it's successful, draws animal-loving consumers in-store repeatedly for top-up purchases. After all, pet owners who're careful about their own diet are likely to be cautious about what their furry friends consume too.
The natural pet food industry has won support from high-profile figures like One Show vet, Joe Inglis.
"Mainstream pet food producers are deliberately vague about what goes into their pet food products so they can change the meat to what's cheapest from month to month," he says. "That can be dangerous for pets who are intolerant to certain proteins."
"There's a lot of press about how additives can affect children and the same can be true of animals."
Independent manufacturers are busy taking up the challenge by producing pre-packaged food with traceability in mind. Pet food from companies like Naturediet, Feelwell's and Healthy Paws are free from additives, colouring and artificial preservatives often found in mass-market equivalents.
Organic is a big selling point too, with Organipetsrepresenting the category in the pet food sector. There's also freeform treats available, with Benevo and Ami supplying meat-free food.
Organic toys
Helen Bennett, managing director of Animal Pure has created a range of cat and dog toys made for owners who worry about their pet's carbon paw print. She sells hemp bedding alongside toys made from loofah, hemp and recycled materials.
"People who care about the environment and lead an organic lifestyle don't want mass-produced toys made with nasty chemicals," Bennett explains.
"Customers also want natural bedding for pets because it's what they'd choose for themselves."
Green grooming
Customers who want the gentlest products for their skin will often insist on the same for their animals too. Healthy pets need to be washed regularly – and some pet owners worry about detergents like sodium lauryl, which is found in traditional shampoos.
To help them build a green grooming regime Aubrey Organics has created the Organimals range, which includes a chemical-free grooming spray and shampoo. The shampoo uses natural coconut oil to provide deep cleansing, without irritation.
Just like their adult counterparts, healthy-looking pets need the right nutrients on the inside to look great on the outside. Yumega natural food supplements have been formulated with omega 3 and 6 to sooth flaky skin and improve the appearance of a pet's coat.
Grooming is important for hygiene too. And while judicious use of a flea comb is one way to rid your pet of fleas and ensure they look good, the natural health sector has come up with alternative ways to rid animals of these pesky parasites.
Denes Natural Pet Care is a family-run company that manufactures a range of herbal products for overall pet care. Peter Leaney, the company's managing director, suggests that garlic can be a good solution for fleas.
"Once garlic is taken internally it's excreted through the skin as an oil which deters parasites," he says.
Denes retails garlic tablets, a garlic spray and Hot Itch Lotion, which uses tea tree and blackberry to soothe inflamed skin. Dogster Soothing Gel, from Solhealing, is meanwhile described as a 'must have' product for dog owners. The soothing blend of chamomile and lavender in a gel base quickly calms down irritations and sores- great to have in emergencies.
Bum deals
It's not surprising that dealing with poo is a big part of being a pet owner – on average 1,000 tonnes of pet excrement is produced by UK dogs every day. As well as being unpleasant to look at (and worse to step in) it can also pollute the environment by choking marine life in ponds and rivers.
If your store is in a location with a high demographic of dog owners, offering the right biodegradable dog bags could be a good way of connecting with new customers. However, it's important to check the bags you're retailing aren't just polythene with added 'degrading agent'.
Scottish company BioBags offer branded dog waste bags made from corn starch and vegetable oil, which are fully biodegradable. Biodegradable nappy sacks of the type sold by Naturebotts work just as well – but may be taking the similarity between kids and pets a step too far!
Smelling sweet
Staying with the theme of smells, Dogster Deodoriser — also from Solhealing — is a soothing, natural balm that neutralises odours rather than simply masking them and is soothing for pets as it is rubbed under their paws and on their bellies and around their neck. A relief to his owners, and to any self-respecting Fido.
Natural Petcare product listings
Cranimals
Cranimals™, North America's #1 organic pet supplement and award winning functional biscuit line is now available in Europe! Cranimals™ products harness a synergistic combination of antioxidants and phytonutrients from superfoods like cranberries, blueberries, red raspberries and algae for the optimal health and wellness of your pet.
Craimals™ supplements are widely used by holistic vets in North America and address a range of health issues found in modern pets, from recurring urinary tract health, cognitive decline, skin problems, joint issues and impaired immune function and anxiety and stress. We offer excellent starting specials for new retailers and distributors.
For more info see:
www.cranimals.co.uk
E-mail: [email protected]
Phone: +44 20 3356 9601
www.facebook.com/cranimals
Helios Pet Range
Helios is pleased to introduce you to three new products for pets.  Helios Homeopathy Kit for Pets contains 24 remedies covering minor ailments and injuries and 10ml Helios SOeSsence ™ flower formula for those stressful situations.  Helios SOeSsence ™  Pet Balm contains essential oils, organic plant tinctures and our SOeSsence ™  flower formula to gently soothe minor wounds, abrasions, sore paws and skin irritations.  Helios SOeSsence ™  Pet Shampoo contains, essential oils and organic plant tinctures in an SLS free shampoo base and is  suitable for all skin/coat types. Now your customer's pets can benefit from Helios quality products too.
Helios Homeopathy Ltd
Tel No: 01892 537254
Fax No: 01892 515116
E-mail: [email protected]
www.helios.co.uk
Yarrah
Yarrah, the trusted Organic Pet food since 1992!
Yarrah has always used the best organic ingredients available to produce our dog and cat food. This is one of the reasons millions of dog and cat lovers across the world trust our brand to ensure their pets enjoy a healthy and energetic life. With improved recipes, new products and new packaging coming soon, Yarrah will have an extended range to meet the requirements of consumers throughout the UK. As always, Yarrah never tests on animals and actively minimises the footprint we have on the environment.
Yarrah, simply healthy, simply delicious, simply the number one brand.
Yarrah Organic Petfood represented in the UK by: Brands by Nature
Tel: 0759 813 4368 | 01484 546 242
Email: [email protected]
www.yarrah.co.uk
Activpet
ActivPet is a new range of nutritional supplements specifically formulated for the wellbeing of Cats & Dogs. The range has been developed by leading nutritionists with pet lovers in mind, who demand premium formulations to target a specific condition or ailment for their pet with a high quality specification. The range comprises of four products, including;
Active Joints; providing Glucosamine in an easily absorbed form, Complete Multi-Vitamin; containing 21 essential nutrients for optimum nutrition, Glossy Coat & Skin Conditioner rich in Omega-3 and Breath Freshener; a natural blend of parsley & peppermint.
Natures Aid
Tel: 01772 686231
Fax: 01772 688700
Email: [email protected]
www.activpet.co.uk