Although medicinal mushrooms are becoming more widely appreciated, there are some hurdles to get over if they're to really come into their own says Jane Wolfe
Packed with vitamins, minerals and immune-supporting compounds such as polysaccharides (including beta-glucans), glycoproteins, ergosterols and triterpenoids, medicinal mushrooms are well positioned to become the superfood of the future, and reishi, cordyceps and chaga are becoming familiar names in health store aisles.
"Mushrooms are described as biological response modifiers," explains Graham Botfield, marketing and technical director, Living Planet Distribution, which distributes Mushrooms 4 Life in the UK. "In essence, they have the ability to help the body rebalance at a cellular level when things get corrupted. Mushrooms all have a general effect on supporting the immune system, largely through their beta-glucans content, but each mushroom has its own unique properties which work on specific areas of health, so that's where the skill comes in. They mostly work holistically, and they work amazingly well."
"One of the main reasons for the popularity of medicinal mushrooms is the fact they increase vitality via various pathways," adds Asen Kyushev, naturopathic nutritionist and co-founder of Nutri-Fungi. As well as balancing immune response and cholesterol, they have antioxidant, anti-inflammatory, anti-viral, antibacterial and anti-fungal properties, support liver function, optimize energy, support nerve repair, are adaptogenic, and promote relaxation.
Retailer Julie Goodwin from Natural Health says mushrooms are increasingly popular. "There's definitely an interest at the moment, and this is mainly customer-driven. And if customers don't know about them, they are very open to learn. We recommend mushrooms a lot now – they work so effectively with the body."
Knowledge is key
However, she does feel that more education is needed around the subject for the category to grow. "We're all looking for the next thing, and mushrooms are becoming more common, but there should definitely be more education. This is absolutely key. We've had some training, and I find mushrooms fascinating, but for us we still don't know enough about them."
Botfield concurs: "The market has been led by America and Canada, while we've lagged behind, in part because there is some nervousness around mushrooms – the association with magic mushrooms, them being a fungus and the connotations with candida, which are completely unfounded. There is a lack of education. It is creeping through, but information channels still need to be set up."
Botfield recommends people read Medicinal Mushrooms: A Clinical Guide by Mushrooms 4 Life founder Martin Powell, and consumers can also use the company's technical helpline.
Kyushev believes manufacturers should be making more effort to educate consumers. "We've tried to do exactly that – we have a YouTube channel, a website and a blog to help people understand these products. I think people should be looking into what the long-standing brands have to say and get information first-hand from people in the industry who know what they're doing – who know the entire process from A-Z."
The cancer connection
One major stumbling block to mushrooms blooming in the natural health arena is the fact that many people are looking to them for use in cancer. Obviously no claims can be made, but people are doing their own research and discovering their benefits.
"Mushroom extracts are often clinically used as supplements for patients having radiotherapy and chemotherapy as these treatments have numerous side effects, which are reduced when mushroom extracts are used. Traditional Chinese Medicine doctors have been using mushrooms for thousands of years with no adverse effects. Western science confirms the same."
"Generally, most medicinal mushrooms are very safe and work well with the chronic conditions which are common in the 21st century – immune-dominant conditions," adds Botfield. "Interest is coming through website groups which advise people on certain conditions, and research continues to support the therapeutic effects of mushrooms."
As mushrooms become more mainstream and more brands appear, quality and efficacy will undoubtedly vary. "Quality is going to be a problem as the sector grows," Botfield warns. "The different parts of a mushroom have varying degrees of health benefit depending on the type. For example the mycelium of chaga is far less beneficial than its conk, but in other mushrooms the mycelium has important nutrients, so it gets complicated. We focus on each mushroom for its specific benefits. Most companies take a standard approach, ie they use either fruiting bodies or mycelium, so some products could be effective but others less so if they don't use the appropriate approach. Our products usually contain a combination of extract and the biomass to benefit from both approaches. But our chaga and reishi contain just extracts as this is uniquely important for these two."
"Unfortunately a large proportion of manufacturers use mushroom powders which have no health benefits whatsoever, and often retailers and consumers don't understand the crucial difference between mushroom powder and mushroom extract," says Kyushev.
Bioavailability
"Most of the active ingredients of mushrooms are locked within the cellular wall," he explains. "These walls are very strong, and digestive juices and enzymes can't break them down. To get the benefits the active components offer, they need to be bioavailable, that is, in a form our body can use. This is why the mushroom material must go through an extraction process, so we can break down the fungi's cellular walls and set the active ingredients free."
It's also crucial where the mushrooms are cultivated: "An important bit about all mushrooms is that they have to be grown just like they grow in nature, on wood-rich substrate in order for the fruiting body to have a high content of active ingredients," says Kyushev. Botfield agrees: "For example, the best chaga should be grown on birch trees, because there is something unique with those trees, and it needs to be the fruiting body."
Despite these potential stumbling blocks, the benefits mushrooms offer will hopefully outshine the misconceptions, and the category will flourish. "I think mushrooms can and will be the next superfood," Botfield concludes. "They fit very nicely with the types of conditions for which other supplements are very limited. And people are always looking for new products. Mushrooms aren't a fad, the history and traditions of mushrooms run very deep, so it's really bringing back a forgotten area of nutrition which is absolutely perfect for the modern lifestyle. I am convinced they're here to stay."
Mushroom Products
OM, Lion's Mane
Kinetic Natural Products Distributor
Tel: 08450 725 825
E-mail:  [email protected]
www.kinetic4health.co.uk
Formulated by an expert mycologist with over 30 years of experience, Organic Mushrooms powders are the leading producers of pure, fresh, certified organic medicinal mushrooms. While the quality is exceptional, they also produce holistic blends instead of extracts by using both the mycelial biomass and the fruiting body of mushrooms. OM Lion's Mane is a non-GMO mushroom, fermented on a bed of gluten-free organic oats offering an array of nutrients and well known for its action on cognitive health.
Nutri-Fungi range
Good Mushroom Nutrition Limited
Tel: 07443 661974
E-mail:  [email protected]
www.nutri-fungi.com
Nutri-Fungi is London-based brand, specializing in organic medicinal mushroom extracts. The extracts are offered in bulk to businesses and a range of retail products to consumers:
Cordyceps extract to help people with active lifestyle and support lung, kidney and adrenal function; Lion's mane extract to help with concentration, memory and improve digestion; Reishi extract to help against hay fever and support detoxification; Chaga extract to support healthy skin and prevent from oxidative stress and recurrent viral conditions; 8 Mixed extracts formula for all-year immune and antioxidant support; Mushroom coffee & Mushroom cacao as a convenient healthy treat to support immunity.
Siberian Chaga mushroom
VitaForest
Tel: +7(812)241-13-39
E-mail:  [email protected]
www.vitaforest.ru/en
The secret of the unique taste and healing properties of dry drinks, Vitaforest uses natural extracts of wild herbs and berries, which have absorbed all the healing power of wild forests of Siberia. Each component carries a source of good health and immunity. At the heart of each drink VitaForest-Siberian Chaga, is known worldwide as the "mushroom of immortality." Chaga is not only a powerful adaptogen, but also one of the most powerful natural antioxidants due to the high level of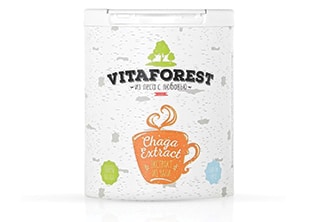 ORAC (Oxygen radical absorbance capacity)
Dry drinks Vitaforest can be used daily as a favorite coffee or traditional tea
Four Sigmatic Lion's Mane Coffee, Lions Mane Elixir
Organax Ltd
Tel: 020 8133 2623
E-mail:  [email protected]
www.organax.co.uk 
Four Sigmatic mushroom coffee with chaga and lion's mane is your go-to morning beverage to support productivity, focus, and creativity. Perfect to kickstart your morning or power through your workday at the office or at home.  Lions Mane Elixir: It's the pencil sharpener for the digital age – allowing you to be "on point" as you put your mind to the next task. Whether you're writing your next best-seller, prepping for exams, or facing a deadline at work, our savory Lion's Mane Elixir makes putting your nose to the grindstone actually smell pretty good. Additional ingredients include organic peppermint, rose hips, rhodiola root and hint of stevia (reduced 50% from old recipe).
As visually impressive as it is beneficial, the brain-supporting benefits of the beautiful lion's mane mushroom have been studied for centuries. With both short-term and long-term benefits, our extracted lion's mane extract not only supports memory and concentration, but also supports cognitive function and the nervous system.
Our pure, wood-grown lion's mane mushroom extract is made by extracting the fruiting body of the fungi. The result is 1,500 mg of lion's mane mushroom extract that is organic, non-GMO, and free from fillers and carriers. Often called the "Golden Root", rhodiola root is a super adaptogen, known for its support of concentration and memory. Our rhodiola roots are wild-harvested from the mountains of Tibet and then extracted.