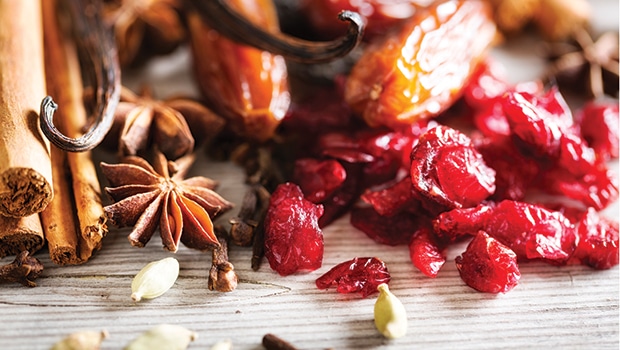 Christmas may seem like a snowflake on the horizon, but if you want to spread some seasonal joy and rake in those festive pounds you'd better get organized
Christmas is the busiest selling time for retailers, and many start thinking about ordering for the festive season as early as September, but how do you ensure you're not left with a mound of post-Christmas puds? Wendy Kent from Especially Health makes use of her epos system to this end. "We look to see what we sold last year, and if there were any delays – because that can be a factor as to how many products you sell – then we make a decision about what to order this year."
Other ways to avoid a glut are to get certain things like mince pies locally, so you can buy daily, and flag up luxury items that aren't seasonal-specific. "There are certain products you need to have, like Christmas puddings, but you can organize it so that you only have a few things to watch," says John Buxton from Ryecorn Wholefoods.
Do it yourself
"We make creams, shampoos and baths salts," he says,  "so we put a lot of Christmas gifts together ourselves – all we need is the decoration and a hamper or hessian bag. We do this with food too – people like to send locally-produced Yorkshire items. If you sell everybody else's gift sets you're just like the shop in the next town. You need to be forward-thinking and individual."
Claire Sharp from Nature's Table is of the same mind. "I make up Christmas gift baskets so I can put my own spin on them – sugar-free, gluten-free – with Christmas puddings, mince pies, cakes and Christmassy oils. I also do bodycare ones. They're individual – something people won't find elsewhere."
She also sees a demand for products that create a festive atmosphere. "This year Tisserand is bringing out some Christmas candles so I'll be taking those on and I'll do essential oil diffusers again as they're such a good seller."
Chocolate sales always surge around this time of year. "Raw and vegan are very big," says Sharp. "Raw cacao powder and nibs, and The Raw Chocolate Company's Chocolate Mulberries are good sellers. I also get Booja-Booja and D&D Dairy-Free Christmas Novelty Shapes."
To entice Xmas spenders into your store, it really helps if you get into the spirit of the season. "We are always involved in the famous Victorian Christmas Festival in Brighouse," says Buxton (above middle). "We dress the shop in a traditional way and carry the Christmas theme from the window into the store. We go outside to sell our wares and give out what I call temperance drinks, like Fitzpatrick's cordials and sarsaparilla."
It's a good idea to get in a few non-alcoholic drinks with a Christmas slant. Sharp finds Rocks Ginger Cordial goes well, and Kent's offer includes Norfolk Punch and The Organic Collection's Blueberry Sparkle.
Santa's sweet stuff
Christmas wouldn't be Christmas without the puddings, pies and cakes, and many people like to make their own so be sure to stock up on raw ingredients. However, not everyone wants to get their hands floury. Kent says: "We do sell a lot of baking ingredients but less than in the past because of what is now available ready-made. A few years back if you wanted a gluten-free Christmas cake you had to bake it yourself."
Gluten-free is always in demand, and Christmas is no exception. The Foods of Athenry's Christmas range comprises Gluten-Free Christmas Pudding, Gluten- and Dairy-Free Christmas Cake and Gluten-Free Mince Pies. And for organic treats, Organico's Christmas temptations include Panettone, Stollen and Cantuccini.
On the trimmings side, Roots & Wings' has an Organic Cranberry Sauce with Orange & Christmas Spices; and EHL Ingredients recently introduced an Organic Spiced Cranberry Stuffing Mix.
Faith in Nature Anti-Dandruff Shampoo
Faith in Nature
Tel: 0161 724 4016

Email: [email protected]
Faith in Nature has unveiled a new natural anti-dandruff Hair Care Range that works from the 1st wash. The range is free from parabens and preservatives and the Shampoo contains a naturally active anti-dandruff ingredient which can help to reduce scalp irritation.
The range includes;  Anti-Dandruff Lemon & Tea Tree Shampoo and Conditioner which is made with Organic Lemon to promote a deep cleansing experience whilst having anti-microbial properties soothing an irritated scalp. Or our Anti-Dandruff Mint Shampoo and Conditioner which is made with Organic Peppermint and Spearmint offering a more calming experience with moisturising and cooling benefits. Prices: RRP £5.50 (400 ml Shampoo)
Ogilvy's Raw British Wild Woodland Honey and Raw English Heather Honey
Ogilvy's
Tel: 01780 450377
Ogilvy's launch two more quintessentially British honeys, Wild Woodland and English Heather honey. Both are raw, naturally blended by bees and full of flavour. Wild Woodland is a creamed honey with a toffee flavour perfect as a breakfast honey and a good natural sweetener for black coffee. The depth of flavour also complements a variety of meats and is delicious in dressings. English Heather honey has a rich distinctive aromatic flavour and is grainy in texture. The deep flavour works well with smoky BBQ flavours and a variety of meats, cheeses and puddings. Both medium/strong in strength.
Sparkling juice Drinks
Organico
Tel: 01189238768
E-mail:  [email protected]
www.organico.co.uk
For our sparkling juices a mixture of different juicing apples are pressed, with the selection made to obtain a good balance of sweetness and gutsiness and then either blueberries, raspberries, blackcurrant or lemons are added. The pressed juice is then simply carbonated, with no addition of water or anything else, and bottled with a champagne-style cork to produce an elegantly presented and tasty natural drink. They are great as an alcohol-free celebratory drink and will make any party, any time of the year go with a swing.
Planet Organic Handmade Raw Chocolate Pralines
Planet Organic
Tel: 0207 2217171
E-mail:  [email protected]
www.planetorganic.com
Introducing the first raw, organic, handmade chocolate pralines, just in time for Christmas. When we say 'handmade', we mean it. Each chocolate shell is carefully crafted by Belgian chocolatiers, before filling with smooth coconut caramel, nutty fudge or berry cream, and coating with organic 90% raw chocolate. It's a labour of love and the result, decadent, melt-in-the-mouth pralines, with the added benefits of raw cacao & super foods. RRP: £5.99 (34g)
Planet Organic Raw Activated Stoneground Nut Butters
Planet Organic
Tel: 0207 2217171
E-mail:  [email protected]
www.planetorganic.com
With a brand new look, these deliciously indulgent nut butters make the perfect Christmas gift. Packed with activated nuts, seeds, coconut and super foods. Each of our carefully crafted mixes are slowly stoneground for up to 24 hours using solid granite milling wheels, an ancient process known to produce the richest, smoothest butters whilst preserving nutrients and flavour. Great mixed into smoothies, spread on raw crackers or eaten straight from the jar (we won't tell anyone). RAW. ORGANIC. VEGAN. GLUTEN FREE. Spread the love! Prices: RRP £8.49 – £8.99
Pacifica Take Me There Gift Sets
Kinetic Natural Products Distributor,
Tel: 08450 725825
Email: [email protected]
www.kinetic4health.co.uk
The ideal gift for checking off those Christmas lists this season. Perfectly portable products that are small to pacakge, easy to carry, and with fragrances that will carry you away! Each Take Me There Set contains a handbag-friendly size Body Butter, Roll-on Perfume and delicious Color Quench Natural Moisture Lip Tint. Beautifully packed in a stunning gift box that's pretty enough to give unwrapped. 3 Scents Available – Tuscan Blood Orange: Juicy and spicy Blood Orange is offset with subtle Strawberry and Raspberry notes and grounded in fleshy Mandarin and Italian Sweet Orange. Hawaiian Ruby Guava: Inspired by a surfing trip to Hawaii, this sexy and sultry tropical blend combines sweet, berry-like notes of Guava with a bright, citrusy top note of Pomelo and a warm and subtle Coconut base. Indian Coconut Nectar: An ambrosial and sensuous blend of warm Coconut notes and delicate creamy Vanilla, inspired by travels to faraway destinations. Perfect for sexy, sultry and lusciously scented skin.