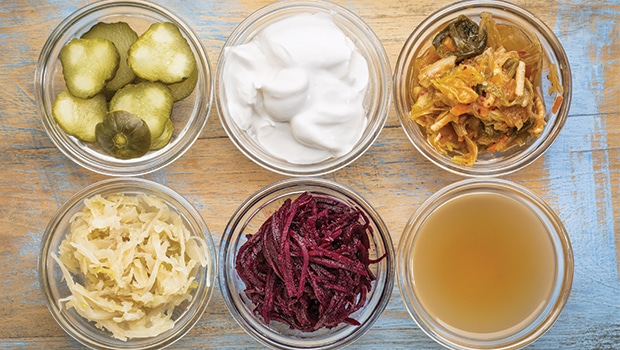 While not yet mainstream, and certainly not new, fermented foods were heralded as one of the big trends of 2018 and continue to work their way onto the shelves of independent retailers up and down the country. Hayley Coristine investigates the qualities that are helping this ancient food technology gain wider appeal
There has definitely been an awakening when it comes to fermented foods, according to nutritionist Daniella Luan. "These methods are very traditional, ancient ways of preserving food that have been used for thousands of years. Now all of a sudden fermentation is making a comeback, because we're realizing the importance of good bacteria for a healthy gut," she says. 
The significance of what we eat for digestion is well established, but Luan holds that the relationship is more impactful than we might imagine: gut health is closely linked to the brain, and accordingly has a positive impact by helping to maintain levels of the 'happy' hormone serotonin.
"When people go to the doctor and they're feeling low with depression, the first thing they reach for is antidepressants," says Luan, "when if anything, all our feel good hormones are actually being produced from our good gut bacteria, so that should be the first line of defence before they aim for the medicine cabinet."
Complex taste
With more people looking for back-to-basics, natural foods, fermented products are set to continue their ascent. But taste is king: gone are the days when brands could rely on health credentials alone. So which brands are hitting the taste jackpot?
One product making mouths water is Switchle, an organic apple cider vinegar (ACV) drink named after a thirst quenching concoction of ACV, honey, ginger and water known as 'switchel' among America's farming communities in the 18th century. Launched last year at Natural & Organic Products Europe, Switchle – which contains fermented ingredients, including ACV with Mother – picked up the Judge's Choice Award and continues to go from strength to strength. The brand markets itself as an adult soft drink and looks set to capitalize on a number of trends as consumers turn away from alcohol and fizzy drinks in favour of healthier drinks on the go.
"Consumers are getting more discerning when it comes to their soft drinks," says Carlo Buckley, business opportunities manager at distributor Healthy Sales Group. "More people are taking control of their health through their diet; they're getting more plugged in to ancient wisdom where you're using ingredients that have been around for centuries to inform health habits today. As fewer people consume so much sugar, I think a drink like Switchle will become the norm." Switchle launches in the US this month and the brand also plans to target the growing grab-and-go market in Asia.
Increased interest in veganism is also helping to widen appeal thanks to fermentation's role in heightening flavour and texture. Francesco Accolla and Aimee Jackson founded Nutcrafter Creamery three years ago after struggling to find a tasty vegan cheese on the market. "We used to love cheese," explains Accolla of the couple's inspiration to set up a creamery, "but the [vegan products] you find in the supermarket are, frankly, unacceptable." Accolla and Jackson made it their mission to craft organic, plant-based artisanal butter and cheeses to fill the gap they perceived in the market. 
By employing the same processes used to make dairy cheese – including curdling, fermentation and ageing – the pair were able to create a product with a taste profile and texture which they say appeals to vegans and omnivores alike. "Invariably, 100% of the time [people] are really surprised how much this tastes like [dairy] cheese," reports Accolla of feedback on Nutcrafter's cashew cheeses, which include buffalo mozzarella-style meltable Nutzarella, a Vhalloumi for grilling, and Out of the Blue, an eight-week-aged cashew blue cheese complete with Penicillium roqueforti bacteria.
Breathing life into brassicas
Meanwhile, consumers and professionals alike are actively seeking out courses to explore the allure of fermentation. Cook and author Rachel de Thample runs preserving and fermentation workshops at River Cottage's teaching kitchen, using seasonal, organic ingredients to teach fermenting to consumers, cooking teachers and start-ups – many of whom are repeat clients. The day-long sessions run throughout the year and focus on showing students a variety of fermentation techniques that celebrate the changing of the seasons. 
Though de Thample appreciates the health benefits associated with ferments, she believes they can be enjoyed for taste alone as well as what they bring to a dish. "It's about balance, and making people aware that they don't always need to eat [ferments] in a healthy context. Saying that fermented apple rings are really nice on cheese on toast might seem like a bit of a juxtaposition, but they are delicious! You don't always need to be virtuous. And if you're using good ingredients then you're reaping the health benefits as well."
At River Cottage, de Thample focuses on teaching traditional techniques but firmly believes there is an opportunity for fermented products to celebrate British vegetables, particularly in winter when people may be suffering from root veg fatigue: "People think those vegetables are quite heavy, but when you ferment them, they become something completely different: light, zingy and vibrant.
"We're often seeking the new and exotic, but if you go back to what we have on our doorstep it can become new and exotic if you see it in a different light. What makes ferments interesting is using different herbs and spices that we can grow here. Lemon verbena, for example, grows really easily here, yet I've never seen it in a commercial product. Things like lovage, fennel seeds, oregano – adding these herbs to different ferments and products make people appreciate what's on their doorstep." 
The retailer's view
While fermented foods haven't yet crossed everyone's lips, the trend is growing rapidly – and not just in London. Huddersfield's Half Moon Health Foods has stocked a selection of fermented wholefood staples since opening its doors 32 years ago, and has expanded its range following increased demand.                                                                   
"A lot of interest has come out of the traditional food movement which looks to ancient cultures where nourishing foods that people have been eating for thousands of years sustained health," says owner Adrian Midgley, who now stocks a variety of fermented vegetables from sauerkraut to kimchi, alongside drinks including kefir and a popular locally made kombucha.
"Sometimes," says Midgley, "customers have said that where digestive health needs improving, just taking kefir regularly has been as beneficial as some of the supplements that we've sold in the past." He cites health benefits as a key reason for the rise in demand. "The fact is that there's a whole host of beneficial bacteria in a serving of sauerkraut and you can actually work these things into your regular diet. That's quite an appealing idea."
Like de Thample, Midgley sees an opportunity to excite people about traditional British veg via fermenting. "It's absolutely magical, because modern food processing practices actually degrade the nutritional content, but fermentation practices from thousands of years ago enhance taste and nutritional value whilst preserving it without the need for refrigeration."
He adds: "Food safety authorities have spent the last 150 years telling us that bacteria are bad for us; now we're turning round and saying, hang on – it's not quite so black and white."
Can ferments go zero waste?
Alongside growing demand for fermented foods, zero-waste retailers are gaining traction as consumers become conscious of the environmental cost of over-packaging. But can zero waste and ferments go hand in hand, and are refills a safe way of retailing them? 
Catherine Conway from zero-waste consultancy Unpacked, believes so. "Loads of small producers are jumping on the bandwagon, so it's becoming far easier to find zero-waste products for the indie trade. Given [ferments] are live, they can be treated like any other fresh product – which does pose some challenges, but they are not insurmountable." 
She points out that a number of zero-waste shops are already selling kombucha, which lends itself to being a refill drink, on tap. "The only problems I foresee here are the same as selling beer on tap – for example, you have to make sure you clean your lines properly and have enough throughput of product so that it doesn't go off," she explains.
Various – Kefir smoothies/milk drinks
Bio-tiful Dairy Ltd
Tel: 020 3761 9765
E-mail:  [email protected]
www.biotifuldairy.com
Bio-tiful Kefir is a delicious cultured milk drink made following an authentic 2000 year old recipe, from the highest quality British whole milk and live kefir cultures. Naturally packed with billions of gut-friendly bacteria and essential vitamins and minerals, Kefir is the most probiotic of all natural foods. Available in a range of delicious flavours including Baked Organic, Cacao, Honey & Ginger, Cherry, Raspberry, and Strawberry & Grapefruit, our cultured milk drinks are perfect on their own or added to your favourite smoothie.
Golden Kimchi – Lemon, Ginger & Turmeric
Eaten Alive
Tel: 0797 692 6184
E-mail:  [email protected]
www.eatenalive.co.uk
This exciting new kimchi combines zesty preserved lemon with fresh lemon juice, ginger and turmeric. It is a lighter, brighter take on kimchi and can be added to summer salads, BBQ dishes or even with fish. Its vegan, raw and bio-live, hand made by chefs at our special fermentation facility – it comes in 375g jars RRP £6.49
OM – Lion's Mane Organic Mushroom Powder
Kinetic Enterprises Limited
Tel: 0207 644 2294
E-mail:  [email protected]
www.kinetic4health.co.uk
Om Lion's Mane Organic Mushroom Powder supports nerve health. It is a fantastic boost for smoothies and juices. Lion's Mane (Hericium erinaceus) has been reported in many studies to stimulate the synthesis of Nerve Growth Factor (NGF), a protein that promotes the growth and normal function of nerve cells. In Traditional Chinese Medicine Lion's Mane is also known for promoting digestive health. This unflavoured dietary supplement powder is Certified 100% Organic, vegan, gluten free, non-GMO, Kosher, and raw. It does not contain artificial ingredients or fillers and is grown in the USA.
Micromax
The Really Healthy Company
Tel: 0208 480 1000
E-mail: [email protected]
www.healthy.co.uk
Micromax is a biodynamically fermented live gut food supplement that contains over 30 species of both aerobic and anaerobic microbes that can synergistically help optimise the bacterial population profiles in the gastrointestinal tract. Based on the work of Professor Higa in Japan, Micromax combines 40 different wild Alpine herbs and organic molasses, whose sugar is used up during fermentation, making it safe for diabetics. Many of the Micromax microbes are not found in other probiotic formulas. Biodynamically produced, GMO free and vegan. Does not contain artificial ingredients, additives, preservatives or flavourings. Solvent-free, gluten free, dairy free, alcohol free.
GO! Kombucha
Gaia Brands Ltd.
Tel: 07956 228141
E-mail:  [email protected]
www.gokombucha.co.uk
Handcrafted in small batches, GO! Kombucha has been honed and finessed over 15 years to ensure the finest and most authentic taste experience, winning two Great Taste awards along the way. Unpasteurised, naturally effervescent, gut healthy, below the sugar tax threshold and with a kick that satisfies the desire for alcohol, GO! Kombucha has revived an ancient drink ideal for the modern age.  And because we don't add fruit syrups – only the finest organic teas to flavour – GO! Kombucha is zero-rated for VAT and the best value Kombucha range.  All five teas are listed with Tree of Life and Infinity Wholesale.
Suma Organic Apple Cider Vinegar with the 'Mother'
Suma Wholefoods
Tel: 01422 313848
E-mail:  [email protected]
www.suma.coop
Raw, unpasteurised, unfiltered, and with the 'mother' – a natural sediment which trace material, pectin and enzymes. By choosing our new organic apple cider, you are ensuring that  you are getting one with all the benefits of fermentation. This means it also contains useful probiotic bacteria which many believe contributes to healthy flora in the human gut, and may aid digestion. This vinegar can be taken neat (1-2 tbsp a day) or mixed with water and a sweetener, like honey or agave syrup. Pairs beautifully with Suma concentrated apple juice. Alternatively, can be used in salad dressings.
RAW Vibrant Living Organic Sauerkraut Range
RAW Vibrant Living
Tel: 0208 547 2775
E-mail:  [email protected]
www.rawvibrantliving.co.uk
RAW Vibrant Living Organic Sauerkraut Range includes 4 tasty flavours: Classic Crunch; In the Pink, a crisp kraut with vibrant citrus and ginger; Golden Glow, a bold and flavourful curry flavoured kraut with zingy ginger and Feel the Heat, a spicy combination of jalapeno and chilli. These fermented products are made using only the best raw & natural ingredients which have not been heated above 42c, therefore retaining all of their gut friendly bacteria and enzymes. 
Willy's Natural Energy Drink with Kombucha + Apple Cider Vinegar
Willy's ACV Ltd
Tel: 01432 808090
E-mail:  [email protected]
www.willysacv.com 
The trend for fermented food and drink is gathering pace and whilst Apple Cider Vinegar has been enjoyed for centuries as a natural remedy, Willy's is turning this traditional cupboard staple into a versatile daily dose that can be enjoyed in so many delicious ways. Meet NED! Willy's Natural Energy Drink is made on the farm in Herefordshire from five clean ingredients, including a 25ml daily dose of ACV with 'The Mother' and green tea kombucha. Naturally low in calories, drinking Willy's Natural Energy Drink is a great way to hydrate, rejuvenate and give your body a gentle, all-natural boost.