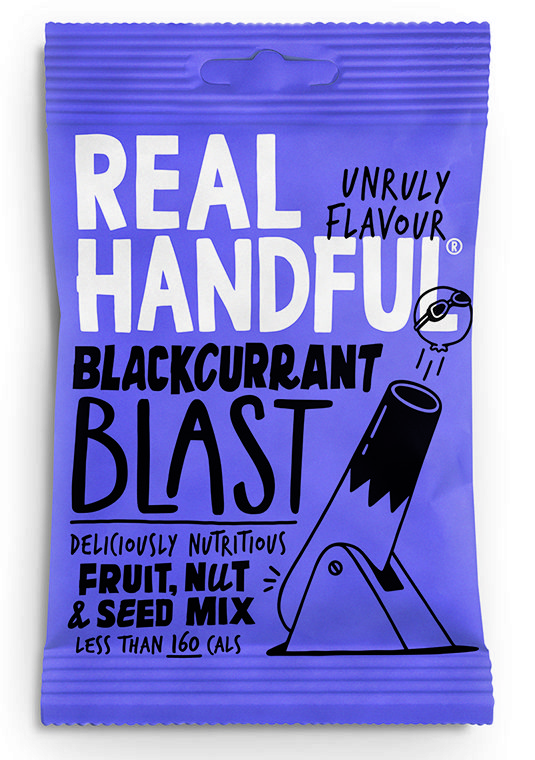 'Unruly' snack brand Real Handful has unveiled two new flavours plus a fresh pack design and new formulations across its line of innovative trail mixes.
Blackcurrant Blast is described as a sweet and sharp blast of raw almonds, blackcurrants, apple-infused raisins, sliced apple and a sprinkle of sunflower seeds, and is completely free from added sugar.
Mint Choc Chipper is a take on the popular ice cream flavour and combines Belgian dark chocolate chips and cool mint-infused raisins with pumpkin seeds and jumbo peanuts.
The entire trail mix range is now vegan-friendly, and the level of nuts and seeds included in each product has been increased by up to 40%, with two of the mixes now classified as a source of protein. In addition, a number of the products are now free from refined sugars.
"We launched Real Handful with the mission to make everyday healthier snacking simple, fun and most importantly delicious," says founder Joe Taylor. "We know consumers are always on the lookout for healthy alternatives that don't compromise on taste and so are excited to roll out our new and improved flavours. We're also particularly proud of our new packaging with its bold an playful illustrative style. For us, snacks don't have to play by the rules or be either 'good' or 'bad', they can instead taste awesome and be nutritious at the same time."
The brand worked with design agency Midday Studio on the new look, which aims to bring to life Real Handful's fun and 'unruly' personality.