New snack brand Unwind has launched with a three-strong collection of natural, hand-baked 40g bars designed specifically for evening time.
The introductory flavours – Roasted Nut and Chocolate, Malted Milk and Chocolate, and Dark Chocolate and Orange – contain a combination of natural, relaxation-promoting ingredients including Montmorency cherry, l-theanine and chamomile along with grains and seeds, all topped with a layer of Belgian chocolate. They are also available in a mixed gift box.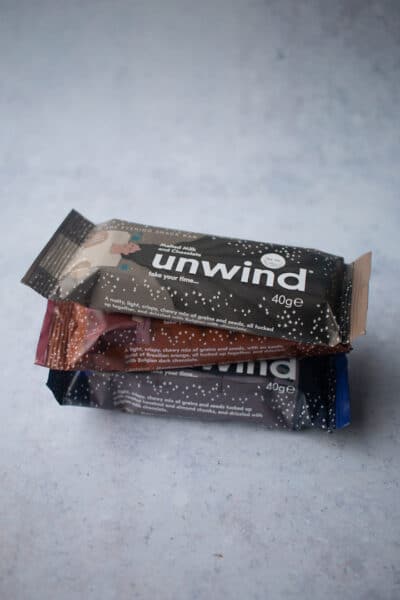 "The company ethos is 'take your time'; it infuses everything we do," explains company founder and night owl Deirdre Hynds, who designed the range to satisfy late night cravings. "For us at Unwind, the evening and nighttime ritual is sacrosanct. We believe that taking your time to slow down and ease into a more natural nighttime rhythm is the best way to achieve that Zen feeling of rest and relaxation we all crave."
Along with the evening snack bars, Unwind has produced a collection of 'Relax Hacks' which people can sign up to via its website to help them feel calm and relaxed during the evening. These include slow yoga sequences, bedtime stories for grown-ups and guided meditations.