Start-up vegan and free-from snack brand CRAVE has come to market with an initial duo of rice milk chocolate bars designed to 'makes taste and toppings the star of the show'.
The two bars are: Kitchen Sink – rice milk chocolate covered with salted fudge, raisins, honeycomb, cornflakes and biscuit crumbs; and Rocky Road – rice milk chocolate topped with marshmallows, raisins and biscuit crumbs.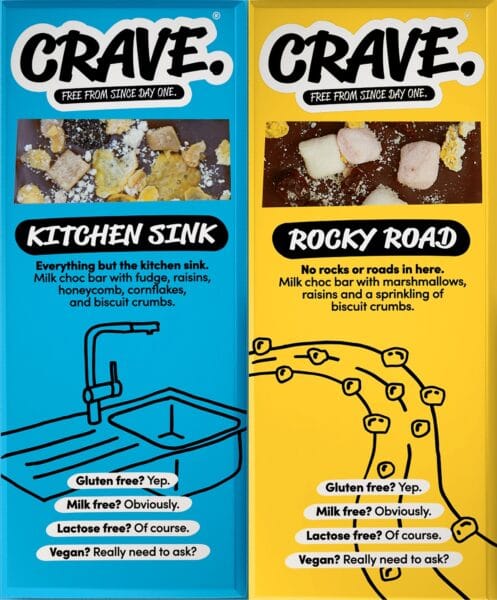 The chocolate is made with sustainably sourced, Cocoa Horizons-certified cocoa, and is free from gluten, milk, lactose and egg.
CRAVE was founded by trained chef and food expert, Robert Brice, who through running The Cattle Shed food consultancy and holding previous positions including head of development at Co-op (successfully launching vegan brand GRO), saw an opportunity for growth in the plant-based and free-from categories for 'creating everyday vegan snacks that taste delicious whether you are vegan or have allergies or not'.
"It's obvious the plant-based movement is here to stay, but I found myself getting frustrated by the limited vegan and free-from products in the market that actually taste normal and can match mainstream options," explains Brice. "Rather than take away flavour, we're all about adding as much as possible, so you'll find a whole load of toppings on our chocolate bars to appeal to a wide target of consumers who don't want to compromise on taste. CRAVE is focused on enjoyment and indulgence, so we're targeting both Gen Z and Gen Y, where our chocolate can be shared with all of the family."
The fledgling brand has ambitious growth plans and will be rolling out other vegan snacks this year including a Snack, Crackle & Pop bar and Pickled Onion Monster Feet.