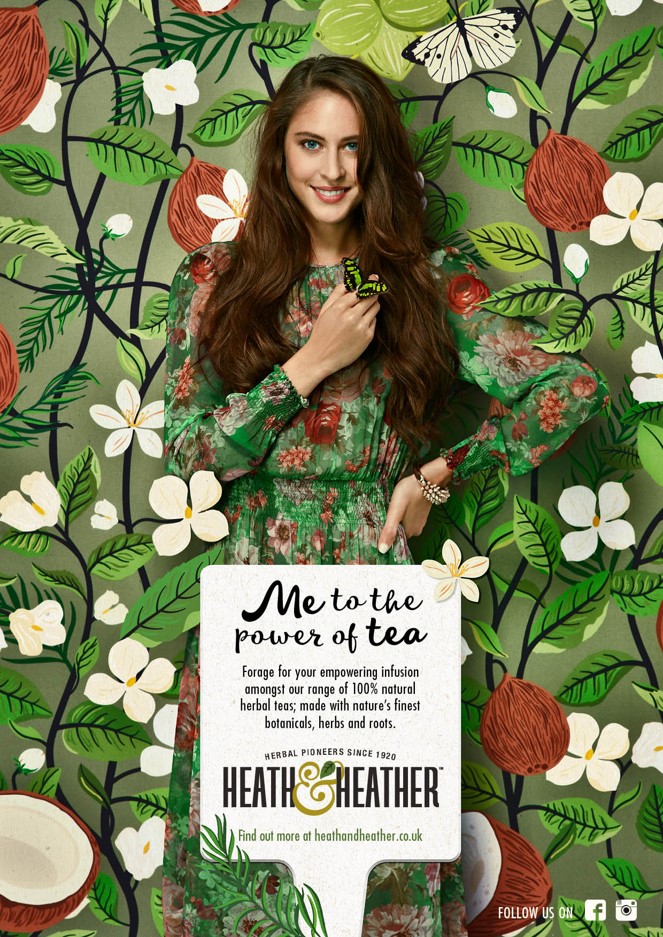 Heath & Heather has launched a multi-channel campaign called Me to the Power of Tea, which runs until the end of January 2018.
Active across digital, social, print, out of home, and with experiential activity, the Me to the Power of Tea campaign forms part of a bigger drive for the brand as it looks to broaden its appeal, encouraging a new, younger audience to explore its range of teas.
The campaign creatives are based around ideas of adventure and discovery, and link back to the brand's rich history and 'inspired by nature' messaging.
"As a brand, Heath & Heather embodies a sense of adventure, discovery and a forward-thinking, yet balanced, attitude to health and wellness," says Lucy McLean, Heath & Heather's brand & digital manager. "With the new campaign, we wanted to broaden our appeal beyond our traditional audience and bring these brand values back to life."
The overarching brand idea and all creatives were developed by HeyHuman, whose senior planner, Ally Chapman, and creative director, Carole Davids, add: "We wanted to bring to life Heath & Heather's passion for discovery and embrace their abundant range of teas by communicating it as a lifestyle brand that would appeal to the modern day forager.
"We used Heath & Heather's new pack designs as our inspiration and worked with the fashion photographer Uli Weber, to bring our idea to life across various media channels. Whilst it's probably one of the biggest pack shots we've ever willingly created for a brand, we think the result is stunning and it's work that we are really proud of."