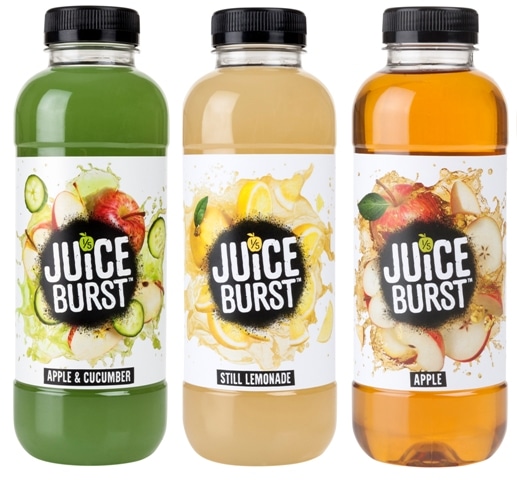 Soft drinks brand Juiceburst has reformulated and rebranded across its entire portfolio, as well as creating two new additions to its core range.
The reformulated SKUs have improved flavour, says the brand, with no added sugar, artificial colours, flavours or sweeteners. Sweetened with stevia, the range counts as one of your five-a-day.
The redesign is described as crisp and punchy and brings naturalness, freshness and modernity to shelves, keeping the quality of the hero fruit and vegetables centre stage.
Two new flavours have been added to the brand's fruit and veg offering, namely Strawberry & Beetroot and Apple & Cucumber. Containing less than 5g of naturally occurring sugars per 100ml, the new SKUs are lower in calories and sugar content than traditional smoothies, says Juiceburst.
In addition, the brand's Peach & Passion Fruit flavour has been reformulated.  
"It's so exciting to see our core range evolve in terms of flavour and innovation, together with an eye-catching redesign of our bottles," says Emma Billinge, marketing director at Juiceburst. "We feel that the fruit and veg additions to the Juiceburst family will align perfectly with current trends and tastes."