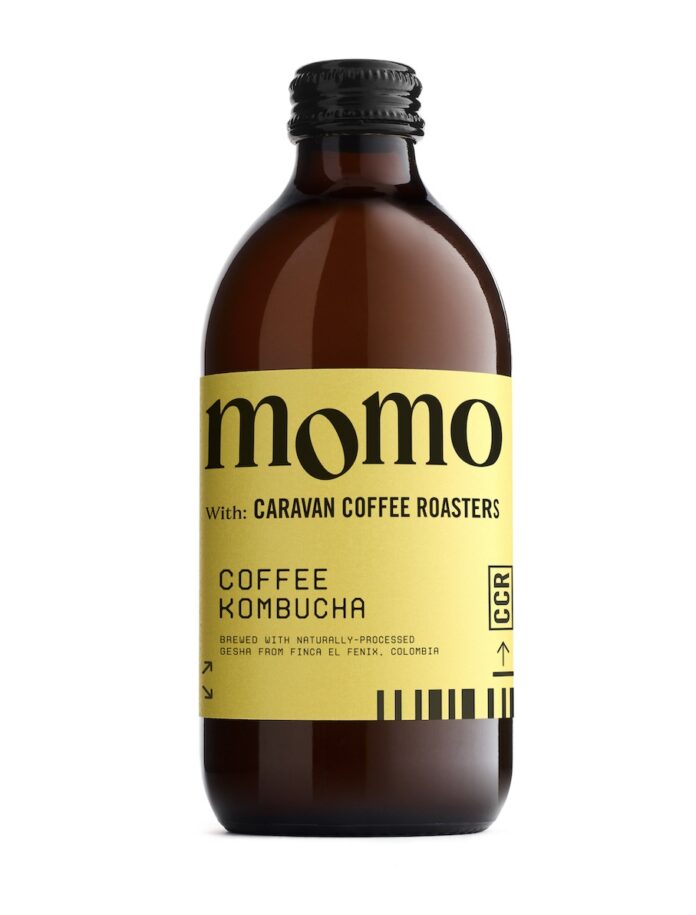 South London start-up MOMO has created a new 'first-of-its-kind' kombucha in collaboration with Caravan Coffee.
The MOMO X Caravan Gesha Coffee Kombucha is a blend of unfiltered organic kombucha and Caravan's cold brew Gesha coffee to produce a 'complex blend with an entirely new flavour profile' of rich caramel, ripe strawberry and red apple, rounded out with a tart kombucha hit.
The Gesha coffee variety is sourced from Finca El Fenix, an experimental farm and community wet mill in Quindío, Colombia owned and operated by Raw Material, a social enterprise importer which works with coffee farmers to improve livelihoods through transparent and fair coffee sourcing. The beans are naturally processed at the El Fenix wet mill, before being roasted and cold-brewed in Caravan's North London roastery.
Commenting on the partnership, Josh Puddle, MOMO co-founder: "We are so grateful to have partnered with Caravan and to have been able to combine their expertly roasted Colombian Gesha with our kombucha. The result has really surpassed our expectations, with the kombucha amplifying the fruity notes of the Gesha. We're happy to be supporting Project Waterfall through this partnership, a fantastic organization working hard to provide access to clean water and sanitation in the countries and communities that grow coffee around the world."
Adds Laura Harper-Hinton, Caravan founder and CEO: "We are absolutely thrilled to collaborate with kombucha experts MOMO on a collaborative coffee kombucha, especially as we've been big kombucha fans for years. We put a lot of thought into which coffee would work for this, as we thought the average coffee would get lost, but this Gesha is no average coffee, with rich caramel and bright red fruits, it works perfectly with the refreshing, tart qualities of the kombucha. A great example of how coffee can be used in wonderful ways!"
MOMO has also unveiled brand refresh which includes a new simplified bottle design and resealable cap.