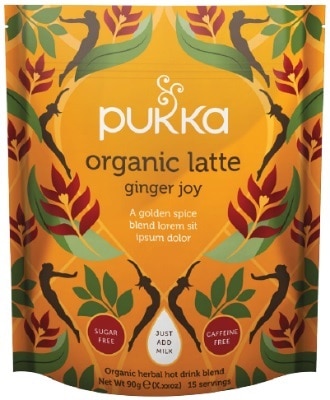 New from Pukka Herbs comes a range of organic herbal lattes, blended using medicinal-grade herbs and spices.
The four plant-based lattes – Cacao Maca Magic, Turmeric Gold, Majestic Matcha Chai and Ginger Joy – have no added sugar or artificial sweeteners, instead containing inulin, a sweet, calorie-free prebiotic.
Cacao Maca Magic combines cocoa bean powder with three herbs to boost mood and balance hormones: ashwagandha, maca and shatavari.
Turmeric Gold latte is described as a protective, aromatic, antioxidant-fuelled and caffeine-free blend of organic turmeric, warming ginger (which helps the absorption of turmeric) and cinnamon.
Majestic Matcha Chai latte is a creamy full-flavoured blend to bring about calm alertness with the help of organic matcha, cinnamon and cardamom.
Ginger Joy latte blends warming ginger, traditionally known to aid digestion, with cinnamon and natural, spicy anti-inflammatory turmeric.
Sebastian Pole, Pukka co-founder, says: "Our new lattes are a luxurious way to enjoy nature's finest botanicals. With four delicious flavours, blended using a treasure chest of the highest quality herbs and spices, there is a Pukka herbal latte for an array of taste sensations, moods and wellbeing needs."
The lattes are 100% organic and certified by the Soil Association.