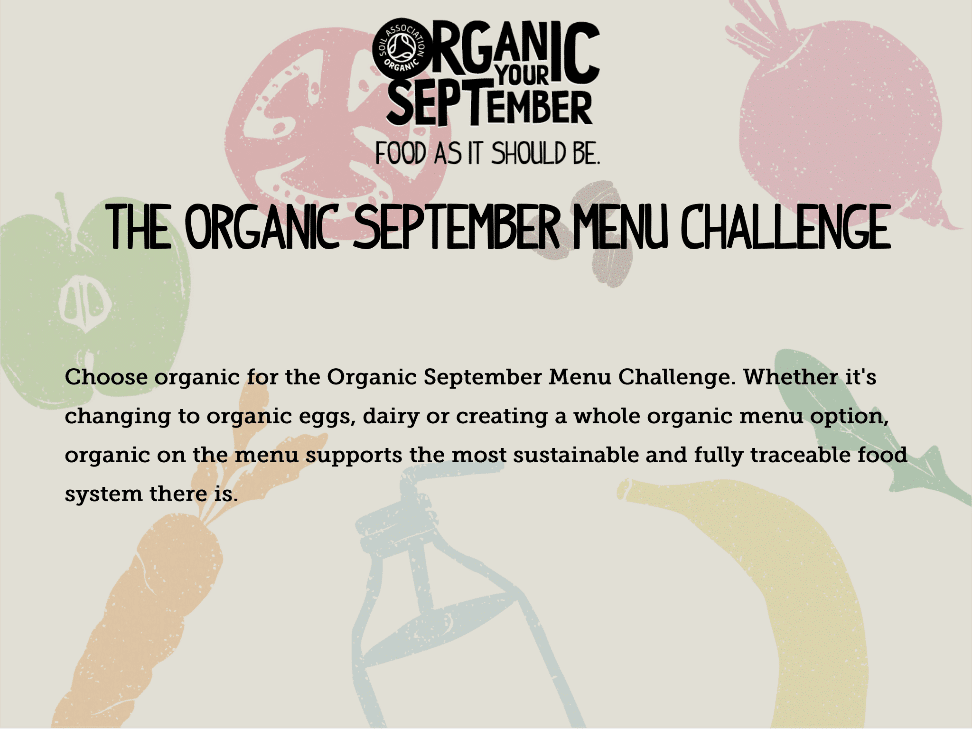 As part of the Soil Association's annual autumn campaign, chefs are being urged to take up the Organic September Menu Challenge and 'step up to the plate' by putting more organic dishes on the menu.
Whether their support for organic is shown through daily specials, or regular dishes in which one key ingredient is swapped for an organic equivalent, chefs are being encouraged to promote their involvement on social media using the hashtag #organicseptember and to include the campaign logo on their websites and menus.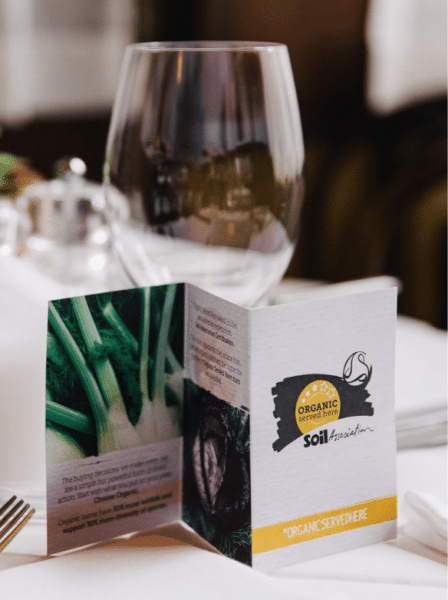 According to the Soil Association Organic Market Report 2018, while organic food and drink in foodservice has risen over 10% in the past year, 48% of people say there isn't a sufficient number of restaurants in the UK serving sustainably and ethically sourced dishes, with two thirds adding that determining whether organic food and drink is available can be challenging. In a further survey (Soil Association Eating Out Sustainably survey 2018) it was revealed that a third would be more likely to eat at a restaurant which was described as organic.
Sarah Jupp, Soil Association Certification, says: "Our research tells us people want to see more organic food when they eat out – consumers see organic as a signpost to health and it's fully traceable due to the rigor of the certification process. Asking restaurants to try organic for the month means they can dip their toes into a more sustainable way of sourcing, and play an important part in educating diners about the benefits of organic for health, wildlife, the environment and animal welfare. For customers, we hope the Menu Challenge will help to explain what organic really means, while strengthening the link between what you buy and eat and where it comes from. We're excited about people having the chance to experience food as it should be."
Our research tells us people want to see more organic food when they eat out
For restaurants and cafés which make an ongoing commitment to organic, the SA offers the Organic Served Here award scheme: a star rating system which defines the percentage of the menu which is organic, while raising the profile of the establishment and assisting consumers in locating nearby organic eateries.
Cafe St Honoré in Edinburgh was the first restaurant to receive the Organic Served Here award. Neil Forbes, chef director, calls it a 'real seal of approval'.
"For restaurants thinking about more ethical sourcing, the Organic September Menu Challenge is a great place to start. Not only are organic ingredients superior but commercially it makes sense at a time when more and more consumers expect assured quality, provenance and traceability. I truly believe that every restaurant should have at least one organic dish on their menu," says Forbes.