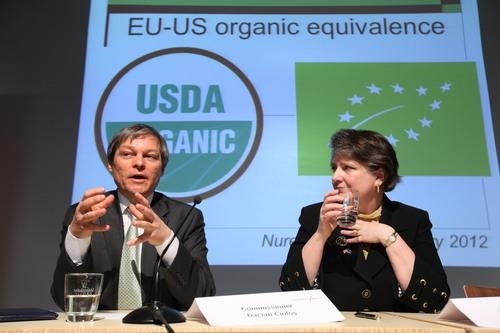 Organic businesses have welcomed a historic mutual recognition agreement on organic between Europe and the United States.
Under the deal organic products certified in Europe or in the United States can be sold as organic in either region starting on June 1, 2012.
The deal was formally signed yesterday (15 February) at the Biofach exhibition in Nuremberg, Germany, by Dacian Cioloş, European Commissioner for Agriculture and Rural Development, Kathleen Merrigan, US Agriculture Deputy Secretary and Ambassador Isi Siddiqui, US Trade Representative Chief Agricultural Negotiator. The signing took place at the BioFach World Organic Fair, the largest trade show for organic products in the world.
"This agreement comes with a double added value. On the one hand, organic farmers and food producers will benefit from easier access, with less bureaucracy and less costs, to both the U.S. and the EU markets, strengthening the competitiveness of this sector. In addition, it improves transparency on organic standards, and enhances consumers' confidence and recognition of our organic food and products," stated Commissioner Dacian Cioloş. "This partnership marks an important step, taking EU-U.S. agricultural trade relations to a new level of cooperation".
"This partnership connects organic farmers and companies on both sides of the Atlantic with a wide range of new market opportunities," said U.S Deputy Agriculture Secretary Merrigan. "It is a win for the American economy and President Obama's jobs strategy. This partnership will open new markets for American farmers and ranchers, create more opportunities for small businesses, and result in good jobs for Americans who package, ship, and market organic products."
Previously, growers and companies wanting to trade products on both sides of the Atlantic had to obtain separate certifications to two standards, which meant a double set of fees, inspections, and paperwork. This partnership eliminates significant barriers, especially for small and medium-sized organic producers. All products meeting the terms of the partnership can be traded and labeled as certified organic produce, meat, cereal, or wine.
British organic firms exhibiting at Biofach have welcomed the landmark decision. Tim Westwood of Pukka Herbs told NP: "This is a big breakthrough for British exporters. In the past we have has to have products dual-certified. This will save money and time. This is unification that we do welcome."
Speaking from his stand on the British OTB Pavilion, Marco Fontana Ross of The Little Sauce Company said: "For smaller organic companies like ours this development is particularly important. This should mean an end to the cost and complication of double certification. And it ought to give us a much easier route into the US market, the holy grail of organic markets."
Welcoming the development from the other side of the Atlantic, Christine Bushway, executive director and CEO of the US-based Organic Trade Association (OTA), said: "This monumental agreement will further create jobs in the already growing and healthy US organic sector, spark additional market growth, and be mutually beneficial to farmers both in the United States and European Union as well as to consumers who choose organic products. Equivalence with the EU will be an historic game changer."
Back in the UK, the Soil Association's certification arm says it welcomes the mutual recognition agreement between the EU and US National Organic Program. But it says some differences between the two certification systems will need to be monitored on both sides of the Atlantic. In a statement, Soil Association Certification said: "This is a long-awaited decision that has been several years in the making. It is a huge task to come to such an agreement – both the EU regulations and the NOP have stricter standards than the other in some respects, and it will have taken a lot of work to reconcile these differences. The sole condition for products sold in the US is that any livestock products must not have come from a farm where antibiotics are used. This has always been a requirement under the NOP and so producers will have to continue to comply to this agreement if they wish to supply the US market. This is something that EU certification bodies will be monitoring."
The organic sector in the United States and European Union is valued at roughly 43 billion Euro combined, and rising every year.