As soaring food and drink prices continue impacting the cost of doing business and squeezing household budgets, Prime Minister Rishi Sunak is due to meet with food industry leaders to discuss potential measures.
At a food security summit (also known as the Farm to fork Summit) taking place today at No. 10 Sunak will hold talks with farmers, supermarkets and Defra ministers. He is expected to address ways in which the UK can improve how it produces and sells food with the aim of increasing domestic food security and decreasing prices.
With 'volatility, uncertainty and instability' endangering UK farm businesses, according to the National Farmers' Union (NFU), domestic food production is being hampered by a perfect storm of rising costs, labour shortages, bird flu and challenges related to post-Brexit policy and Russia's ongoing invasion of Ukraine.
Labour shortages have, this week, been a significant talking point: ahead of today's summit the Government proposed offering 45,000 visas to farmers in 2024 to enable them to recruit fruit and vegetable pickers from overseas; meanwhile Home Secretary Suella Braverman commented that there is 'no good reason' the UK cannot train enough of its own fruit pickers and lorry drivers to cut migration.
A previous drive to recruit UK-based seasonal farm workers – Pick for Britain – was scrapped in 2021 due to poor uptake. A survey by the NFU suggests that staff shortages in 2022 led to crop waste in the region of £60 million.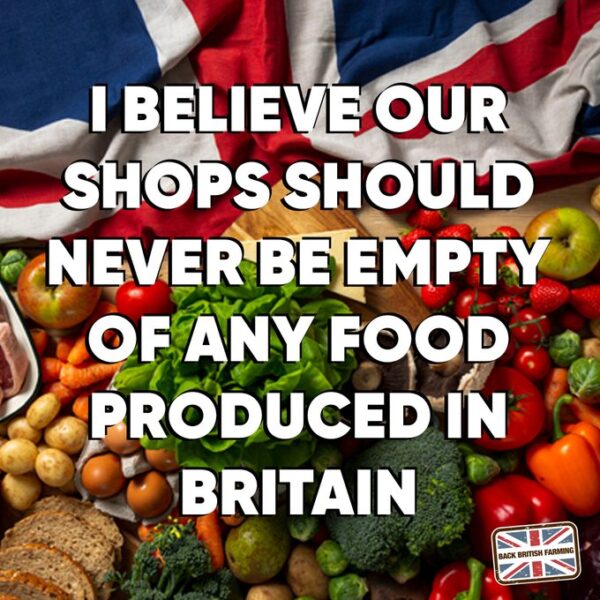 Last year the NFU launched a petition to Government to 'secure the supply of British food now and in the future'.
50,000 signatories pledged their support for the campaign, demanding an annual stock-take of British food 'to see how well we are doing at producing different food'; an annual national food security summit involving all corners of Government; and, as a bare minimum, the maintenance of British food production levels outlined in the 2022 Government Food Strategy.
Today, the NFU says it 'looks forward to seeing the outcome' of the summit.
Widening the range of stakeholders
The Soil Association (SA) argues that 'such a critical discussion', which will attempt to address some of the agriculture sector's 'most urgent challenges', should involve a 'wider range of stakeholders' so that complex interconnections between the climate, nature, public health and our food systems are fully understood and represented.
Gareth Morgan, head of farming policy at the SA, comments: "The UK Farm to Fork Summit might just provide an opportunity to secure a brighter future for farming in the UK, though it's ironic that it comes just two weeks after Defra backtracked on their pledge to produce a horticulture strategy. The Government has belatedly been forced by events to the dining table but the guest list seems to be lacking a crucial range of stakeholders including citizens, environmental and health NGOs to reflect the complexity of the challenge not just the mighty corporates of the food industry.
"The clock is ticking on the climate and nature crises, and many farmers and households are struggling in the face of rising costs. Urgent action is needed to join the dots between these challenges. We urge participants of the Food Summit to be bold in their thinking – reinstating the commitment to a horticulture strategy would be a good place to start.
"The empty shelves of the last few months could have been avoided if we had a more robust food and farming system, greater equity in supply chains and a cohesive vision and strategy from Government. The decision to abandon development of a strategic approach to increasing UK fruit and vegetable production shows worrying signs of complacency about our food security.
We urge participants of the Food Summit to be bold in their thinking
"There is a great deal at stake. We need to simultaneously accelerate progress towards Net Zero farming while acting to protect nature, and ensure producers receive a fair income. This will require Government investment in more sustainable farming, and a commitment to scaling up organic and agroecology across most of the UK.
"There are huge benefits to be gained from such a transition – we can reduce farmer's reliance on costly fossil fuel-based fertilizers, providing a more resilient farming sector, while nature's recovery.
"The Government should commit to delivering joined-up policy that helps our farmers and growers, to increase investment in sustainable farming and regenerative forestry, and more trees on farms through agroforestry.
"We also need cross-party acceptance that Government has a role to play in shifting diets onto a more sustainable footing as highlighted in the National Food Strategy. This means less industrial meat and dairy, less ultra-processed foods, and more healthy plants foods and organic or pasture-fed meat.
"Importantly, this summit should become a regular event open to a broad range of interests and experts and the Government must recognize that now, more than ever, food security and resilience must start with genuine support for UK farmers and growers."