Hertfordshire-based granola and snack brand Rollagranola has acquired gluten-free cereal business Primrose's Kitchen in a move designed to expand its share of the breakfast foods market.
"We bought Primrose's Kitchen because we love its values and ethos," says Rollagranola founder and director, Robin Longden (pictured third from right). "The product is distinct, healthy and tasty, with a focus on quality – chiming perfectly with our ability to get brilliant healthy food into the bowls of the British public. We are committed to using our broad breakfast cereal expertise to put the brand on shelf in all major outlets."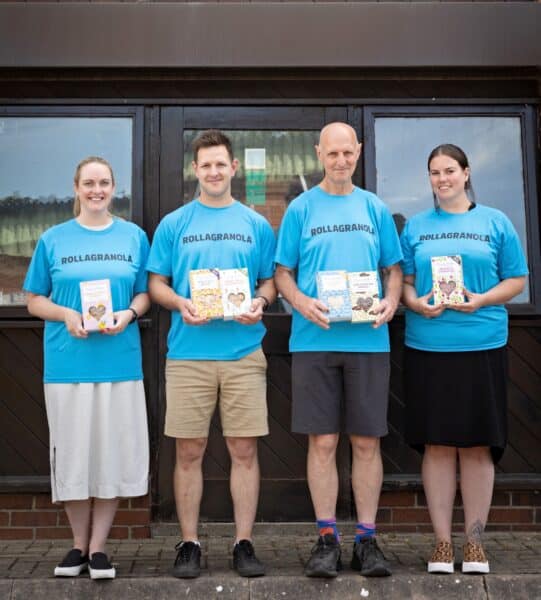 The move, which follows a 'record year across the retail, wholesale, white label and zero waste elements' of the business, includes existing stock, mobilization of the brand, update of packaging, product innovation and IP, with additional investment going into the launch of two new granolas: Orange & Cashew and Chocolate & CBD.
"Our intention wasn't to change the direction of the brand," Longden stresses, "Moreover, we wanted to make the current formulas the absolute best they could be by doubling the veg, bringing in magnesium-rich tiger nuts and increasing the pack size to 400g. The introduction of the two NPD's will complement the existing range and bring in some exciting flavour combinations that tick the box for the contemporary consumer."
The new owner will focus on 'respectfully re-engaging' with the Primrose's Kitchen customer base through fresh marketing communications and working with wholesale distributors to re-establish a presence on the shelves of UK independent health food stores, supermarkets and retailers.
"We believe good sales starts with good product and we are committed to manufacturing a great tasting and great value food with distinctive flavours and vibrant colours," adds Longden. "The origins of our brands are firmly aligned. Primrose started her business to make healthy food that she would eat herself, our motivation was the same and so we feel we have excellent credentials to really build the brand as a force for better, healthier food for all."
Founded in 2014 in Dorset by Primrose Matheson, Primrose's Kitchen was sold in 2019 for an undisclosed amount to PK Ventures, headed by three former Cadbury Schweppes executives.