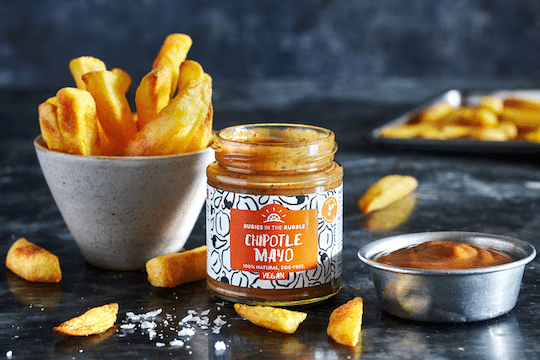 Sustainable gourmet condiment brand Rubies in the Rubble has created two inventive mayonnaises – Aquafaba Mayo and Chipotle Mayo.
Aquafaba (meaning bean water in Latin) is the water drained from a can of chickpeas or the by-product from cooking legumes, which mimics the effect of egg whites. Its unique mix of starches, proteins and other soluble plant solids gives aquafaba a wide spectrum of emulsifying, foaming, binding, gelatinising and thickening properties. Rubies whisk it together with rapeseed oil, a pinch of salt and a squeeze of lemon juice along with a hint of Dijon mustard – or a good dose of Chipotle chilli powder – to create vegan mayonnaise, with, says the brand all the creaminess and texture of regular mayo.
Rubies in the Rubble's Chipotle Mayo is rich and deep with smoky spice, and the Aquafaba Mayo provides a staple dip or a great vehicle for sandwich fillings.
"We were inspired to get back into the kitchen after we saw a vegan foodie blogger was making gorgeous looking meringue with aquafaba, saying it performed just like egg whites – we were intrigued and so we started playing with how it could work in a condiment," explains brand co-founder Jenny Costa.
"Mayo is such a widely used staple, so it seemed like a brilliant opportunity to create something gourmet for vegans and non-vegans who will also appreciate the sustainable approach. Currently we source our aquafaba from a hummus manufacturer. Every year hummus manufacturers empty gallons of water from cooking chickpeas down the sink. We want to ensure we treasure our resources and make the most of everything we have, so thought we would put this nutritious, golden liquid to great use in our new range."
Rubies work directly with UK farmers to source fresh fruit and veg from surplus produce. Every jar and bottle of Rubies products champions fresh produce and raises awareness about the need to value food.