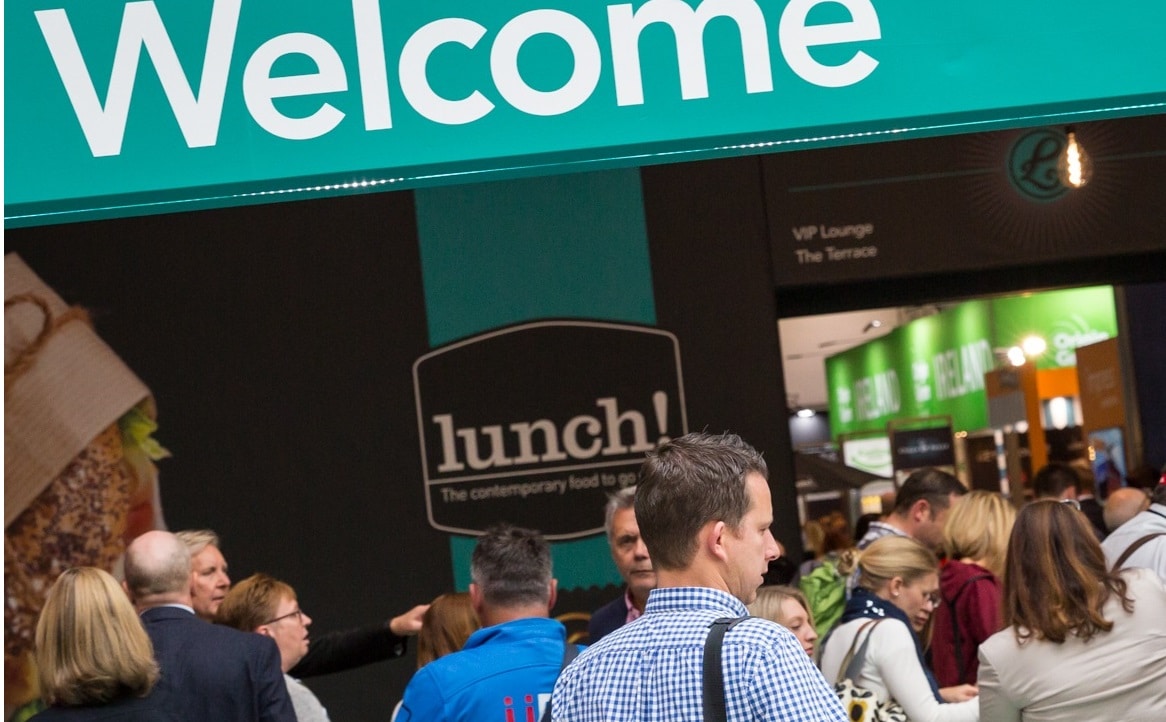 Returning to Excel over 20-21 September, the annual lunch! trade show is expected to receive more than 6,000 visitors over two days, in pursuit of the latest offer of food-to-go launches.
From vegan chocolate samosas to vegetable crisps made from 'wonky' unwanted produce, the 370 confirmed exhibitors will be showcasing the latest trend-driven innovation aimed at the lunch market.
With numerous natural and organic product launches confirmed, the show highlights include:
Pots & Co is sampling a new flavour in its little pots range: a handmade pot of soft, buttery caramel beneath a chocolate ganache, handmade with sustainable cocoa grown in Colombia.  The dessert, served chilled in a recyclable pot with sleeve, is vegetarian, gluten-free, has no palm oil and is non-GMO (stand B11).
nucao is previewing nupro, the first plant-based protein shake to be packaged in home-compostable materials. It's vegan, low sugar, gluten-free, organic and 100% natural, and for every box sold nutree plant between three and nine trees, depending on unit size (stand SU-4).
Green Sisters is showcasing Choco'Licious samosas: gluten- and wheat-free, suitable for vegans and Low-FODMAP. Made with organic, fair trade chocolate, with less than 89 calories per samosa, these crisp-baked, protein-based pastries mimic the traditional samosa in taste, appearance and texture (stand SU-13).
The Protein Ball Co is introducing its new oat breakfast balls to lunch, which are high in fibre with added protein. They're gluten-free, all natural, vegan, contain no added sugar and come in three flavours: Apple & Blueberry, Hazelnut & Cacao, and Strawberry & Vanilla (stand E50).
Freaks Of Nature is showcasing its new range of no taste compromise products: Thick & Creamy Dairy Free Yogs and first to market indulgent Hot Puds (Sticky Toffee & Chocolate Fudge) that are free from the top 14 allergens including dairy, soya, eggs and gluten (stand D33).
Ombar Chocolate is promoting its latest product in the vegan chocolate range, Centres Pistachio, which has a creamy, nutty-flavoured truffle centre wrapped in 60% dark chocolate. As with all Ombar chocolate, it's made from the raw Ecuadorian cacao, is all-natural, ethically-sourced and refined sugar-free (stand A38).
Spare Snacks is exhibiting its new range of crunchy fruit and veg crisps, which are air-dried and made with fresh, 'wonderfully wonky' produce. Ideal for anytime healthy snacking, indulgent dipping or adding crunch to salads or lunch boxes. Available in Apple, Beetroot, Pear, Apple (with cinnamon), Beetroot (with vinegar), and Pear (with ginger) (stand N45).
Indie Bay Snacks is adding two new flavours to its roster of 'pretzels with benefits': The Smokin' BBQ and Easy Cheesy Pretzel Bites. These vegan bites provide a source of fibre and protein, with fewer than 100 calories per portion and are GMO-free (stand J35).
GEO is showcasing its newly launched Chive & Cheese flavour of GEOSTICKS. Vegan, gluten-free, low in sugar and at only 90 calories per bag, this on-the-go wholesome snack is made with Fairtrade rice from Thailand and Fairtrade quinoa from Peru. Other flavours include Sweet Chilli, Herby, and Peppery (stand M33).
Wallaroo is launching its range of single ingredient, portion-sized snacks for on the go including: mango slices, pineapple chunks and coconut chips. Gently dried, naturally vegan, gluten-free and made with fully home compostable wrappers (stand SU-8).
Divine Chocolate is introducing its new organic high cocoa rich and dark range made with cocoa from São Tomé, West Africa. Flavour combinations include ginger and turmeric; refreshing lemon; blueberry and popped quinoa; crunchy cocoa nibs; and refreshing zesty lemon. Wrapped in a clear biodegradable film, packaging in the range is plastic free (stand L40).
AQUA Carpatica is launching its Natural Mineral Water 250ml Still and AQUA Carpatica Kids. The newest additions to the existing AQUA Carpatica range, this natural water has the lowest sodium levels and virtually no nitrates (stand L33).
One Earth Organics is launching its new Jackfruit Chips. Classified as one of your five-a-day, they are sweet and crispy and high in fibre, freeze dried, not fried and have a unique taste (a bit like a cross between peach and pineapple). The chips are sourced from a social enterprise working with tribal communities in Kerala, India (stand C82).
For Goodness Shakes Plant Protein is a vegan ready to drink plant-based protein shake. It has 20g of protein for only 99 calories, is enriched with vitamins B12 and D, with no added sugar, is fat-free and comes in three flavours: Vanilla Chai, Strawberry, and Chocolate (stand B33).
Instinct Bites is presenting its new bite-size pieces of freeze-dried organically sourced fruit. Freeze dried to maintain the fruits' natural colour, flavour and nutritional value, these ambient snacks have a light, soft crunch and contain one of your five-a-day (stand SU-20).
Rude Health is showcasing Cornitas, made from a blend of corn, pulses, extra virgin olive oil and sea salt. Nothing artificial added, the Cornitas are available in 30g and 90g packs in Black Bean and Chickpea & Lentil flavours (stand D32).
humble warrior is showcasing its new range of three authentic, plant-based drinks –powered by Eastern super plants. These formulations draw on centuries of use in the East and cater to the growing interest in functional, plant-based ingredients. They are organic, low in calories, with no refined sugar and come in three flavours: Lunar Nectar, Tiger Spring, and Divine Oasis (stand SU-18).
Thirst Quenchers UK is promoting its Viegan Tigernut Mylk, an all vegan and completely allergy-free product. Viegan is also partnered with vegan charity People for the Ethical Treatment of Animals (stand C10).
Livia's Kitchen is exhibiting its new Nugglets, in Salted Almond Butter, Raw Cookie Dough, and Raw Choc Brownie. The Nugglets have a sweet oaty centre covered in smooth velvety vegan chocolate. Made from only natural ingredients, they are vegan and gluten-free (stand V20).
Plenish Cleanse is showcasing its Organic Coconut Milk, made with organic, sustainably-sourced coconuts and rice of the highest possible quality. The Plenish dairy-free drinks are designed to bring taste without compromise (stand D80).
BitesWeLove is exhibiting its nut-based snacks. They are vegan, full of natural ingredients and plant based from ingredients to packaging (which is also fully compostable). The six flavours include: chilli-lemon broad beans, tamari roasted almonds, dark chocolate drops or naturally sweet mango (stand SU-11).
Soil Association Certification is promoting the launch of its 'Organic Served Here award' for restaurants and cafes. With a 1-5 star rating depending on how much organic is served, it helps diners to discover places to eat ethically and sustainably when eating out (stand C50).
Bravura Foods is showcasing the latest flavour from Captain Kombucha in Ginger & Lemon. Also showcasing: Peanut Hottie (powdered peanut butter which turns into a spread with water); Little Miracles range of ready-to-drink, organic super fruits and teas; Panda liquorice; Freedom Mallows; and Vegan Bakery's three variants of biscuits – chocolate cookies, sweet crunchies and coconut clouds (stand M37).
Lo Bros Kombucha & Living Drinks is exhibiting its Lo Bros Organic Cola Kombucha, which is small batch brewed for three weeks with a blend of kombucha and apple cider vinegar base. Infused with botanical herbs and spices, the result is an all-natural classic cola taste with the added benefit of 100 million gut-loving bio cultures in every bottle and 3g of sugar per 100ml (stand B46).
For further information and to register for a free trade ticket, please visit www.lunchshow.co.uk and quote priority code LU26.
[fve]https://www.youtube.com/watch?v=FoFcfHs4UH8[/fve]