The organizers of the Oxford Real Farming Conference (ORFC) say that taking the event online as a result of the pandemic presented an opportunity to 'provide a platform for marginalized and under-represented voices both from the UK and around the world'.
ORFC Global 2021, which took place 7-13 January, transitioned to 'the biggest online gathering of its kind' in lieu of its usual in-person event in Oxford, and featured speakers from around the world. The ORFC team describes running the digital event as a 'huge and rewarding challenge'.
The team adds that while the conference 'has always set out to be radical and inclusive, to challenge the status quo', the team's 'dynamic' review processes combined with world events led the ORFC to deliver a remote version of its usual event to an even broader audience which represented more diverse global perspectives.
It's time to step outside of our internalized discussions … we need to start reaching out to those outside our clique
The event positioned its offer as 'a diverse mix of content, from practical on-farm advice to wider discussions about the most pressing issues in food and farming right now'. Speakers included Nnimmo Bassey, environmental justice advocate, Nigeria; Jennifer Amejja from the Centre for Ecological Governance and Gender Initiatives, Uganda; Nury Martinez of the Colombia-based organization National Unitary Union; Anna Lappé, US-based author and advocate for sustainability; and Patrick Holden, CEO of the Sustainable Food Trust (SFT).
Spread across the week, the conference took the format of seven ten-hour days, with speaker sessions and debates broadcast via the Crowdcast platform, allowing content to be re-watched at a later date.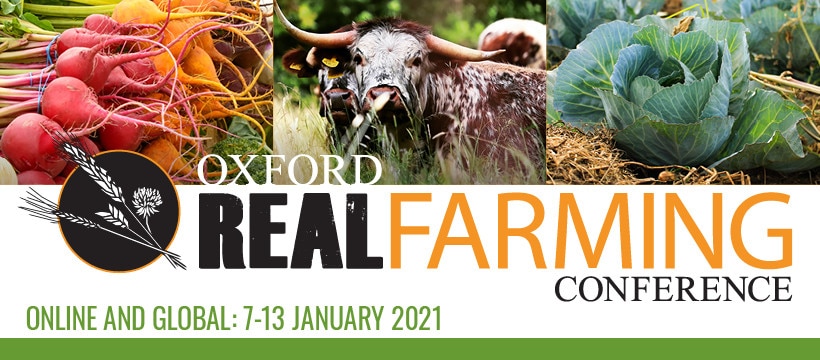 Alicia Miller, website editor for the SFT, comments that 'discussions of agroecological policy and practice arguably dominated the conference'.
"As a broad encompassing principle which embraces regenerative, organic, biodynamic and 'nature-friendly' practices, agroecology was constantly foregrounded in diverse places around the world," says Miller, highlighting panels such as Agroecology Across Three Continents; African Women, Agroecology, Food Sovereignty and Community Forestry; and Investing in Agroecology in the Global South, among others.
We have to talk about the issues we face as much with people in the mainstream agriculture and food production as within ourselves, sharing our thoughts and listening to theirs
While Miller praises the 'wide diversity of what was on offer' during the virtual event, she makes the following observation about 'this latest incarnation of the ORFC': "The ORFC is so much about bringing together the many of us that sit on the righteous side of change – but, ultimately, we are still the few against the many. So maybe it's time to step outside of our internalized discussions, so important and pressing though they are. Maybe we need to start reaching out to those outside our clique? How can we, as a movement, move beyond ourselves and be more inclusive? With increasing pressure on our planet, our habitats and our health, we have to talk about the issues we face as much with people in the mainstream agriculture and food production as within ourselves, sharing our thoughts and listening to theirs."