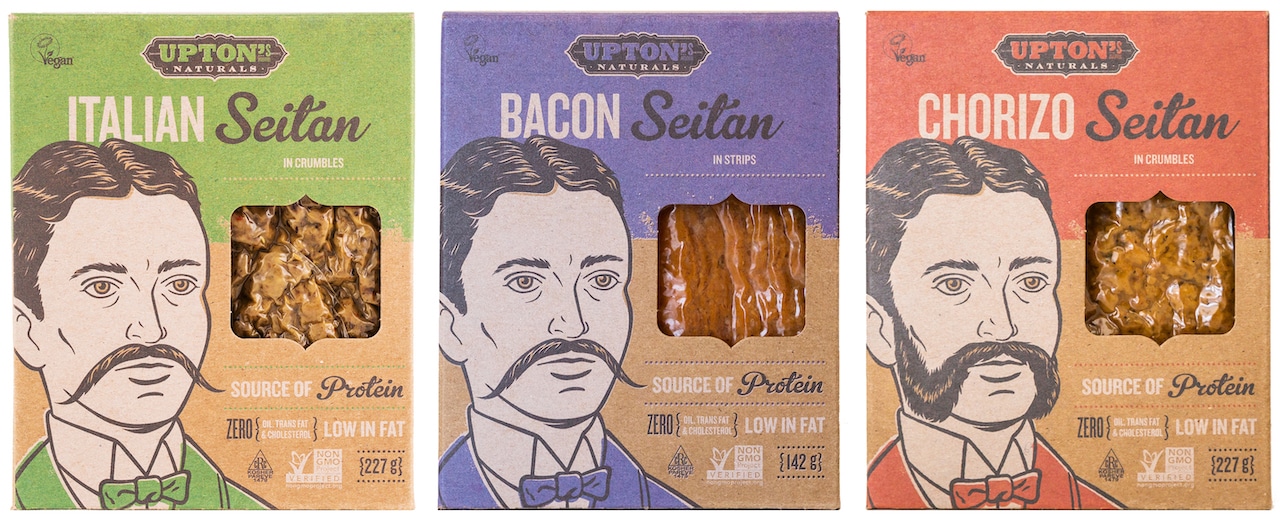 Chicago-based independent vegan company Upton's Naturals used Natural & Organic Products Europe as a platform to launch its Italian, Bacon and Chorizo Seitan products onto the UK market this month.
Made from wheat gluten, the versatile meat alternatives feature simple, recognizable ingredients and familiar flavours, which the brand says are easy to incorporate into a variety of plant-based dishes.
Italian Seitan are savoury, sausage-like crumbles featuring a classic combination of garlic, oregano, onion and fennel. Designed to liven up a variety of dishes, they can be used as a pizza topping, mixed into pasta, or as breakfast sausage.
Bacon Seitan is thinly sliced, smoky seitan described as having a deep, hickory flavour and meaty texture. Without the cholesterol and excess fat associated with its pig counterpart, it is perfect for piling on a vegan BLT or crumbling over salads, says Upton's.
Chorizo Seitan, seasoned with guajillo chilis, garlic, oregano and cumin, is a mildly spicy seitan, which aims to impart bold, complex flavours. It can fill tacos, be piled high on nachos or help kick-start mornings in a spicy breakfast scramble.
"Upton's Naturals got its start by making flavoured seitan," explains Upton's Naturals' founder Dan Staackmann. "Our goal was to take this incredibly adaptable meat alternative that's been around for thousands of years and make it appealing to the mainstream palate. We're proud of the impact that our seitan has had on the awareness and acceptance of the vegan diet and are excited to share it with a new and growing European audience."
Upton's Naturals' seitan is a good source of protein, is Non-GMO Project Verified, free of artificial flavours, oil, trans fat and cholesterol, and is low in fat and carbs.