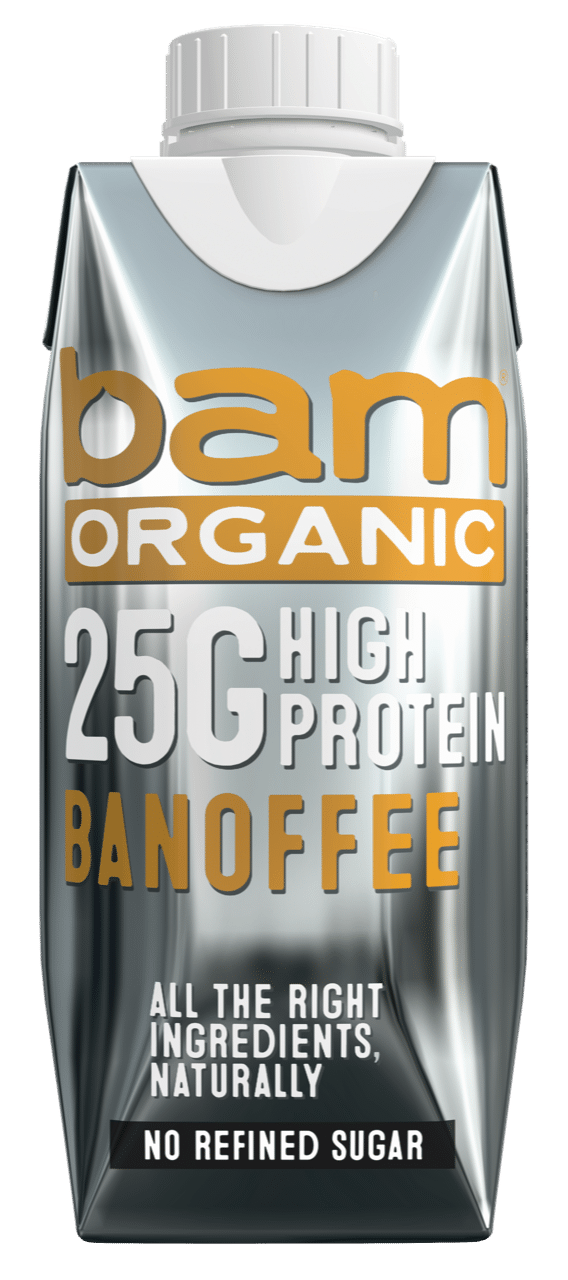 Bam Organic has added two new shakes to its all-natural Active high protein range and has undertaken a major pack redesign.
The Bam Organic 25G High Protein Chocolate and Banoffee (which the brand claims to be the first of its kind in the UK) are designed to offer consumers a 'clean' alternative to the refined sugar and artificial ingredients found in many protein drinks.
The brand's cartons have also had a significant refresh to give greater prominence to the company's 'no refined sugar' approach, and using foil to enhance shelf stand-out.
Bam Organic says it is capitalizing on what it sees as a huge opportunity in the UK market, especially amongst health-conscious 16 to 34-year-olds – a largely untapped group that represents a rapidly growing commercial opportunity, especially in 'grab and go', the brand says.
"Over 60% of men and women in the UK are now exercising for at least 150 minutes a week, so the opportunity for a lifestyle and less 'hard core' protein drink is massive," says company MD Graham Dodridge. "Many people are put off these drinks through a combination of OTT or macho positioning and shortcomings in taste. With our new look and a commitment to taste above all else, we're reaching out to the millions of runners, gym-goers, cyclists and weekend warriors out there."
Certified by Informed Sport, the shakes are made with British milk and are sweetened using honey instead of refined sugar. Each one contains no more than five ingredients.
In addition, the company's cartons are all made from FSC-certified raw material and are 100% recyclable, with the outer boxes also being made from sustainable and fully recyclable board.