Canadian healthtech company Eli Health has raised $3.6 million to take its saliva-based hormone analysis system through clinical and regulatory approvals.
The recent fundraising round, led by Muse Capital, will help the company reach its commercial launch thanks to investment from RH Capital, Cake Ventures, TELUS Pollinator Fund for Good, Garage Capital, Leva Capital, Real Ventures, Panache and pan-Canadian consortium MEDTEQ+.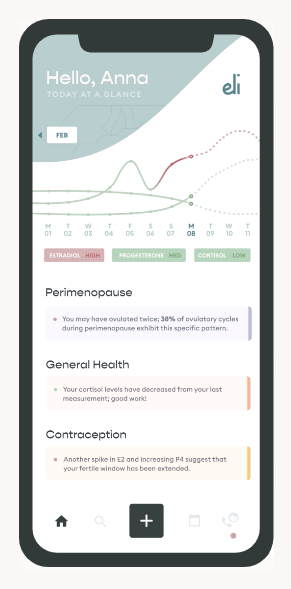 Eli Health's technology is designed to provide science-driven health insights 'in real-time from hormones in your saliva'. The testing system involves using a cartridge to collect the saliva sample; a reader, which the cartridge is inserted into to measure hormones; and an app which helps the user 'discover fluctuations, patterns and key insights … over a lifetime', while offering support from physicians and other users in the 'Eli community'.
The company believes 'people should have the power to shape their own health' and endeavours to help women feel empowered on their health journeys via easily accessible at-home information and real-time, personalized data.
Marina Pavlovic Rivas, co-founder of Eli Health, comments: "Hormones have an enormous impact on women's health from puberty to menopause. Yet they remain a black box. We are unlocking that box so that women can have data at their fingertips to make informed decisions daily and own their overall health. Eli has the potential to revolutionize the hormonal health market, and our investors' profile speaks to this."
Adds Rachel Springate, founding partner, Muse Capital: "As investors in women's health we are thrilled to support Eli Health, whose innovative technology enables continuous hormone testing from the comfort of home. We believe Eli's ground-breaking approach will have a transformative impact on the lives of millions of women worldwide. This is a giant leap forward for women's health and we are proud to be part of this journey."
Image credits: Eli Health