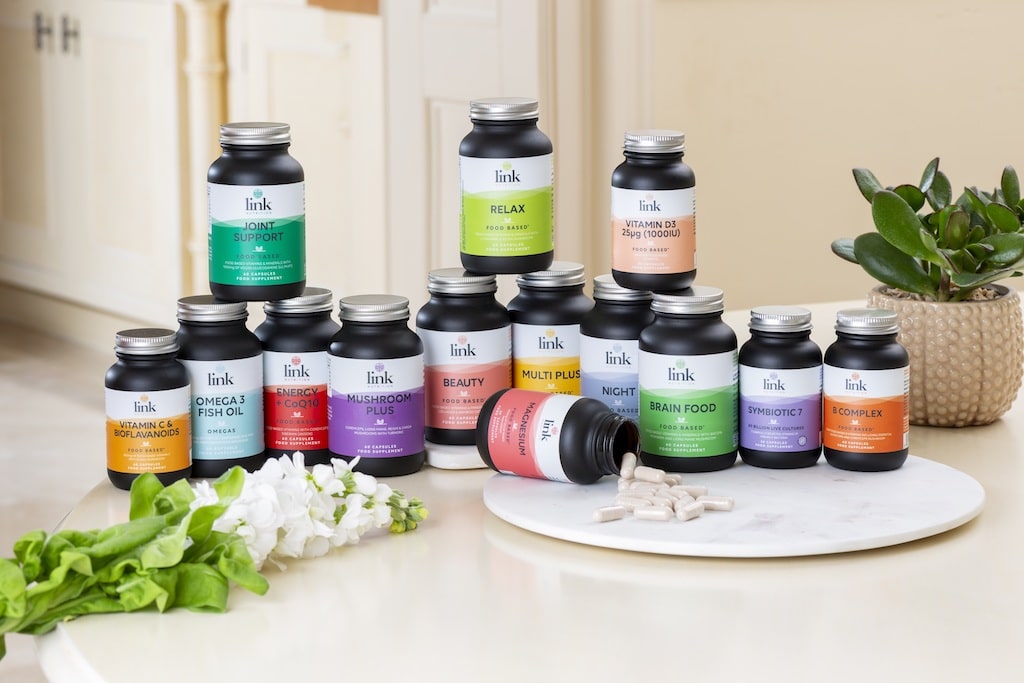 Supplements brand Link Nutrition has launched onto the UK market with a variety of targeted complexes designed for specific areas, as well as single vitamin boosts.
The complexes include:
Multi Plus – an 'all in one' complex containing a range of vitamins and minerals essential to boosting immunity, protecting the body's cells from oxidative stress and reducing tiredness and fatigue.
Night, which is designed to help achieve a restful, deeper sleep through the benefits of magnesium, lemon balm and Montmorency cherries.
Joint Support contains vegan glucosamine, vitamin C and turmeric to fight inflammation and protect the joints.
Energy + CoQ10 – a stimulating energy formula contains a blend of vitamin C and B vitamins to give your body the natural nutrients it needs to perform at its peak.
Relax which offers magnesium, vitamins B6 & B12, niacin, riboflavin, thiamine and vitamin C to the normal functioning of the nervous system.
Beauty – targets skin, hair and nails on multiple fronts, with bamboo extract to provide silica and collagen for ageing defence.
The Boosts comprise: B Complex; Vitamin C & Bioflavonoids; Vitamin D 1000IU; Magnesium; Mushroom Plus; Symbiotic; and Omega 3.
The range uses no fillers, binders or synthetic ingredients, and are gluten-free and in most cases suitable for vegetarians. Made from real food, grown in a nutrient rich environment and cultivated in a way that provides supplement-level doses, the brand uses mushrooms such as chaga and reishi in many of its products to provide micronutrients and help boost the effectiveness of the supplements. The vitamins are combined with a copmlete matrix of proteins, carbohydrates, lipids and other naturally occurring substances the body needs to maximize absorption, says the brand.
"Food Based supplements are the way forward in improving the health status of individuals," says Jenna Hope, nutritionist at Link Nutrition. "I'm so excited to see such an innovative brand using high-quality Food Based supplements in their natural form free-from added fillers, binders and agents. The highly diverse product range offers support for a number of the nutrition-related symptoms that I see in clinic."
The brand ambassador for the brand is Australian model and TV personality Erin McNaught.