Organic September is just days away now – hopefully to be marked by spectacular organic marketing materials plastered about the walls (did you get your free poster in this month's NPN?) and customers flocking to your stores having read all about the benefits of organic, writes Lee Holdstock
But it's taken a long time to get here – and we're certainly not over the bridge yet. Organic September is the result of the whole industry working together, and surprisingly that's not always as easy as it sounds.
In May I met with over 20 representatives of the meat industry to consider barriers to growth and explore opportunities to sell more organic meat. It wasn't easy getting everyone to agree to meet in the same place at the same time, but with a wealth of insights on offer and the wonderful surroundings and hospitality of Lower Hurst Farm, they came from far and wide.
Opportunities emerge
We know a top public concern is the misuse of antibiotics in farming, using them routinely to treat groups of animals before any are actually sick. Organic animals aren't routinely treated with antibiotics, instead they are ensured a good life – with a focus on keeping them healthy rather than treating them when they are ill. Good animal welfare is central to organic farming, and according to a Mintel study in 2015, animal welfare is top of the list when consumers look for ethical products. But despite all this, the organic meat market has historically been challenging, and we need to work together to communicate the key benefits.
In February, however, we turned a corner when research from Newcastle University confirmed that there are nutritional differences between organic meat (and milk) and their non-organic counterparts. Now we are finally seeing sales of red meat improving – in the 12 weeks to 18 June we saw a spectacular turnaround in sales of organic red meat, increasing 4.1%, according to Nielsen data.
It's what's inside that counts
With persuasive research and market figures now showing good growth, confidence appears to finally be returning. Businesses who have got their offer right are well placed to take advantage of this new found optimism. Take Daylesford in Oxfordshire, Griersons in Scotland, Higher Hacknell in Devon or Langford Farm near Bristol – these Soil Association Certification licensees are making quality their business and telling their customers why their products are different.
For customers to overcome a price difference (it's common for organic meat and milk to be more expensive than other products due to the way the animals are raised) they need to be able to see a clear point of difference. With the right tools and information, we want this to be easy for everyone – from supermarkets right through to your local butcher. The research by Newcastle, published in the British Journal of Nutrition, found that organic milk and meat contain around 50% higher levels of beneficial omega-3 fatty acids and slightly lower concentrations of saturated fats than conventional products. With this kind of information at your fingertips it's easier to establish that point of difference.
Talking about why organic is different is key to developing a long-lasting relationship with the customer. If we want to generate further confidence and more growth, we need to share our farmers and customers' experiences with more people – which is why we're running '30 small changes' throughout Organic September, and teaming up with food bloggers, vloggers and chefs like John Quilter and Anna Jones to help show people the difference a switch to organic might make.
Make sure your small change goes the distance – support organic meat and animal welfare!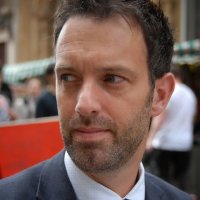 • Lee Holdstock is trade relations manager at the Soil Association