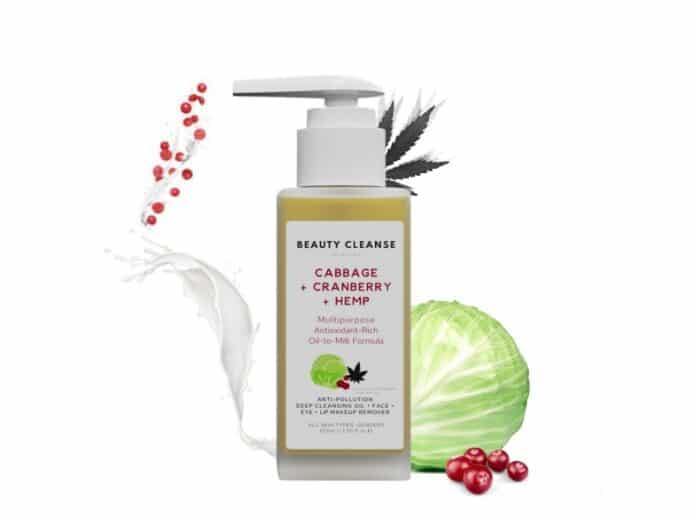 Natural superfood-powered brand Beauty Cleanse Skincare has extended its multipurpose skincare collection to include Cabbage + Cranberry + Hemp Anti-Pollution Deep Cleansing Oil & Makeup Remover.
The new formula has been created as a 'juice cleanse for city skin' and is infused with sustainable, nutrient-dense superfood oils from leftover hemp and cranberry seeds – natural by-products of the food industry which would otherwise go to waste.
The lightweight oil transforms into a thin milky cleansing solution upon contact with water, gently but effectively dissolving make-up, city pollution, SPF and heavy post-gym sweat, to leave skin clean and replenished.
Cabbage + Cranberry + Hemp Anti-Pollution Deep Cleansing Oil & Makeup Remover doesn't strip essential moisture from the skin and is ideal for stressed-out and blemish-prone complexions. It is also great for tackling the skin concerns originating from mask-wearing during the pandemic, such as clogged pores, acne and inflammation, as it helps keeps pores clear, whilst actively nourishing the skin.
The fragrance-free oil is made from 100% natural and vegan ingredients, ethically sourced from local British suppliers.
"As a founder of a minimalist skincare brand, it is very important for me to create products that are a true reflection of conscious consumption," comments brand founder Saman Ali. "That's why, where possible, we always try to utilize discarded raw materials along with using only 100% biodegradable ingredients that do not accumulate in our ecosystem."
Beauty Cleanse Skincare was founded to simplify beauty routines by only using ingredients that directly benefit the health of the skin and support the integrity of its formulations, without leaving a negative impact on the planet. Ali believes in a minimalist and results-driven approach that supports healthy skin barrier function without cluttering up the bathroom and the landfills.