Planet-friendly period care brand DAME has teamed with sustainable outdoor clothing company Finisterre to release a co-branded product to raise awareness about the impact of period plastics on the environment.
Through the collaboration – which coincided with World Oceans Day (8 June) – the two B-Corps aim to make it easy for people to choose a reusable and sustainable alternative to single-use, plastic-filled period products, the majority of which end up in oceans.
The Finisterre x DAME Reusable Period Pad Set contains one Liner, One Regular Pad and one Night Pad and comes with a fully recycled waterproof dry bag to make changing on the move hassle-free.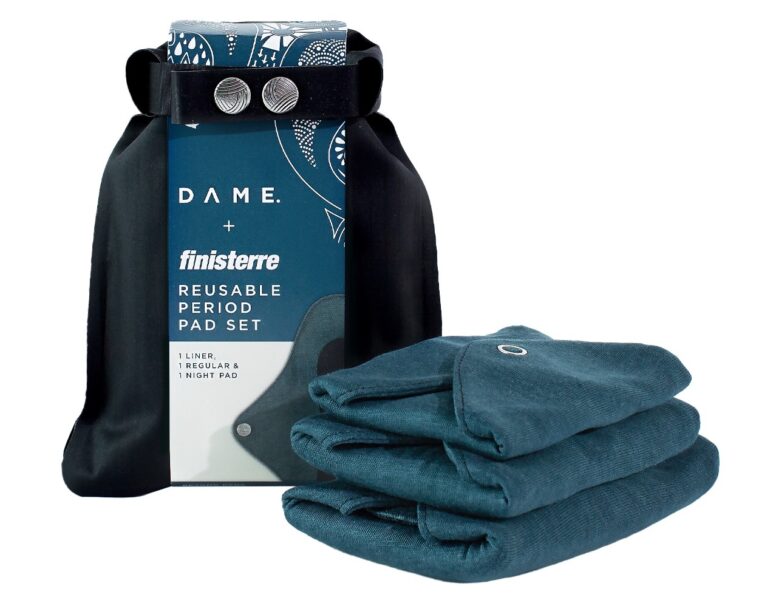 The pads use DAMEdry five-layer technology to keep the user dry, and DAME's unique lyocell and organic cotton blend which feels soft against the skin. The 4D fabric absorbs ten times its weight in two seconds, is antimicrobial and moves with the contours of the body.
"This World Oceans Day we're very excited to be collaborating with fellow sea-lovers, Finisterre," says a spokesperson for DAME. "Our oceans are under threat from global warming and plastics, so when they suggested we work together to reduce the billions of plastic period products found on coastlines every year, we jumped at the opportunity to collaborate. Our popular pad sets each saves up to 1,000 plastic disposables; when combined with Finisterre's dry bag made from recycled plastic, the carbon and plastic footprint is further reduced.
"We're very grateful for the opportunity to work with a fellow B Corp who shares our passion for design and performance, and that we as a period brand are teaming up with an apparel brand – that's progress!"