Natural Russian skincare brand Natura Siberica has introduced a range of affordable, certified organic and vegan skincare based on five hand-picked, wild-harvested plants from Siberia.
The Natura Siberica Aralia Mandshurica for Dry & Dull Skin line includes Nourishing Face Mask, Rich Cleansing Balm, Nourishing Face Tonic and Gentle Revitalising Face Scrub. An adaptogen, Aralia mandshurica is packed with vitamins B and C and flavonoids to protect and nourish skin, improving its tone.
Sophora Khakassia for Oily & Combination Skin offers products including Balancing Micellar Lotion, Pore Minimising Serum, Balancing Face Cream-Gel and a Deep Cleansing Clay Face Mask. Sophora khakassia contains alkaloids and flavonoids and a high concentration of vitamin P to help regulate the lipid balance and minimize pores.
Anti-Gravity Face Serum, Firming Night Face Mask, Lifting Eye Cream and Night Recovery Face Cream form part of the Snow Cladonia for Age-Defying skincare offer. Snow Cladonia owes its positive effect on skin to its high content of usnic acid, which helps rejuvenate and lift skin and prevent fine lines.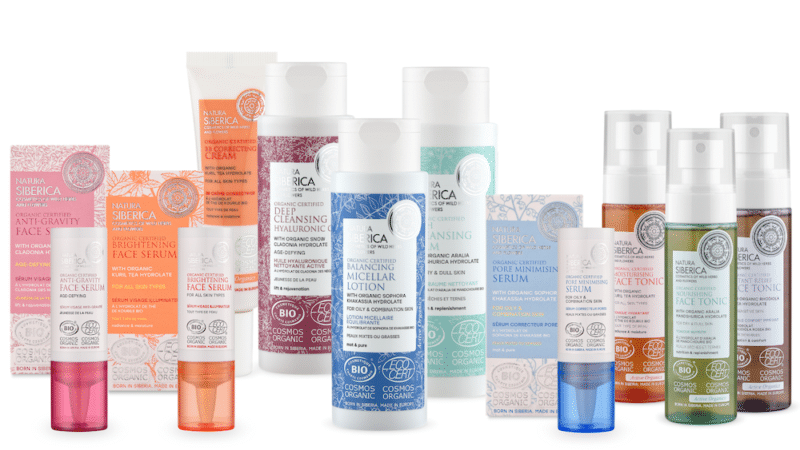 Rhodiola Rosea for Sensitive Skin offers Instant Relief Face Tonic, Multi Protection Face Aqua-Serum, Anti-Fatigue Eye Patch Mask, Mild Reviving Jelly-Scrub and SOS Soothing Night Face Mask. Rich in organic acids, beneficial minerals, essential oils and flavonoids, Rhodiola rosea has a calming effect and protects against environmental stressors.
Kuril Tea for All Skin Types is available in a Moisturising Face Tonic, Brightening Face Serum, BB Correcting Cream and Instant Glow Face Mask. Kuril tea, or bloodroot, grows mainly in the Altai mountain region of Siberia and contains a high concentration of vitamin C to tone and awaken natural radiance.
All products in the range utilize hydrolates obtained through gentle distillation to ensure retention of the valuable antioxidant and active properties of the flowers and herbs and also contain organic Siberian pine oil, a natural source of polyunsaturated acids, vitamins E and F to nourish and soften skin.
The products also benefit from hyaluronic acid to nourish and deeply moisturize skin, increasing firmness and elasticity.