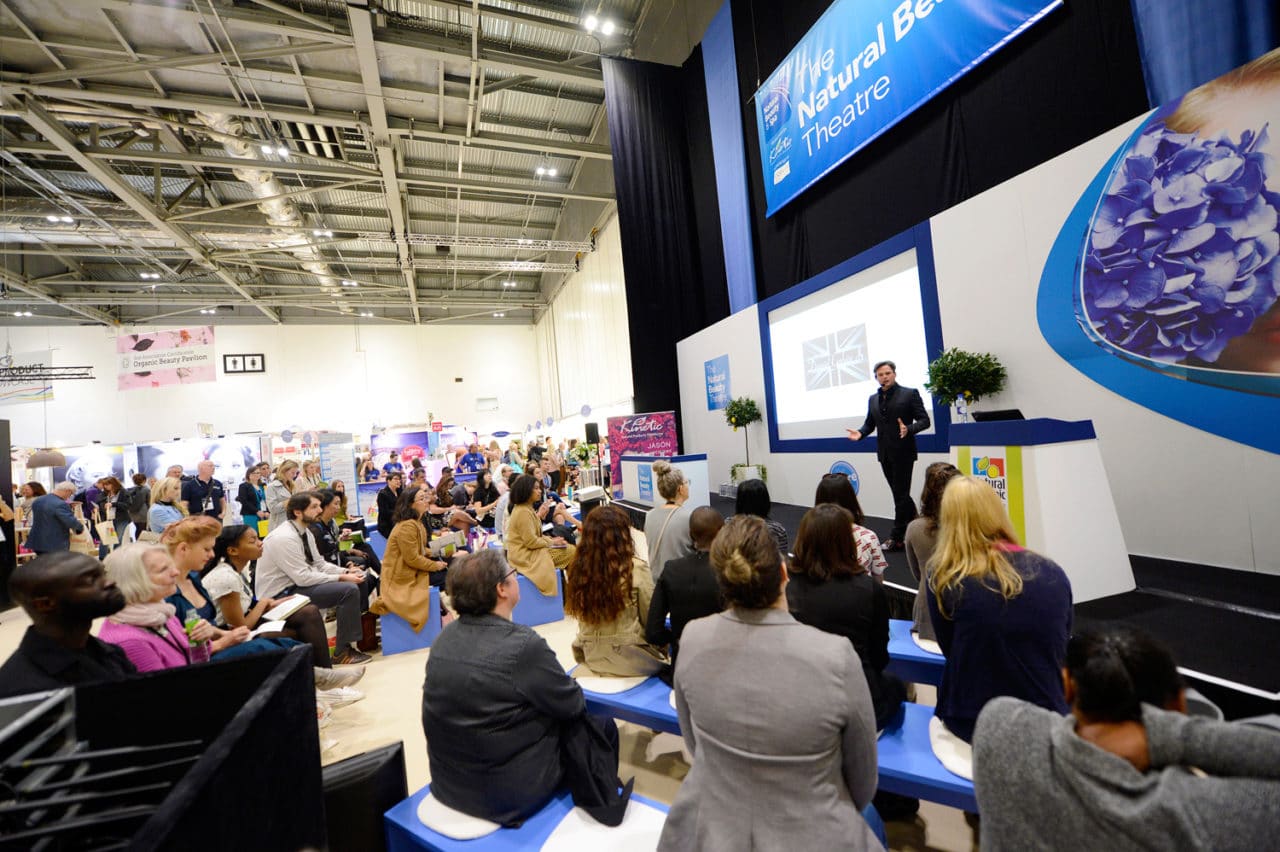 Personalised beauty, male grooming, anti-ageing, indie brands, food in cosmetics, clean beauty, anti-allergy, skin microbiome, and ethical labelling are just a few of the hot topics up for discussion in the Natural Beauty Talks Theatre at this month's Natural & Organic Products Europe 2018.
Taking place at ExCeL London, on 22-23 April, the show provides a unique opportunity for visiting retailers and buyers to gain extensive knowledge into untapped opportunities for growth in the thriving natural and organic beauty and skincare market.  Some of the biggest names in the industry will take to the stage in the Natural Beauty Talks Theatre (sponsored by Kinetic Natural Products Distributor).  They include experts from Holland & Barrett, Soil Association, Weleda, Beauty Kitchen, Allergy UK, Ecovia Intelligence, Antipodes, Vogue's former beauty editor Anna-Marie Solowij and Millie Kendall MBE.
Lively panel discussions 
The theatre will host two unmissable panel discussions, bringing together some of the biggest names in natural and organic beauty.  The first, taking place on opening day at 11.30am, will highlight how retailers can maximise the opportunities in the 'male grooming' category.  High profile speakers on the panel include: Joanne Hill, owner of Amaranth; Stephen Bisse, business development director at LoveLula; Karleen San Jose, account director at CCD PR; and blogger and make-up artist Lou Dartford.
The second panel session, taking place on the second day at 11am, will discuss the ever evolving 'clean beauty' trend and what it means for the industry.  The expert panel will include: Lucy Pottinger, head of category for ethical beauty and aromatherapy at Holland & Barrett; Jayne Sterland, managing director of Weleda; Lauren Bartley, development manager of beauty and wellbeing at Soil Association; Helen Lynn, co-founder of CoolGreen and chair of Women's Environmental Network; and Jo Chidley, founder of Beauty Kitchen.  The session will be chaired by Beauty Kitchen's Nicola Nolan.
Future trends
Lauren Bartley from Soil Association Certification will be outlining the main findings of the Soil Association's 2018 Organic Beauty & Wellbeing Report including predicted trends for 2018, on the show's second day.  Published last month, the report reveals that sales of certified organic and natural beauty products increased by 24% in 2017.
"Natural & Organic Products is hugely important to the sector.  It's a very positive space and great to connect with and learn from like-minded businesses," says Lauren Bartley.  "For our Organic Beauty & Wellbeing Market Report talk, I'd like attendees to walk away with an understanding of the consumer mindset for younger generations and the potential for organic beauty and wellbeing products."
Vogue's former beauty director Anna-Marie Solowij and brand creator Millie Kendall MBE (founders of Beautymart UK and Brandstand Communications) will be sharing 10 key global consumer, technological, and product innovation trends that are shaping the future of the beauty industry – taking place on the second day of the show.
Amarjit Sahota, founder and president of research firm Ecovia Intelligence, will also be tapping into future trends in his session 'Future of Ethical Labels in the Beauty Industry'.  He'll be giving an extensive overview of recent developments, including future projections on the 'growing kaleidoscope of ethical labels' – taking place at 12.35pm on the second day.
Tips and industry insights
Visitors can gain vital insights and expert advice on a number of beauty and business topics.  Stirling Murrey, CEO and founder of beauty consultancy Red Tree will provide tips on how brands can 'stand out' in the natural beauty retail landscape; Kathy Narayn, founder of Palm & Sole, will discuss the importance of personalisation in sensory beauty; Leigh George from Allergy UK will talk about the growing demand for 'anti-allergy' products; Tim Mount, science education manager at Neocell, will share 'ground-breaking' new science studies into anti-ageing; and Amanda Barlow, CEO of Made For Life, will outline simple ideas on how to promote a brand and utilise 'green' ethics to reach out to discerning customers.
Other sessions will cover the benefits of food ingredients in cosmetics; how indie brands are shaking up the market; scientific validation in skincare; the harmful effects of sunscreens to marine life; the social value of cosmetics; and skin microbiome in beauty.
For the full seminar details and timings, please visit: www.naturalproducts.co.uk/beauty/seminars.
Over 250 beauty and personal care brands
Of course, the 'big names' aren't just reserved for the seminar theatres.  Hundreds of beauty brands will be showcasing their latest product innovations in the Natural Beauty & Spa Show – providing retailers plenty of choice to stay on-trend and ahead of the curve with consumer demands.
"Many exhibitors at Natural & Organic Products Europe are the pioneers in their field," says broadcaster and natural beauty trend spotter Janey Lee Grace, who'll be sharing some of her favourite new product picks from the show floor at 4pm on opening day.  She'll also be presenting the new Natural Beauty Retailer & Products Awards on 23 April (at 2.15pm) in the theatre.
"Natural & Organic Products Europe is a key part of my year," says Elizabeth Adams, e-commerce buyer at bodykind.    "The show is an unmissable event for any natural health and beauty retailer.  The show is the biggest in Europe and houses all of my current suppliers, so I can catch up with them and review any newness they have coming this year.  It has some fantastic and innovative new brands and products that I can review."
"Natural & Organic Products Europe is where we find some of the best new ingredients, where you can spot a new trend a mile off, and it's a great opportunity to meet suppliers who share our ethos of ethical cleaner beauty," says Lucy Pottinger, head of category for ethical beauty and aromatherapy at Holland & Barrett.
To view the full exhibitor list, please visit www.naturalproducts.co.uk/exhibitor-list.
 The Natural Beauty & Spa Show, part of Natural & Organic Products Europe, returns to London's ExCeL on 22-23 April.  The event will feature over 700 exhibiting companies, showcasing the best choice of eco and clean label products (including food, drink and health) from around the world.
You can register for a free trade ticket here.