Vegan, customisation, do-it-yourself cosmetics, sustainable beauty, and 'indie' brands are just some of the emerging trends and bestsellers to source at this year's Natural Beauty & Spa Show, according to industry experts.
The Natural Beauty & Spa Show, part of Natural & Organic Products Europe – will feature over 250 beauty and personal care brands, when it returns to ExCeL London on 22-23 April.
"Natural & Organic Products Europe is a really good event for the industry. It's great to meet new and existing brands and see what their latest products are. It's also good to see what's going on outside of your immediate area, and what trends may be coming in from wellbeing and food for instance," says Mark Steele, haircare and men's toiletries buyer at Waitrose.
Rise of the indie brands
Notable trends to watch, according to Steele, includes a breadth of "really good, smaller indie brands" emerging in the market. With their variety of quality ingredients, alternative blends, and distinctive branding, speciality indie brands can offer buyers and retailers great scope for customisation.
New exhibitors like Kinn Living, Fitzjohn Skincare, House of Life Treatments, YOPE, Fairfield Gardens, White Rabbit Skincare, and Parami Shaving Oil, are among the many 'up-and-comers' making their debut for 2018.
The green industry must go through the process of sustainable resource use, and I think that's going to be one of the big topics that drives forward 2018
Vegan varieties
The Natural Beauty & Spa Show is on track to feature a record number of vegan beauty and grooming brands for 2018. The show's event director Carol Dunning calls it an exciting time for people following a vegan lifestyle, with a significant rise in the availability and diversity of ethical beauty products on offer across the UK.
Retailers embracing this trend include Mel Jenkinson, founder of online natural beauty shop Glow Organic. She says: "More of my customers are requesting vegan products. As the interest in the vegan diet increases, women are naturally looking to switch their beauty products to vegan alternatives."
Pravera, Terri Verdi, Urtekram, Faith in Nature, Ultra Glow Cosmetics, Inika, Dr's Remedy nail polish, Eco by Sonya, Karethic, Sukin, InekoGruppen (distributors of Good Boom vegan skin food), JM Nature GmbH (distributors of Ben & Anna and Crazy Rumours), Urban Veda, Gentle Beauty, Dr. Bronner's, Chirp Body, Herbatint, Cress, Kypwell, Graphters (distributors of A'kin), Marchio Purophi, The Yes Yes Company, and Natura Siberica will be showcasing their diverse ranges of vegan-friendly products at the show – some exclusively launching for the first time into the UK market.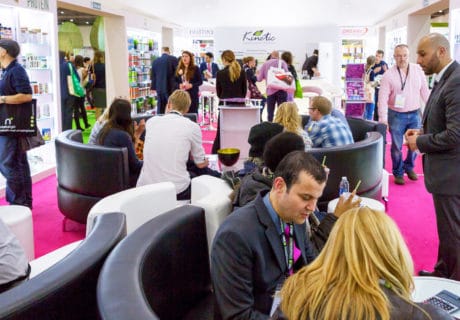 Beauty with a conscience
"The potential of zero waste beauty is very topical. The ecological impact of using resources is going to come back to bite us. The green industry must go through the process of sustainable resource use, and I think that's going to be one of the big topics that drives forward 2018," says regular show visitor Lorraine Dallmeier, director of Formula Botanica.
With the rise in eco-packaging and sustainable initiatives, visiting buyers will be able to see first-hand a range of beauty brands who are building strong consumer loyalties based on their ethical credentials. Among them are Naturally Tribal Skincare, who collaborate with women of Essan by sourcing ethical ingredients from their community; Blue Beautifly, who donate 20% of profits to charities around the world; Natracare, who use renewable materials like bioplastics and wood pulp in their feminine hygiene products; and brands like Optiat and Fruu Cosmetics who create cosmetics made from natural bi-products that would otherwise be thrown away.
"This is beauty with a conscience," says William Brightman, founder of Optiat. "Our hope is to demonstrate that we can all be more resourceful, and that we can promote a circular economy. We hope this will inspire the beauty industry to be less wasteful."
DIY Beauty and customisation
"In regards to 2018 trends, there's more to play with in terms of DIY beauty," says Lucy Pottinger, head of category for ethical beauty and aromatherapy at Holland & Barrett. "Consumers want to know exactly what's going into their products, and what better way than to make it themselves," she says.
A handful of brands across the show floor will be showcasing their customised offerings. Bio Extracts, for example, offer airless jars and customised booster 'syringes' (adding functional elements like pore minimising, or redness relief), making each formulation personal to the user's skincare needs. Whilst, MMTUM inc. help to create 'do-it-yourself' kits, empowering consumers to make their natural body care products in their own homes.
For more information about the Natural Beauty & Spa show, visit www.naturalproducts.co.uk.