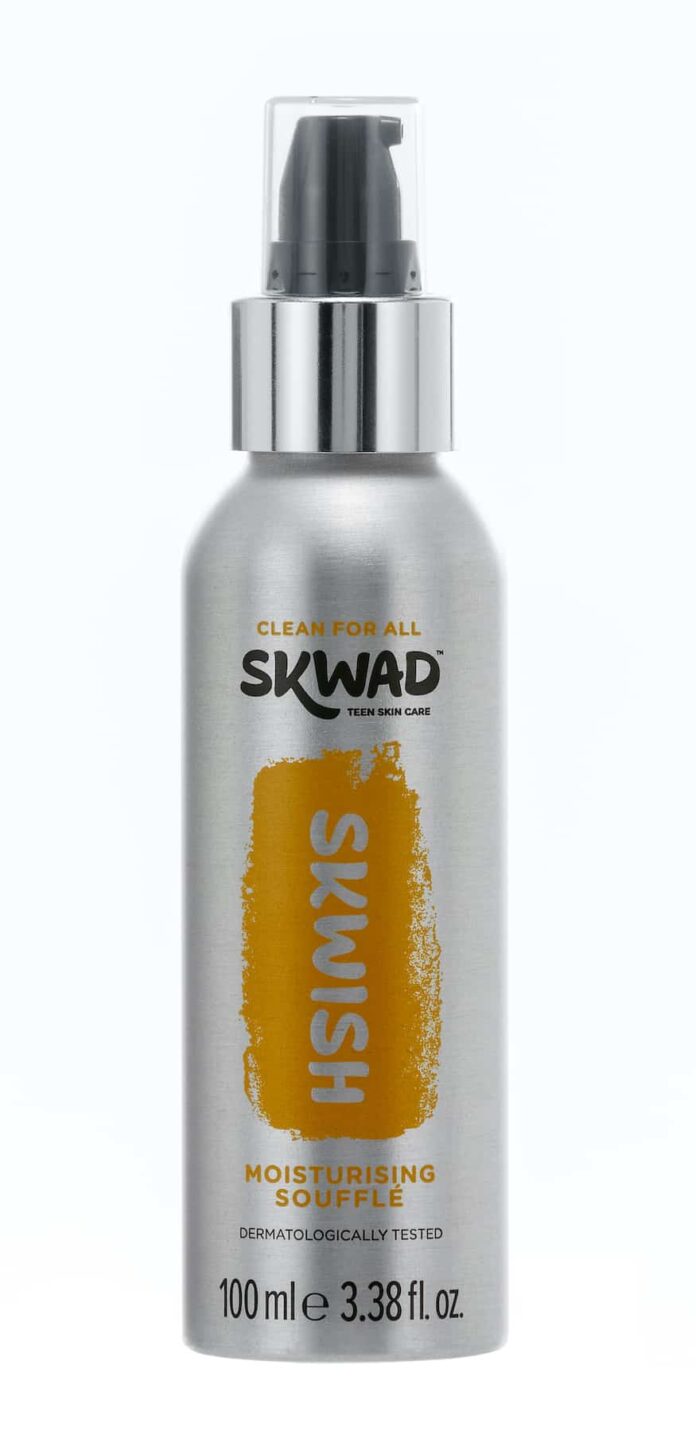 SKWAD has hit UK shelves with a new capsule collection of gender neutral skincare which uses marine safe formulations designed specifically for young skin.
SKWAD founder Elise Kandrac worked with award-winning formulator, Nausheen Qureshi to create the range of results-driven and environmentally responsible products which aim to nourish and protect teenage skin.
The four-strong SKWAD range comprises:
SKWEEZ Cleansing Paste – containing a bio-friendly exfoliant, this face wash cleanser is gentle and effective, while also visibly brightening and softening skin
SKWIRT Toning Sap – a hydrating, exfoliating toning spray to help clarify and refresh the appearance of skin, this innovative sap can be used as a toner after cleansing or on its own to leave skin balanced
SKWISH Moisturising Soufflé – an easy to use, fast absorbing, protective moisturizer with nutritious non-greasy oils, combined with antioxidants to protect skin, increase its barrier functions and improve hydration
SKRAPE Shaving Mask – a 'revolutionary' dual-function mask with vitamin-rich ingredients, this can be used as a shaving cream or a mask to hydrate and protect skin.
The formulations incorporate upcycled raw ingredients to ensure sustainability as well as targeting the skin problems teenagers often face. These include antioxidant-rich cold-pressed blueberry oil (a by-product of juice production) to shield the skin and provide fatty acids and beta-carotene; white rice crush starch – a fine white rice by-product which gently removes impurities, leaving skin looking bright and feeling soft and fresh; and cold-pressed raspberry oil (a by-product of juice production) is included as a naturally potent antioxidant, rich in fatty acids and vitamin E.
Also included are Hawaiian Sea Silt Bioferment, a fermented extract of sea silt native to the Hawaiian coast, which is rich in red clay and essential minerals, including iron and sodium to revitalize and replenish skin while boosting hydration; and soothing and purifying burdock root extract – a 'mega-star active' containing vitamins B complex and E as well as trace minerals of potassium, phosphorous, chromium, cobalt, iron, magnesium, silicon, zinc and sodium.