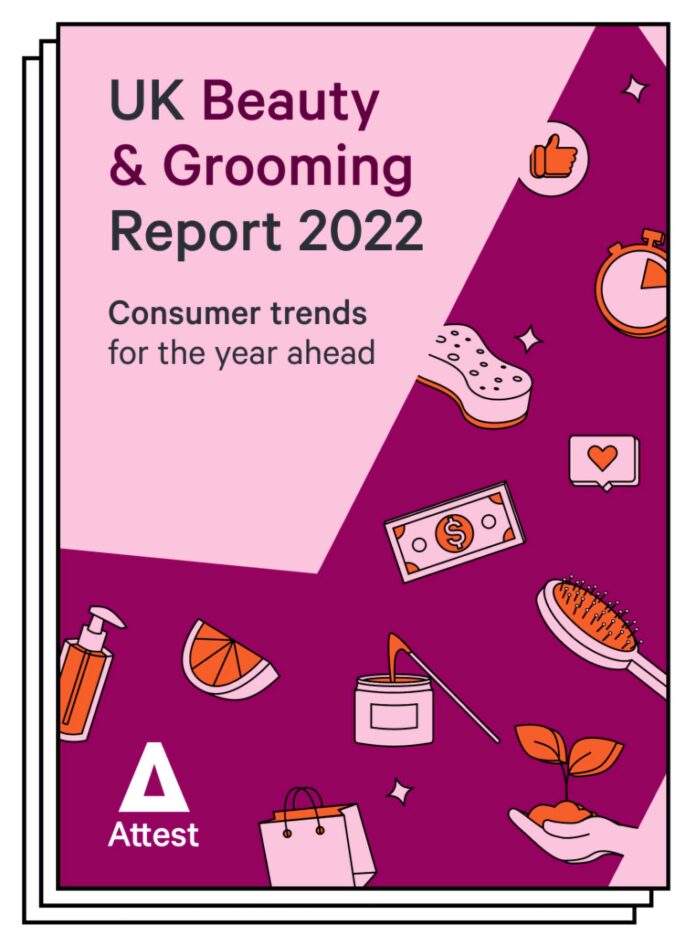 According to new data from consumer research platform Attest, the pandemic has had a lasting impact on how consumers approach their beauty and grooming regimes.
The UK Beauty & Grooming Report 2022 surveyed 1,000 UK consumers and discovered that 45% spend no more than 15 minutes on beauty and grooming each day, while 31% take up to 30 minutes. One in 10 (14%) respondents take 45 minutes for personal upkeep and only 7.5% of people spend more than an hour.
The less is best approach is also reflected in the number of products used daily, with the majority of men using three or under and women employing between four and six, and only 13% of respondents using up to nine products.
Another trend highlighted in the research was that the increased uptake of DIY beauty during the pandemic is here to stay, with 85% of people carrying out beauty and grooming treatments at home. The most popular DIY treatment is a face mask or facial (45%), followed by eyebrow shaping (29%), hair masks (28%) and manicures/pedicures (28%).
When it comes to hair, 28% are cutting and 27% are colouring at home.
the majority of the British
public are taking a scaled back approach to their daily beauty and grooming regimes
The report also found that consumers are more likely to seek out for brands promoting clean beauty rather than sustainable beauty; 45% say they take a brand's use of natural or clean ingredients into consideration when making purchasing decisions while only 31% focus on a brand's environmental credentials. However, a company's stance on animal testing is most likely to be cited as the top priority when selecting a brand (46%).
"The Attest data shows that the majority of the British public are taking a scaled back approach to their daily beauty and grooming regimes," says Attest CEO and founder Jeremy King. "The majority also doesn't want to spend too much money, or time, on managing appearances. However, Britons are increasingly trending towards taking the maintenance of their personal appearance into their own hands, with eight in ten now carrying out a DIY treatment at home."