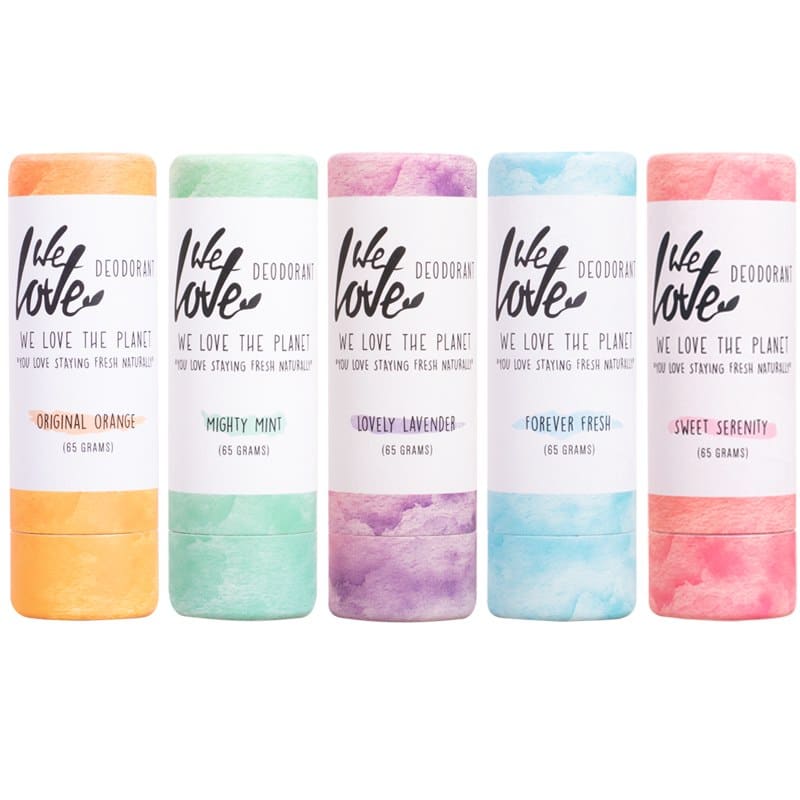 Netherlands-based brand We Love the Planet has brought its hydrating deodorants over to the UK.
The soft and effective creamy formulas are available in six different fragrances, packaged in either a snap lock tin (48g) or a wide-opening compostable cardboard tube for ease of application.
The six fragrances are:
Forever Fresh, blending exotic patchouli and fresh lemon for a fresh scent
Lovely Lavender – a bouquet blend of wild and hybrid lavender
Mighty Mint, which is a refreshing and energetic combination of mint and rosemary
Original Orange, described as fresh and fruity sweet Spanish mandarin
Sweet Serenity, fragranced with rose oil, honey and sweet spices
So Sensitive – a hypoallergenic and baking soda-free variant
Each deodorant is based on a combination of coconut oil, beeswax and corn starch powder, making it easy to spread, and leaving the skin velvety soft, and baking soda to neutralize odours naturally.
Other ingredients include coconut oil to moisturize and cool; caprylic acid for its calming and healing effect; and St John's wort oil to calm and heal as well as for its anti-inflammatory and antibacterial effect. The deodorants are fragranced with essential oils.
Made with 100% natural ingredients and certified by Natural Cosmetics Standard (NCS) and EcoControl, the cream is quickly absorbed and doesn't clog pores as it is aluminium-free